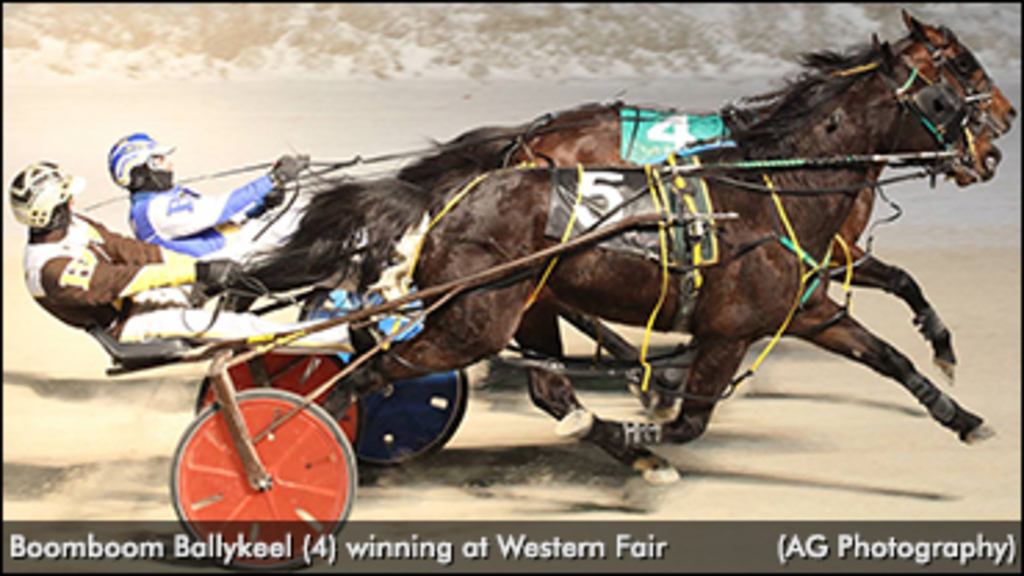 Published:
March 13, 2018 10:27 pm EDT
Driver Louis-Philippe Roy launched 9-5 second choice Boomboom Ballykeel to the front and wired the field narrowly in the $11,500 Preferred 2 Pace on Tuesday, March 13 at The Raceway at Western Fair District, holding off Jake Loewen at 18-1 by a head in 1:55.3.
Leading through a :28 opening quarter, Boomboom Ballykeel held an uncontested lead through a :57.3 half and 1:26.1 three-quarters. Goldstar Badlands, first over from the half, stalled off the pacesetter, stalling the outside flow and forcing them wide turning for home. Boomboom Ballykeel held a length-and-a-half advantage on Jake Loewen, off a pocket trip, through the stretch and narrowly held off the late challenger. Sualsbrook Peach, riding the rail, was three lengths back in third.
A seven-year-old stallion by Mach Three out of the Presidential Ball mare Teig N Riley, Boomboom Ballykeel, winning his second race in eight starts this season and his 31st in 154 overall, has earned $856,456 for owner Ballykeel Racing. Trained by Richard Moreau, he paid $5.90 to win.
Howmacfiesty delivered as the 2-1 favourite in the $9,000 Fillies and Mares Preferred 3 Pace co-feature, catapulting off cover to win by two lengths in 1:58.1.
Party In Rome established a :28.3 opening quarter on the lead, while owner-trainer-driver Jack Harris positioned the favourite sixth. Grabbing cover as Pinky Tuscadero moved first over at the half, Howmacfiesty gained ground from second over through a :59 half, soon moving three wide into the backstretch to take a narrow lead passing three-quarters in 1:28.1.
Leading Party In Rome into the stretch, Howmacfiesty strolled to the line in front while Selling The Dream, tracking her three-wide move around the turn, rallied for second and Pinky Tuscadero held third.
Winning her third race in seven starts this season and her 19th in 84 starts lifetime, Howmacfiesty, a five-year-old mare by Carnivore from the Largo mare Bradelle, has earned $126,001. She paid $6.70 to win.
To view Saturday's harness racing results, click on the following link: Tuesday Results - Western Fair Raceway.