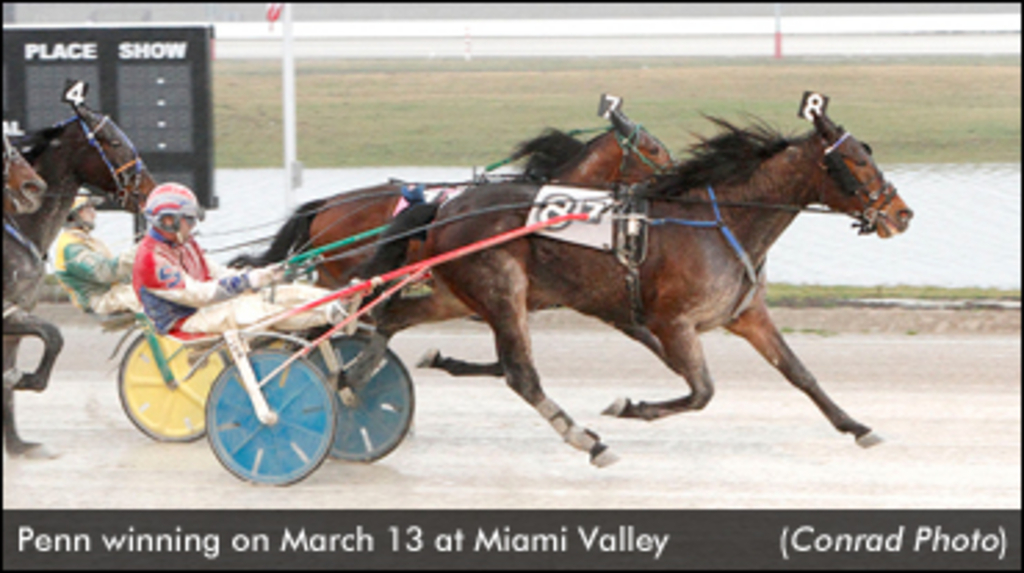 Published:
March 13, 2016 06:57 pm EDT
A long awaited stretch showdown between the two most dominant trotters at the current Miami Valley Raceway meet finally took place in the $20,000 Open Handicap Trot on Sunday (March 13).
Actually Penn and Il Mago were pitted against each other (and seven other classy square-gaiters) two weeks ago, but a suicidal :26.3 first quarter speed duel between the two ended the anticipation early as Blackwolf Run, Martz Time and Dancing Dynamite swept past the tiring favourites around the final bend to complete an unlikely trifecta.
Il Mago returned last Sunday and used a successful come-from-behind strategy to top Martz Time and Tag Up And Go in 1:55. Penn's ill-fated parked-the-mile trip the final weekend in February, which snapped a five-race Open company win streak, prompted trainer Bobby Brower to give his stable star a week of rest before tangling with the area's top trotters again.
Starting from post positions seven and eight over a sloppy track on Sunday, Il Mago (Trace Tetrick) and Penn (Josh Sutton) again left the gate fearlessly in search of the front end or a forwardly-placed seat along the pylons. With Martz Time (John DeLong) intent on good early position as well, and the others keeping all the holes behind him filled, it looked briefly like a replay of their last encounter with the two titans parked out, but advancing, around the first entire bend. Just past the :27.3 first quarter clocking, though, Penn was able to clear to the front with Il Mago moving alongside him. As the pair approached the :57 halfway station, Sutton made the difficult decision to allow Tetrick to cross over to the pylons down the backstretch of the five-eighths mile oval. The move turned out to be the winning one as Penn regained his bravado in the pocket and eventually wore a game Il Mago down in a classic stretch duel for the 1:55 victory. Cimeronken (Kyle Ater) also joined the fray and finished a close-up third, just a nose better than Martz Time, who held strong for fourth. Tag Up And Go (Don Irvine Jr.) recovered from an early break in stride to pick up fifth money.
Barkley Counts is the proud owner of Penn, a six-year-old Master Glide gelding, who surpassed $250,000 in career earnings with his 32nd win.
A pair of top conditioned trots, for $12,000 purses, were also contested on Sunday with Revenue Agent (Andy Shetler) topping Sams Princess (LeWayne Miller) and Team Zordin (Chris Page) to win the first division in 1:55.1. Dancing Dynamite (LeWayne Miller) eked out a neck victory in the second split over Rehab Mountain (Chris Page) in 1:56.3, with Celebrity Hercules (Josh Sutton) garnering the show dough.
(With files from Miami Valley Raceway)