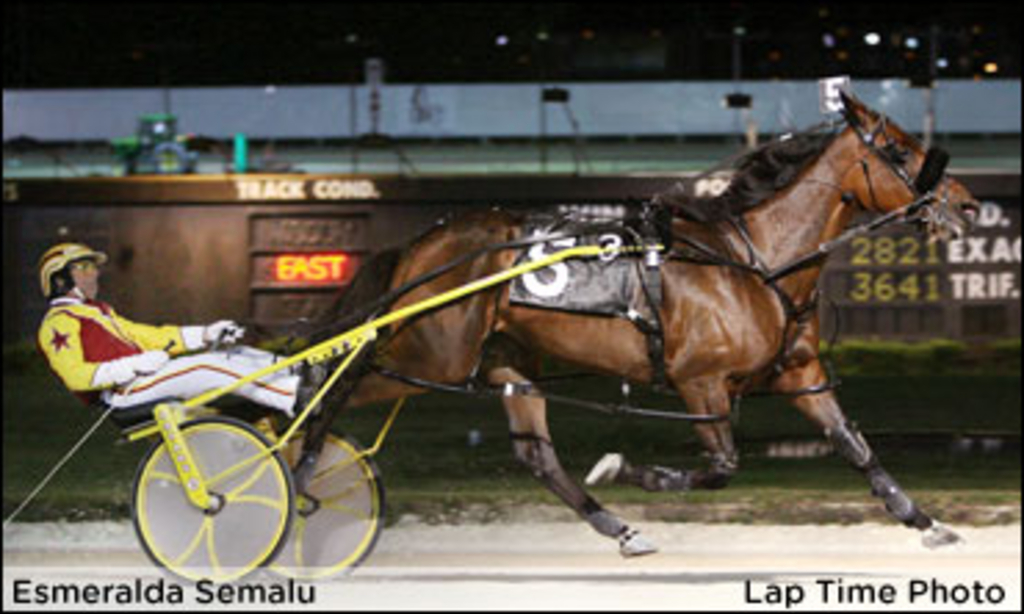 Published:
March 12, 2010 10:53 pm EST
The two fastest pacing miles of the 2009-2010 meet at the Isle Casino Racing Pompano Park are the exclusive domain of the Joe Pavia Jr. stable
.
Esmeralda Semalu was just sensational in a 1:50.2 tour of the South Florida oval on the Friday evening, March 12 program over a track that certainly gave no hint of being dulled by late afternoon heavy rains. The mile equalled the fastest pacing win of the meet turned in on January 30 by another Pavia stable member, five-year-old gelding pacer Mc Ryan Michael.
'Esmeralda' has been back to her dominant ways for the past two weeks at the Isle in the $15,000 Fillies and Mares Open Handicap Pace. She was in command from the outset in this tour as she controlled the pace all the way in :27.3, :55.3, and 1:22.3 prior to an excellent closing panel of :27.4. Im Just Special, in rein to Wally Hennessey, followed next under the wire along with Bling, partnered by David Ingraham. The six-year-old Electric Stena-Anemone Semalu mare is now a 27-time career winner of over $358,000 for the AGC and BJR Stables of Highland Beach and Boca Raton and she's the reigning track record holder in her category at 1:49.4 from 2009.
The other holder of a 1:50.2 spin over Pompano this meet, Mc Ryan Michael, returns from a rest of almost a month on the Saturday evening, March 13 doubleheader performance featuring 16 races. Mc Ryan Michael will turn to the gate in the $10,000 Open-2 Pace, which is slated to immediately follow the $15,000 Open Handicap Pace and the $15,000 Open Handicap Trot in the 7:05 p.m. EST twi-night card.
Eight Take Marks
As reflected by the outstanding mile turned in by Esmeralda Semalu, the Friday evening March 12 card produced outstanding win times with eight of 10 winners taking lifetime best speed marks.
Trainer Tom Harmer and driver Ingraham teamed up for a pair of winners. Three year old Elsu-Fake Cash filly Stylish Soiree benefitted from a perfect pocket trip to overtake the pacesetter Rio Raider in rein to Bruce Ranger for a life's speed badge of 1:55.1. Two races later, Harmer and Ingraham scored again as four-year-old Party At Artsplace-Fox Valley Evanna mare Shes A Pegase went a huge first over trip to win over conditioned rivals in 1:55.4.
In addition to eight winners earning new speed badges, the night also featured several longshot winners. These included trotter Nearly Uncle in rein to Renaldo Morales ($40.80), trotter Anton K with trainer Jim McDonald in the bike ($72.60), and pacing mare Docs Dynamite with Dan Clements in tow ($94.00).
(Pompano Park)