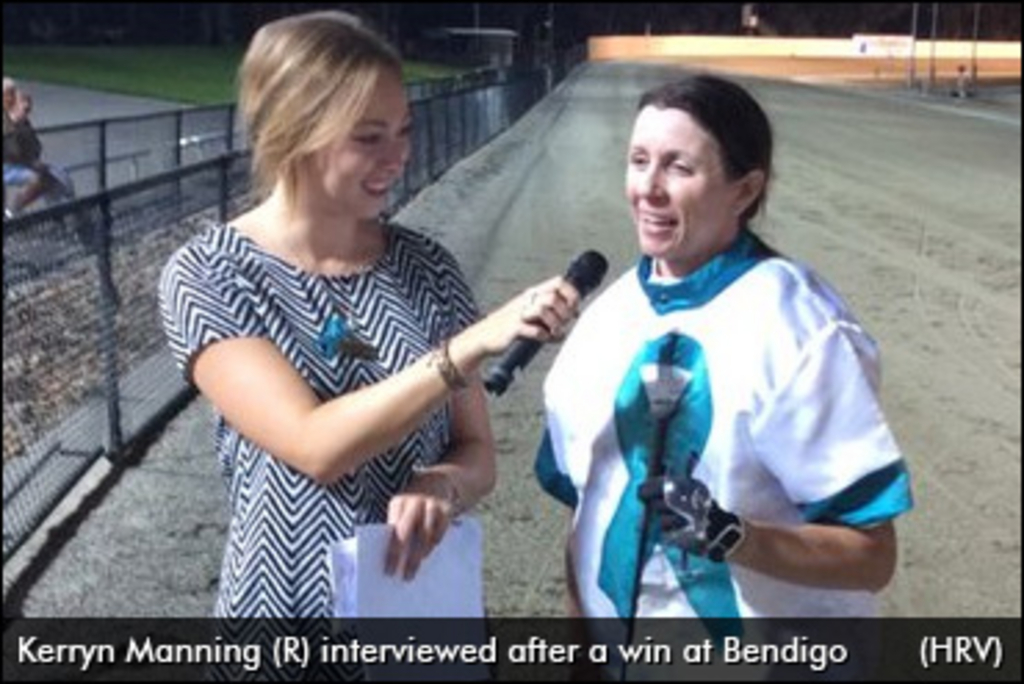 Published:
March 11, 2016 11:31 am EST

A second successive winning double has Kerryn Manning perched atop the International All Star Series leaderboard, with only Dexter Dunn and Brett Miller having a mathematical chance to unseat her.
Manning has amassed 161.5 points to lead Dunn by 10.5, with Miller third on 150.5. To claim the crown Dunn or Miller would have to win, claiming the 14 points, and have Manning finish ninth (two points) or 10th (one).
Manning has been drawn to drive Majestic Grace from barrier three in tomorrow's 22nd and final race of the series, which will take place at Tabcorp Park Melton at 8:32 p.m. Miller will start outside Manning in barrier four with Rostevarren and Dunn has Matt Craven's Star Gun from barrier seven.
Good Form analyst Jason Bonnington said it was a "difficult race with several winning hopes", but he placed Cyclone Lucky Seven (Greg Sugars) on top from Uncas (Chris Alford), Heza Boy Star (Gavin Lang) and Manning's Majestic Grace.
Manning led Dunn by a point going into the final day and her stranglehold on the competition was born from winning the 19th race with Animated and the 21st race with Peking Duck.
"It's been a good night tonight again," she said. "I had a great night last night at Ballarat. I wasn't sure how tonight would fare, but the horses have done really well and I've been able to drive some nices ones.
"It's just fun to be involved, it's an honour to be chosen and it's great to be in front."
Animated was a $1.90 favourite and the Ross Graham-trained four-year-old was driven accordingly by Manning, who took the gelding to the front and then held her ground on the straight to win by 3.9m from Keayang Ebonyrose (Brett Miller) and Sluggem (Greg Sugars).
"I needed the win to get back on the table and drew a very good horse," Manning said.
Race 21 was even more conclusive for Manning and Peking Duck, who shot to the front from barrier one and raced keenly throughout, drawing clear down the straight to salute by almost 12m. Birthyday boy Anthony Butt finished second with Arrokeefe and Gavin Lang was third with Mister Hairy Maclary.
Earlier, in race 17, Brett Miller began day five of the series in the same fashion as he'd finished day four, with a win, this time with My Sophisticated Lady.
Trainer Jarrod Pace's three-year-old filly broke its maiden status in Miller's hands, with the $3.50 favourite saluting from Rockabella Starz (Dexter Dunn) and Albietta (Yannick Gingras).
The race was a dominant result for the World team, which filled the top five placings to leave the Vics languishing and surrendering their series lead.
"Not knowing the horses it makes it very tough, so I have to rely on the trainers, and the trainer of the horse I just drove was very confident in his horse," Miller said. "When I have a trainer who is very confident it makes me confident."
But that domination by the world was fleeting, with Victorian drivers winning all other races.
Race 18 was claimed by Terang's Jason Lee, who was three back the pegs but when Chris Alford drew Boundary Row out to challenge leader and favourite Yannick Gingras on Endsino the sprint lane opened for Lee and he shot Uwouldntbelieveit into contention.
Michelle Wight's four-year-old gelding pinched it on the line when it had appeared in Endsino's keeping, with Rumbaron finishing strongly for Corey Callahan to take third ahead of Alford.
"I was pretty confident down the back if we got out we'd be on the winner, as classy as the leader was we were just cruising," Lee said.
Like Lee, Greg Sugars hadn't tasted success since night one despite consistently being around the mark and, like Lee, that all changed tonight.
Sugars drove with aggression and confidence on Repeat After Me, going three wide early down the backstretch to circle those in front and then gradually drew away from leader, Jason Lee with Machli, to win by 5.3m.
"I've had a pretty good night. The last two have given me a good boost," Sugars said. "It's good to be out and mixing with these guys. They are really competitive races and we are certainly all out here and doing our best to win."
Earlier in the day The Trots All Stars got a kick out of a visit to Chris Alford's farm, and were warmly welcomed by an all 'dressed up' City of Greater Bendigo.
The next and final stop is Tabcorp Park Melton on Saturday.
International All Star Series day six leaderboard: Kerryn Manning, 161.5; Dexter Dunn, 151; Brett Miller, 150.5; Chris Alford, 140.5; Yannick Gingras, 138; Greg Sugars, 136; Jason Lee, 131.5; Corey Callahan, 121.5; Anthony Butt, 119.5; Gavin Lang, 114.5.
Overall leaderboard: Victoria, 684; The World, 680.5.
(with files from HRV)