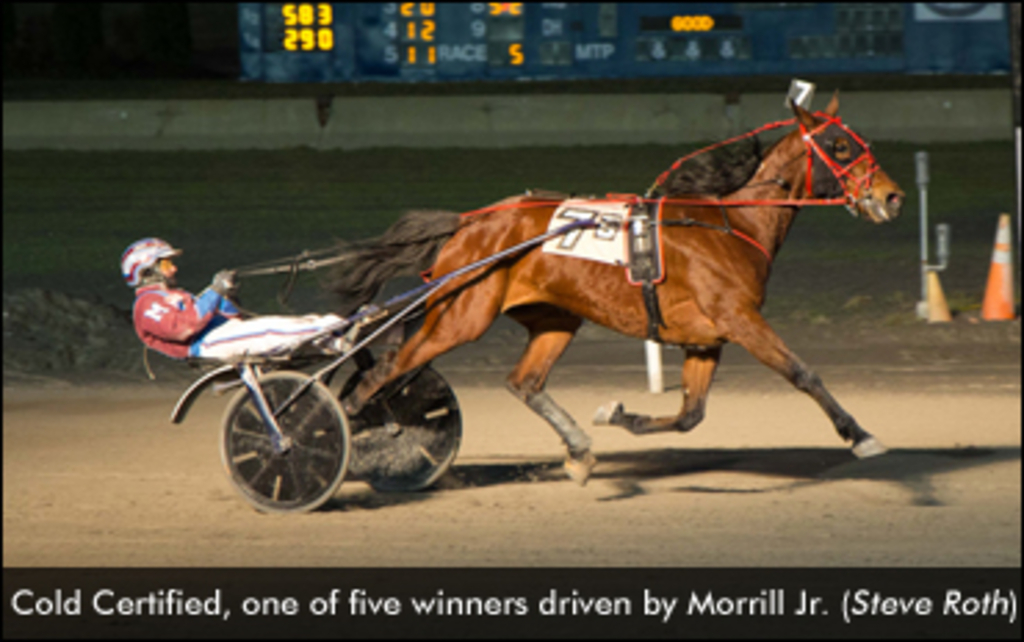 Published:
March 11, 2016 09:14 pm EST
Cold Certified gave the field in the $9,000 featured trot at Buffalo Raceway the cold shoulder in the stretch on Friday night (March 11) and romped to a convincing two and three-quarter length win over Winkys Pride in 1:59.1 over the 'good' track.
Jim Morrill Jr., who guided Cold Certified to the victory, put on another driving clinic as he had a five-bagger, giving him 22 wins this season at Buffalo Raceway in just 43 starts.
With a five-way battle for the lead right off the gate, Cold Certified managed to find a spot along the pylons and was in fourth while Winkys Pride (Drew Monti) and the parked Lutetium (Truman Gale) duked it out. The fractions were :29, :58.3 and 1:29.2 to the three-quarter marker.
Cold Certified, who swung out three-wide down the backstretch, was gobbling up ground just before the final panel and had no issues in overpowering the helpless Winkys Pride in the stretch. Lucky Pablo (Jack Flanigen) managed to gain the third-place position.
Co-owned by Paul and Ronald Louis Viele, Cold Certified (Kadabra-I Like Stephanie) has three victories in seven starts in 2016 and moved his seasonal earnings to $20,550 and lifetime bankroll to $463,850. Alex Giuliani trains the seven-year-old gelding.
Ray Fisher Jr. finished with a driving triple while Angelo Nappo had two training wins.
(With files from Buffalo Raceway)