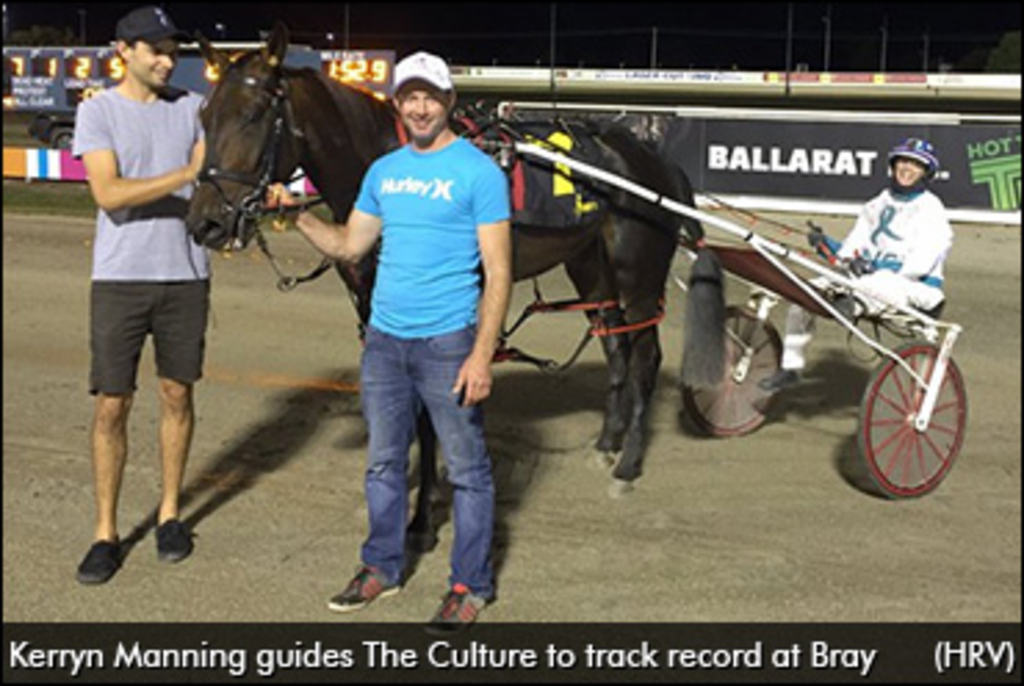 Published:
March 10, 2016 11:34 am EST

Kerryn Manning and Chris Alford led a Victorian surge on Day Four of the International All Star Series at Bray Raceway, overturning The World's advantage.
Manning drove a treble, including two series victories, and Alford was at his consistent best producing a win, two thirds and a fourth to position himself as the night's leading point scorer.
The headlines belonged to Manning, who not only ended the day on top of the leaderboard but wiped almost a second off a track record with her all-the-way win driving trainer Matt Craven's The Culture.
The World weren't without their shining moments. U.S. contestant Corey Callahan had his best day yet, amassing 32 points that included two placings, and his compatriot Brett Miller produced another long-shot winner for an overjoyed group of owners.
The day was more difficult for Yannick Gingras (16 points) and Dexter Dunn (23.5 points), who entered the day respective $2.50 and $2.60 favourites.
Dunn lost his lead on the series to Manning by a point, with the latter's golden day continuing in race two – the first of the day's All Stars series races – when she guided Brent Lilley's Kyvalley Boomerang to victory.
"He got knocked over early and I thought that was it for me, but to his credit he picked himself up and did a good job," Manning said.
Dexter Dunn (Zaire Diva) and Chris Alford (Glenferrie Belle) finished second and third, beaten to the post by Manning who cut the corner, found a gap and then set down wide with a swooping finish.
Race 14 of the series followed and this time it was all Alford behind Game On Bro, which shot to the lead and never looked back.
The fast pace had the pack swooping late, but the Sebastian Steenhuis-trained gelding out of Courage Under Fire and Presidential Rose had enough in the tank to hit the line.
"The horse was a bit keen and you've just got to drive them," Alford said. "I tried to keep rating him as slow as I could without strangling him and he was good enough to go on with the job."
Jason Lee almost pinched it with Watchmaka Lombo, while Corey Callahan drove Carseblue into third.
There was plenty of excitement ahead of the series 15th race, and it didn't disappoint.
Fresh off a second in the Terang Co-Op Pacing Cup and not long since running a 1:51.6 mile at Tabcorp Park Melton, Matt Craven's The Culture is gaining a loyal following and Kerryn Manning only added to that goodwill.
Manning steered The Culture to his front running role from barrier seven and while Chris Alford put highly-fancied Star Of Dionysis on his back, The Culture had too much in the straight.
Corey Callahan drove Royal Hustler into second, the $19.10 chance beaten only 4.1m by The Culture who finished in a 1:53.0 mile rate, stripping 0.7 of a second of Saab Quality's 1710m record set in 2013. Alford finished 2.4m further back in third.
"He's a lovely horse, he actually did that really easy," Manning said. "The track's really fast tonight and he probably could have broken that by more."
The form book was thrown out for the 16th All Stars race – the last for the day – with three longshots filling the placings in a trifecta worth almost $13,000.
Greg Sugars looked as though he had almost pinched it when he moved Cee Goddess to the front and drew clear, only to have Brett Miller draw Premier Rose off his back to take the $36 shot to victory for trainer Ken Tippet.
"Anything can happen in a horse race and that right there proved it," Miller said. "In fact my horse was very good, for the odds being that big, my horse was very good."
Next stop will be Bendigo on Friday before Saturday's finale at Tabcorp Park Melton.
International All Star Series day four leaderboard: Kerryn Manning, 122.5; Dexter Dunn, 121.5; Chris Alford, 114; Brett Miller, 112.5; Yannick Gingras, 104.5; Greg Sugars, 104; Jason Lee, 95.5; Corey Callahan, 93; Gavin Lang, 87.5; Anthony Butt, 82.5.
Overall leaderboard: Victoria, 523.5; The World, 514.
(with files from HRV)