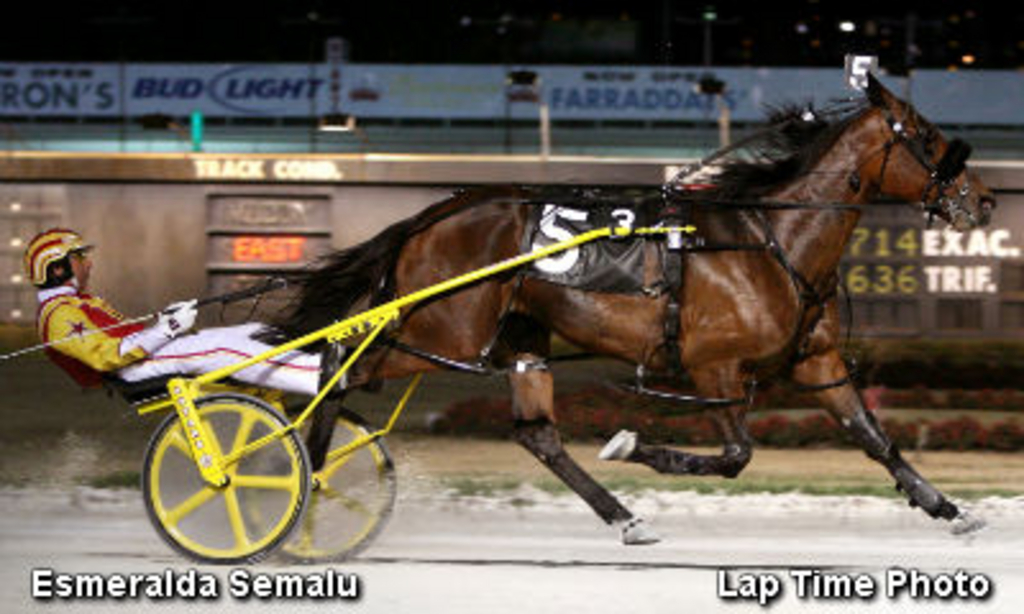 Published:
March 10, 2009 09:49 pm EDT
Esmeralda Semalu, who was bred by Semalu Inc. of Laval, QC, became the world's fastest older pacing mare (five-years-old and upward) on a five-eighths mile track thanks to her
1:49.4 score in Tuesday's $16,000 Fillies & Mares Open Pace at Pompano Park.
The five-year-old daughter of Electric Stena, trained and driven to victory by Joe Pavia, Jr., led from start to finish winning in a romp by seven lengths. The BJR Stable of Boca Raton and the AGC Stable of Highland Beach, FL own Esmeralda Semalu, who was sent off as the 1-5 favourite.
The pocket-sitting U All BB, who also set a World Record last year, was second while Chapsboots N Spurs finished third.
Esmeralda Semalu cut fractions of :27.1, :55.3 and 1:22.4 before kicking out a final quarter clocked in :27 seconds. It was her fifth win in eight starts this year.
"She was just so smooth tonight." Pavia said. "After she finished third last week I changed some of the rigging in her mouth and did not tie her tongue and that helped her breath better and what a difference it did for her performance."
It was just three weeks ago that Esmeralda Semalu became the fastest mare in Pompano Park history with a 1:51.1 victory. Now she is tied as the second fastest racehorse in the 45-year history at the track.
Only Load The Dice's 1:48.3 record in 2007 is faster. Esmeralda Semalu's 1:49.4 performance erased the former mark of 1:50 which was co-held by Poppy Lustre N (2007) and Sherry (2008).
(Pompano Park)