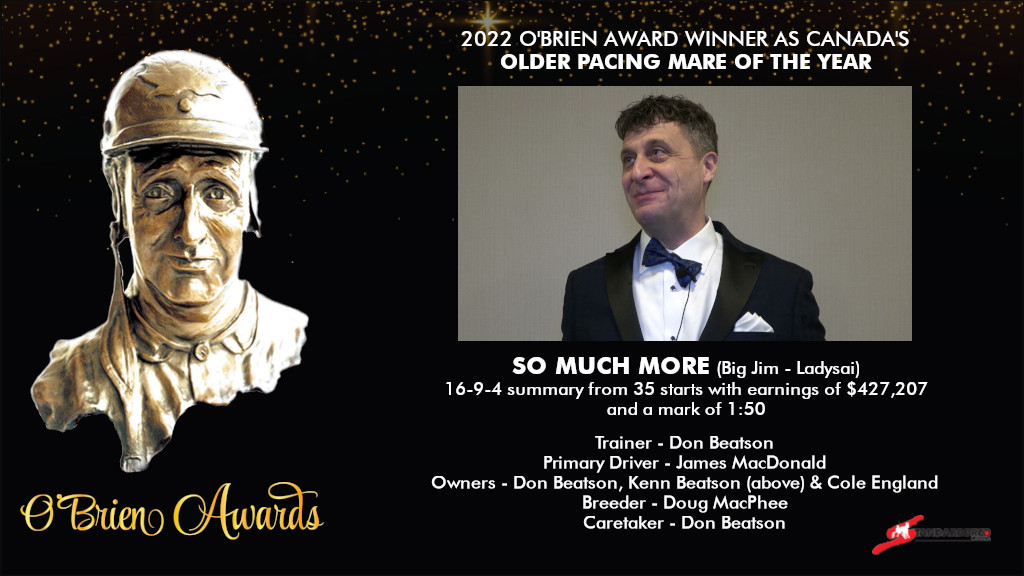 Published:
February 9, 2023 07:30 pm EST
"The outline for an O'Brien Award was the horse who made the greatest contribution to Canadian racing...we spent the entire year racing in Canada. We're just so thrilled that the voters voted for us, and so excited to be here in person."
Standardbred Canada announced the winners of the 2022 O'Brien Awards, honouring Canada's best in harness racing over the past season, at the Black Tie Gala on Saturday, Feb. 4, 2023. Now a three-time finalist, So Much More picked up a second O'Brien trophy for her connections in the Older Pacing Mare division. 
Trained by 81-year-old Don Beatson, So Much More continued her dominance in Canada's upper fillies and mares ranks in 2022, where she made 34 starts, winning 16 times and earning $427,707. The daughter of Big Jim had 29 top-three finishes overall, which included a third-place finish in the Breeders Crown final. In 2022, she also surpassed the $1 million mark for career earnings and achieved her 50th lifetime win.
After this past Saturday's gala, co-owner Kenn Beatson admitted his table wasn't all that confident his horse's name would be called given fellow finalist Test Of Faith had their number in their matchups this season, but recognized the award isn't based on head-to-head statistics. Beatson's interview with Standardbred Canada's Jeff Porchak and Brittney Mayotte appears below.  
The only 2022 O'Brien Award winning horse actively racing, So Much More returns to action on Friday (Feb. 10) as the 2-1 choice in the $30,000 Fillies & Mares Preferred at Woodbine Mohawk Park.