Published:
February 9, 2021 09:36 am EST
Matterlei led a strong Burke Racing Stable consignment at Tuesday's (Feb. 9) 2021 Winter Speed Sale, held by the Blooded Horse Sales Company at the Champions Center in Springfield, Ohio.
Matterlei, a five-year-old trotting mare by Explosive Matter who has recently raced in conditioned events at The Meadows, attracted the sale's top bid of $38,000 from Herman and Morgan Hagerman of Millersburg, Ohio. Consequently, the Hagermans had passed on Matterlei in a unique "either-or" proposition offered at the 2020 Blooded Horse Sale, opting to instead purchase Wildfire Seelster from the Burke Racing Stable when both mares were offered for sale simultaneously.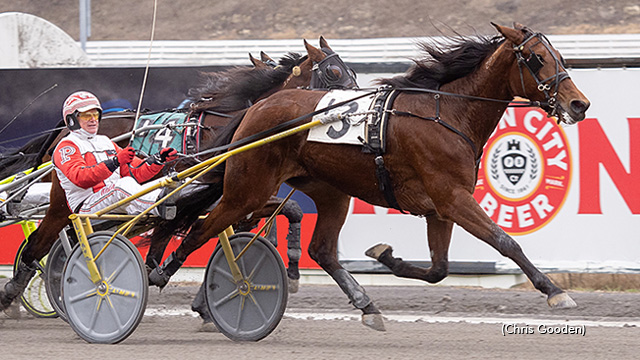 Matterlei, pictured in victory at The Meadows, topped Tuesday's Winter Speed Sale by attracting a $38,000 winning bid.
Other top sellers from Burke consignment were Yacht Week ($22,000, Chad Slone), Alloy ($20,000, Bob Troyer) and Mr Houdini ($17,000, Jesse Garber).
Global Inspiration attracted the sale's second highest winning bid — $28,000 — from Mahantongo Farms of Utica, Ohio. Spring Haven Farm consigned the eight-year-old daughter of Andover Hall who last raced in February 2020 and is currently in foal to Tactical Landing.
Bank Examiner, consigned by Galliers Racing LLC, commanded a $25,500 bid from John Lengacher of Grabill, Ind. The unraced three-year-old daughter of Uncle Peter and Examination is a half-sister to millionaire Costa Rica.
Broodmare and former Ontario competitor The Signature commanded a $25,000 price tag, and was purchased from the Boxwood Farm consignment by Robert McKim of Bealeton, Va. She is currently in foal to international superstar Lazarus N.
"Horsemen are undaunted by the weather!" said sale manager Jerry Haws, noting that many owners and trainers braved winter conditions and adhered to public health protocols to attend the sale in person. "They love coming to a sale to actually see and touch the horses they want to buy. It may take a bit more time and resources, but the dividends far outweigh the cost. Bringing horses to a venue of eager buyers is a tremendous marketing tool. Consignors seemed to be pleased as there were substantially less RNAs (reserves not attained)."
The 127 horses to pass through the sales ring — not accounting for six breeding shares that were also offered — sold for an aggregate $919,100, resulting in an average winning bid of $7,237.
To view the complete results from the Winter Speed Sale, click here.
The Blooded Horse Spring Mixed Sale is scheduled for May 11; entries close April 20.
(with quotes from Blooded Horse Sales Company)