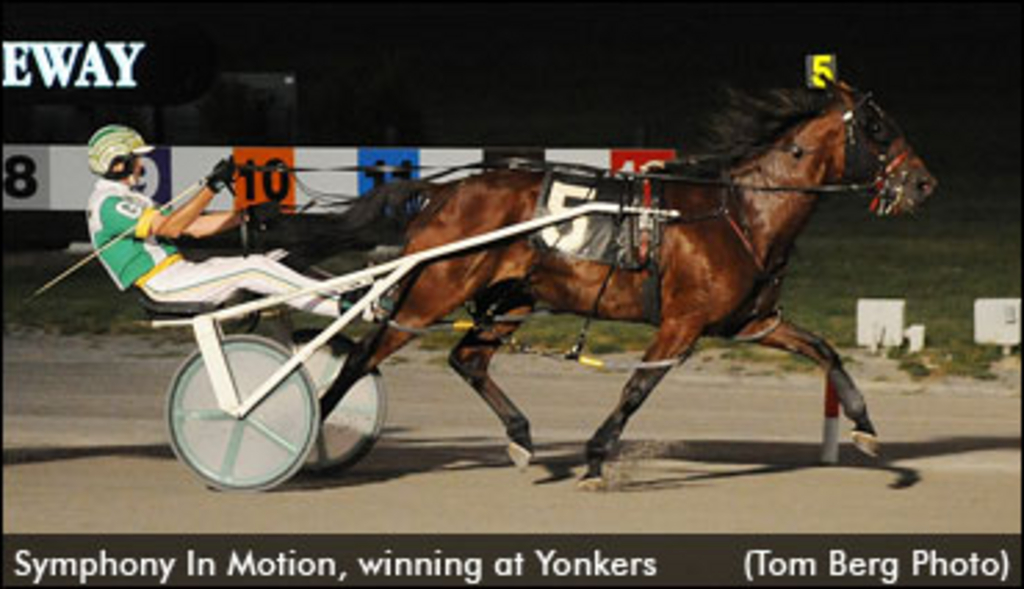 Published:
February 9, 2011 08:15 am EST
If driver Tim Tetrick is the "Bionic Man," maybe Symphony In Motion is the "Bionic Mare." That's because the seven-year-old pacer's career would have been an unfinished symphony had she not overcome a career-threatening injury. Twice.
Symphony In Motion, who last weekend won her opening-round division of the Cape & Cutter Series at Meadowlands Racetrack, has visited the winner's circle 27 times and earned $756,034 lifetime. She has enjoyed this success despite losing her entire two-year-old season to a sesamoid fracture and the bulk of her 5-year-old campaign because of a hairline fracture of a knee.
"She's just something else," said New Jersey resident Joe Jannuzzelli, who bred Symphony In Motion and owns the mare with Carol Demarch. "She's a great horse. For a horse that had two breaks, it's just amazing. She's perfect gaited. That's probably what's keeping her going so good."
Symphony In Motion was training in Florida when the sesamoid injury occurred.
"The diagnosis was that she would probably not race anymore," Jannuzzelli said. "We took the chip out and sent her back here. They said to put her in a stall for as long as she maintained her sanity. She was perfect in the stall. The only time she got up was to eat and drink and then lie down. I left her in the stall for six or seven months. I guess it healed because she came back with a vengeance the following year."
As a three-year-old, she won three races and hit the board eight times in 12 starts while earning $132,294. Trained by Larry and Ray Remmen, she won two legs of the New York Sire Stakes and a leg of the Snow Angel series at the Meadowlands. The following season, she won 10 of 20 races, captured the Night Styles and Jersey Girl finals at the Big M, and banked $225,630.
Symphony In Motion struggled during the early part of 2009 and it was discovered she had a hairline fracture of a knee, which required surgery by veterinarian Dr. Patty Hogan.
"Patty Hogan put a screw in her knee," Jannuzzelli said. "She called me up when (Symphony In Motion) was racing good last year and said she never in a million years thought she would come back.
"She was better than she ever was."
Last year, Symphony In Motion won 12 of 33 races, hit the board 13 other times, and earned $323,235 for trainer Mark Harder. She competed predominately at Yonkers Raceway, where she won three legs of the Blue Chip Matchmaker Series and six Open handicaps. She also won a mares Invitational at the Meadowlands in a career-best 1:49.
"Symphony is going to be our broodmare someday, but the way she keeps racing she doesn't want to be a broodmare," Jannuzzelli said. "She's king of the hill at Yonkers. She gets around the half (mile track) real good. She'll be back for the Blue Chip Matchmaker Series over at Yonkers. Then I see the Artiscape at Tioga. I might put her in there too.
"Every time there is some kind of series we can get her in I ask Mark if he thinks she can do it. He says if she can't do it there's nobody in there that can do. She can beat them all on her given day."
Symphony In Motion, by Bettors Delight out of the Jannuzzelli-bred mare Malocchio, is from a family of winners. Her full sister Lambretta is active at age 8 with $345,959 in earnings and the family tree includes multiple-stakes-winner Scoot Outa Reach, who was third in the 1990 Meadowlands Pace behind Beach Towel and Jake And Elwood.
"It's just a great family," Jannuzzelli said. "I've had nothing but luck with the whole family."
Even with the success and luck, Symphony In Motion is special. Jannuzzelli is hoping she can add the Cape & Cutter final, to be held February 18, to her list of accomplishments.
"When she stops racing I think I should quit the business," Jannuzzelli said, laughing. "I don't know if I'll ever get another one like her. She's some kind of filly.
"I don't know what to do with her but to love her."
---
This story courtesy of Harness Racing Communications, a division of the U.S. Trotting Association. For more information, visit ustrotting.com.