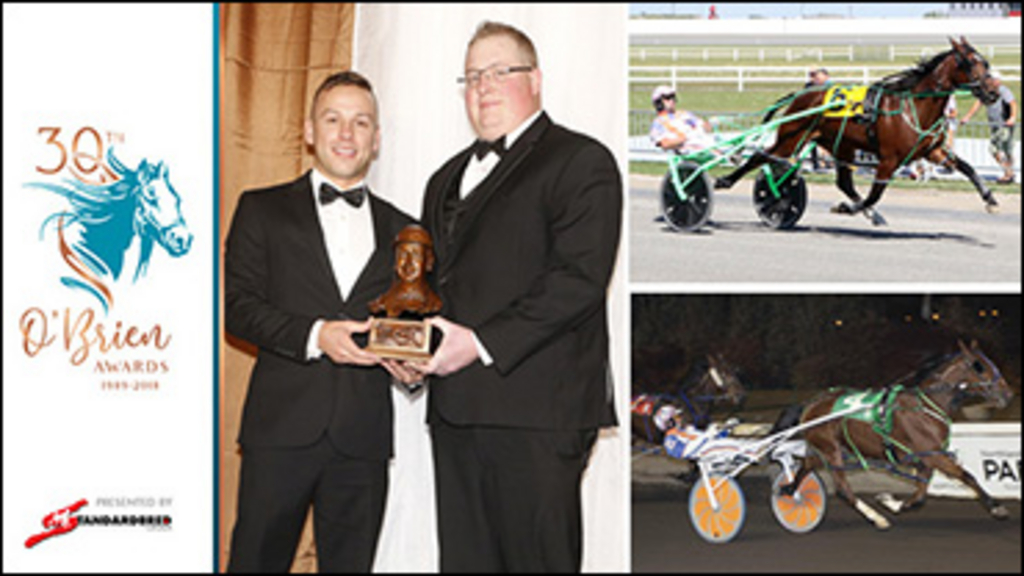 Published:
February 7, 2019 10:32 am EST
Chris Lancaster, the Future Star winner at the 2018 O'Brien Awards, only looks to shine brighter across Western Canada as he enters his second year of full-time training.
A native of British Columbia who set out entirely on his own last year after working for Alberta stalwarts Kelly Hoerdt, Jamie Gray and Rod Hennessy, Lancaster enjoyed a dynamite 2018, training Alberta Sires Stakes super final winner Rockin Mystery and visiting the winner's enclosure 29 times.
"I knew I had an uphill battle coming from the west and going against the Ontario boys," Lancaster said of his O'Brien nomination. "[Kyle Bossence] had 140 more starts than I did, and I thought it was going to be a tight race."
Lancaster's stakes accolades likely had a major hand in the storybook ending to his season, but the former blacksmith is quick to defer credit.
"Kelly Hoerdt helped me out the most in my early career, but to polish it all off, Brandon Campbell and I became a great team and we work great together," Lancaster told Trot Insider. "I've got to think him for all the accomplishments; he got me to this award."
Lancaster is aiming for an even stronger 2019, having indicated that both Rockin Mystery and dual stakes winner Lady Neigh Neigh are back in training in preparation for their upcoming sophomore campaigns.
This is the fourth in a series of several post-event video interviews with O'Brien Award finalists, sponsored by Horse Racing Alberta.
On Saturday, Feb. 2, Standardbred Canada announced the winners for the 2018 O'Brien Awards at the 30th edition of the annual O'Brien Awards Black Tie Gala, held at the Hilton Mississauga / Meadowvale hotel in Mississauga, Ont. The O'Brien Awards honour Canada's best in harness racing over the past season and are named in honour of the late Joe O'Brien, an outstanding horseman and member of the Canadian Horse Racing Hall of Fame. To view the full list of 2018 O'Brien Award winners, click here.