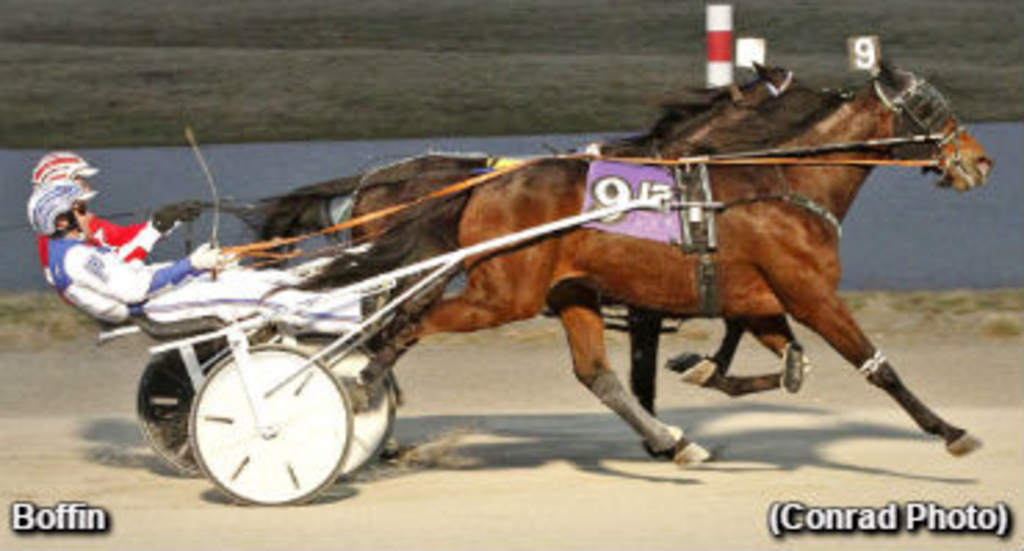 Published:
February 7, 2017 07:46 pm EST
The warhorse Boffin, a seven-year-old Donato Hanover gelding making his 100th lifetime start, won for the 33rd time in Tuesday afternoon's $22,000 Open Trot at Miami Valley Raceway.
Driver Chris Page was content to drop in fourth along the pylons after leaving from the outermost post position with Boffin in the classy 10-horse field. After watching tempo setter Martz Time (Kayne Kauffman) cruise by the quarter in :28.1, Page opted to follow favoured Final Breath (Dan Noble) into the outer flow as they passed the :56.3 half.
When Final Breath couldn't clear and appeared stalled at the 1:25 three-quarter mile mark, Boffin was angled around him and the stretch-long duel with Martz Time was on. It wasn't until the final stride or two that Boffin gained his first advantage, winning by a head over Martz Time in 1:54. Final Breath held on for the show dough.
Co-owner Anette Lorentzon trains Boffin. Kjell Johansson and ACL Stuteri Ab share ownership of the $394,452 winner. He paid $19.80 to win
Leading driver Kayne Kauffman visited the winner's circle in five consecutive races, including three of the eight elimination heats of a "Survivor Series" for $5,000 horse and gelding pacers.
Kauffman's series winners were Northern River (1:55.4, $8.80 to win), Catherinesdiamond (finished second, placed first, $12.20), and Jagger Blue Chip (1:55, $14.00). Other triumphs in his handful of consecutive winners were Shakeitformegear (1:55.1, $6.20) and the trotter Hes Got Pizazz (1:55.4, $9.00).
Kauffman has opened up a double digit lead in the dash standings and eclipsed the $400,000 purse earnings plateau in the first 23 cards of the current 87-day meet.
Other Survivor Series winners were Shakrattlenrock (Brady Galliers, 1:53.3, $6.60), Eagle A Scootin (Jeremy Smith, 1:55.3, $17.80), Malosi N (Simon Allard, 1:57.2, $9.60), Dukes Up (Dan Noble, 1:56.3, $9.60) and Hobbys Hobbit (Chris Page, 1:55.3, $17.80).
The top five in each of the eight divisions 'survived' to the second round next Tuesday, when four fields will chase $6,000 purses. There will be two semi-final races for $7,500 purses, followed by a $20,000 championship on February 28.
(Miami Valley Raceway)