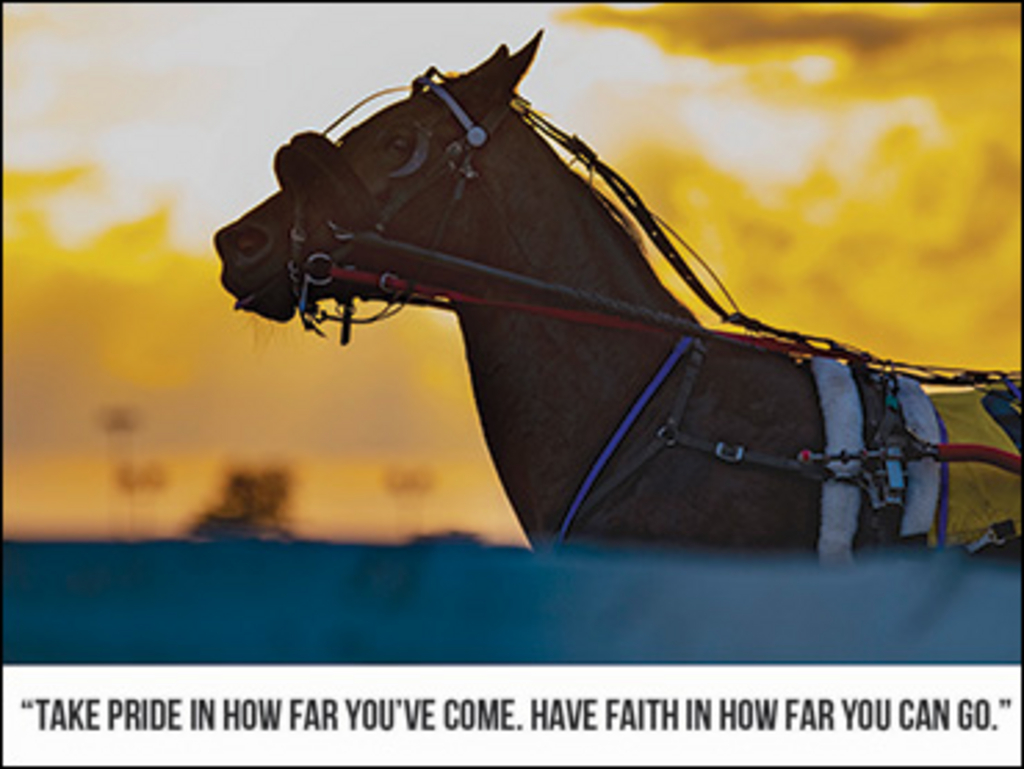 Published:
February 6, 2020 09:51 am EST

Jackie McManus of Komoka, Ont., a regular contributor to Standardbred Canada's Heart of Harness Racing Calendar, captured this picturesque photo of the sun setting at Hiawatha Horse Park in Sarnia, Ont., during a post parade.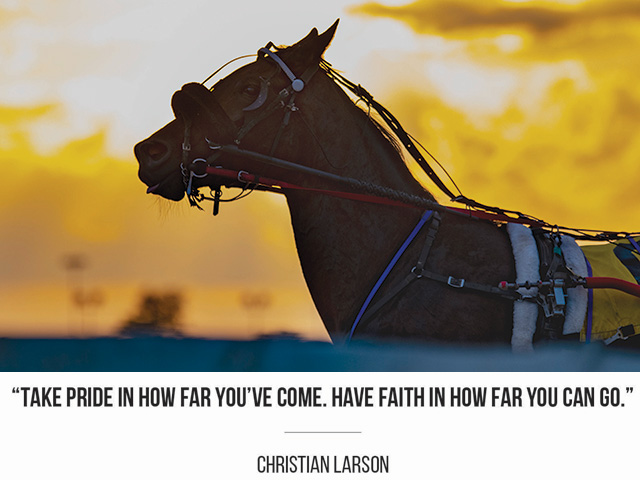 It wasn't too long ago that we featured Jackie as the photographer behind the lens for the December 2019 Heart of Harness Racing photo. At that time, Jackie was starting a new venture as the facilitator and photographer for the fractional owner group OAS2020 (Own A Standardbred 2020).
Since then OAS2020 has officially got off the ground with their three Ontario-sired yearlings; Magic Dream, Shadow One and Sharp Play, along with two three-year-old fillies who are actively racing, Come On Over and Vintage Smile.
"Considering we have only been together since mid-November, we have been really fortunate to have two wins with Come On Over and four wins with Vintage Smile," McManus explained.
Since the two fillies have started racing at The Raceway at Western Fair District, the OAS group has weekly get-togethers to watch them race.
"Monday nights are a pub night at The Raceway so almost everyone has met the other partners as we generally have dinner together. It is something when people drive from Dresden, Elora, Kitchener, Stratford and Dutton to come to London to watch our horses race," Jackie explained. "We also coordinate a Saturday farm visit every month. As for when the weather gets better, I have coordinated breeding farm and racetrack visits and may have a few other events up my sleeve."
Feedback from the group is that they enjoy having horses racing while they wait and watch the babies come along.
Below are some comments from OAS2020 owners:
"I really think this was a great way to get a small taste of what it's like as a part of the ownership side of horse racing, and can definitely see becoming more involved as we age a bit and our kids finish university and get out on their own."
"I am having a great time. I am always impressed with horse people. They are humble, hardworking, persistent and enjoyable to be around."
"We find it exciting to see our three OAS2020 two-year-olds training and their names listed on the Two-Year Olds in Training on the Standardbred Canada website.
When we asked Jackie if she had a horse from OAS2020 that was her favourite, she responded, "Although I love the sweet nature of our two-year-old Magic Dream, I would have to say I have an affinity for Vintage Smile. She was not my favorite of the two racehorses when I was first introduced to them. I have quite a bit more respect for her now, not because she has provided us with so many thrilling wins, but she really has come a long way.
"Although her wins come from leaving and taking the lead, she had a couple of runner-up finishes after rough trips having to come from way off the pace. I have to respect that and besides, she is great to photograph with her goofy faces."