Published:
February 6, 2013 11:18 am EST
During the evening hours of Tuesday, February 5, numerous mainstream Toronto media outlets broke the news that the proposed and long-delayed Woodbine Live! expansion planned for Woodbine Racetrack is 'dead.' Although, the official parting of ways between the Woodbine Entertainment Group and The Cordish Company on the endeavour could prove to be a positive development for WEG in terms of actually landing its coveted 'integrated-resort' style gaming expansion.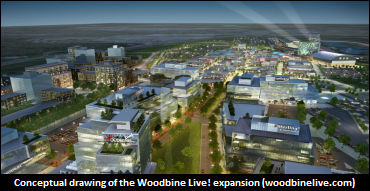 An article on the situation by the Toronto Star gives a pair of different reasons for the Cordish/WEG breakup. The report has cited Cordish spokesperson Taylor Gray as saying that the reason the two parties went separate ways was due to WEG's desire --- characterized as a 'quest' in the article --- for a casino at Woodbine Racetrack. Gray was quoted as saying, "As a result of the 2012 [Ontario Lottery and Gaming Corp.] announcement regarding the privatization of gaming in Ontario, and in order to give Woodbine maximum flexibility to be responsive to this directive, the parties amicably agreed not to proceed with Woodbine Live! at this time."
Later in The Star article, Councillor Doug Ford, who now represents the ward in which Woodbine Racetrack is located in (he took over for his brother, Rob Ford, who became Mayor of Toronto), explained that the split between the two parties was not entirely amicable. "I feel good, because they finally got it resolved," Doug Ford was quoted as saying. "This has been on hold for years and years and years because they had a dispute with each other. I'm happy as anything we get to move forward. My constituents will be happy to hear we're going to move forward."
WEG and Cordish are now years removed from the major announcement which explained that the project, which was to cost hundreds of millions of dollars, would include the addition of hotel, retail, entertainment and housing expansion on Woodbine Racetrack's massive plot of undeveloped land in Rexdale/Etobicoke, located in the northwestern quadrant of the City of Toronto. Woodbine Racetrack's 680-acre site is referred to as the largest swath of undeveloped land in Toronto.

In regard to how the Cordish/WEG divorce could help the Canadian racing giant land casino expansion at Woodbine Racetrack, the operators of Canada's showplace of racing are now free to team up with another development company and come up with a gaming/entertainment proposal to pitch to both the OLG and the City of Toronto.
"Our formal arrangements with Cordish have come to an end," WEG spokeswoman Jane Holmes told The Globe and Mail. "We are free to have a new development partner to move this forward," she said, adding, "We have our options open."
Although she did state that WEG is in the position to pair up with a new partner on a proposed project, Holmes made it clear in The Star article that WEG is focusing on its core horse-racing product at this time, as it has been thrown into turmoil due to the OLG/Ontario Liberal decision to scrap the mutually-beneficial slots-at-racetracks program. "We need a long-term solution for the sustainability of horse racing, and so we're focused on that now," The Star quoted Holmes as saying, yet also adding that WEG is "really focused on trying to get a permanent casino (at Woodbine Racetrack)."
The clock is slowly creeping closer to the day when Toronto City Council has to make a decision on whether or not it wants to allow a full-blown casino complex to be erected in the city. There is currently an unrelenting push by OLG Chairman Paul Godfrey to see a massive casino complex spring up in the heart of downtown Toronto, one of the densest metropolis areas in North America. As it is proving to be in the City of Hamilton to the west, the topic is a polarizing one, and it seems to be galvanizing more and more people as the days go on.
Late last month, MGM Grand Resorts International Chairman and CEO Jim Murren went on the record as saying that if Toronto Council opts to decide against casino expansion in the city, that "there are plenty of cities all around Toronto that would be very willing to, and excited, to build and host such a large resort." Based on the fact that not one of Toronto's neighbours have welcomed the idea of casino expansion as of yet, Murren's statements do not appear to be true at this time.
The CBC and NewsTalk 1010 have also covered the news regarding Cordish, WEG and Woodbine Live!
(With files from The Globe and Mail and the Toronto Star)