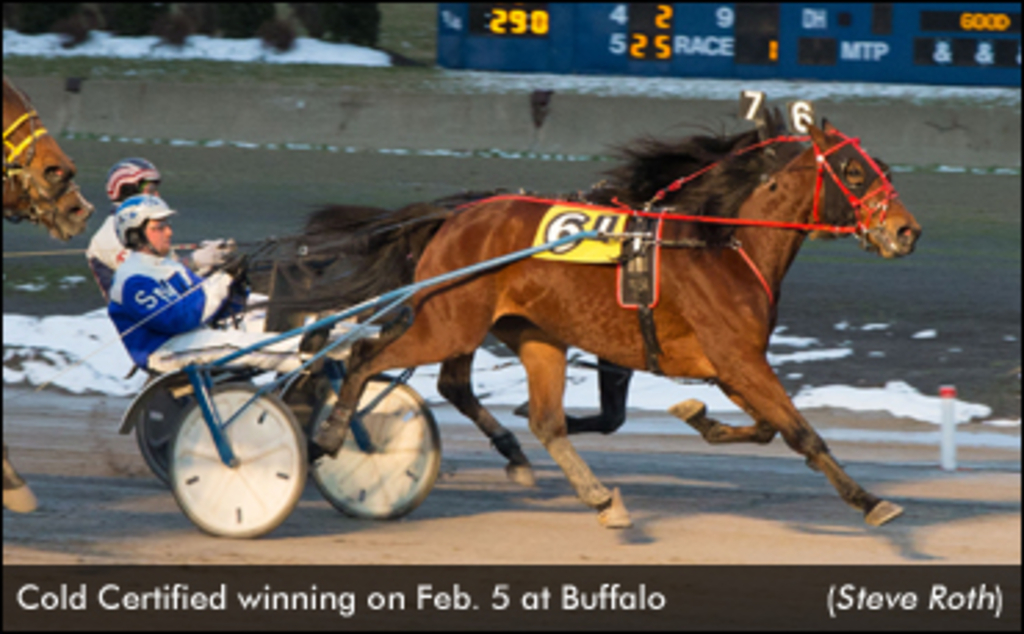 Published:
February 5, 2016 08:51 pm EST
It sure turned out to be a head scratcher in Buffalo Raceway's $10,000 Open Trot on Friday night (Feb. 5).
Cold Certified, who won this event last week as the even money favourite in 1:59.1, was dismissed by the public at 6-1 this time around and made them pay for the oversight by scoring a gutsy neck victory over Lutetium in 1:59.4 over the "good" track.
David McNeight III shared the Friday spotlight with Cold Certified as he registered a six-bagger in the sulky and also produced a training win.
In the feature, after playing the give-and-go with Lutetium (Truman Gale), Cold Certified ($14.00) set the tempo with fractions of :29, :58.1 and 1:28.4. It appeared that those fractions might have taken its toll as Winkys Pride was first over and took a slight advantage turning for home. But that was all Winkys Pride was able to muster. Cold Certified, who appeared to have thrown in the towel, was revitalized by driver Shawn McDonough midway down the lane and roared back for the neck win while Lutetium (Truman Gale) skimmed the pylons for second and Im The Cash Man (Drew Monti) rallied for third.
The win was the second in a row from four 2016 starts for Cold Certified (Kadabra-I Like Stephanie). The seven-year-old gelding is owned by Paul and Ronald Louis Viele and trained by Alex Giuliani. The win upped Cold Certified's seasonal winnings to $12,800 and lifetime bankroll to $456,100.
McNeight III had victories aboard Lucky Millionaire ($8.00), Goldstar Thumper ($2.60), Maple Leaf Matt ($4.70), Release The Terror ($22.80), Sailin Metro ($6.20) and Pictorian Pride ($42.00).
McDonough had a good night driving as well as he posted a triple while Ray Fisher Jr. had two victories. For the trainers, David McNeight Jr. and John Mungillo had two wins apiece.
Racing will resumes at Buffalo Raceway on Saturday night at 6 p.m. with a 12-race card. The feature is the $10,000 Open Pace along with the opening round of the Niatross Knockout Claiming Series.
(With files from Buffalo Raceway)