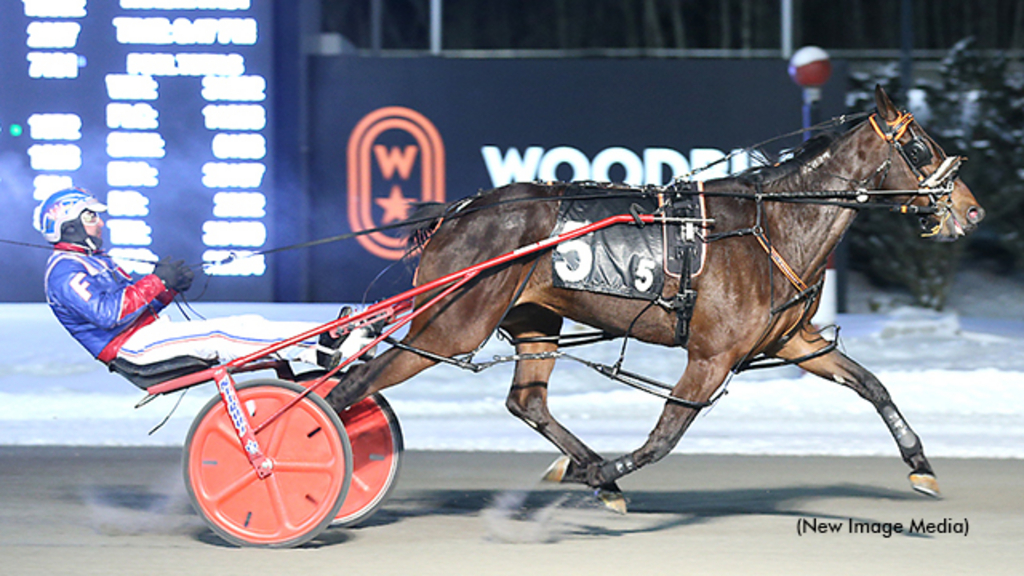 Published:
February 4, 2022 11:21 pm EST
Belina and Linedrive Hanover shared the spotlight in series action on Friday night (Feb. 4) at Woodbine Mohawk Park, winning their respective finals of the Blizzard and Snowshoe.
Both series are for three and four-year-old pacers that were non-winners of two races or $30,000 lifetime as of October 31, 2021. Colts and geldings competed in the Snowshoe Series and their female counterparts faced off in the Blizzard.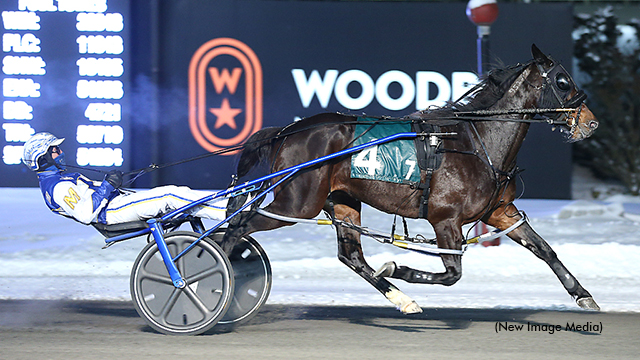 ​
After joining the Snowshoe Series with a dominating three-length victory in leg two, Linedrive Hanover went right back out and romped by eight in the $41,200 final as the heavy 1-5 favourite for driver James MacDonald.
Opening leg winner VP Rockin (Doug McNair) and Merito Hanover (Louis-Philippe Roy) traded turns on the lead through first-half fractions of :28.3 and :57.3 before Linedrive Hanover swept up from fifth with Saulsbrook Victor (Brett MacDonald), another round one champ, hot on his heels to three-quarters in 1:25.4. However, Linedrive Hanover gave that foe the cold shoulder as he opened up three lengths with an eighth of a mile to go and continued to pour it on down the lane. Winning in 1:53.3, Linedrive Hanover came within one-fifth of a second of his lifetime mark that he set a week ago. Saulsbrook Victor settled for second and Bettorbeflyin (Jody Jamieson), a winner in leg two of the series, finished third.
Trained by Tony Beaton, the four-year-old gelded son of Betting Line is now perfect in three races this year after making one start at two and missing his sophomore season. He more than doubled his career earnings with the victory, pushing his bankroll to nearly $40,000. Livedrive Hanover is owned by West Wins Stable, McKinlay & Fielding, J L Benson Stables Inc. and Mac Nichol.
He paid $2.40 to win.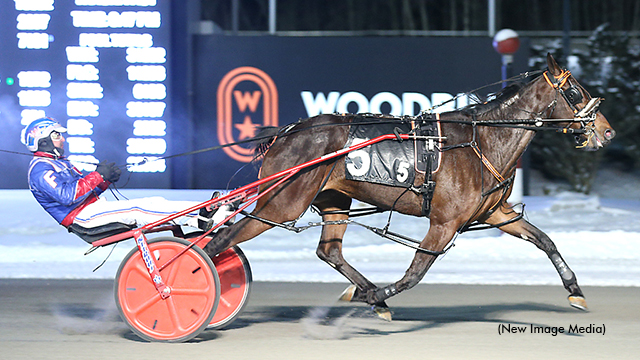 ​
Improving with each leg of the Blizzard Series, Roland Trudel's homebred mare Belina ended on top in the $37,600 final as she defeated 6-5 favourite Awesome Hill by two lengths in 1:55.2 for driver Sylvain Filion. 
After three lead changes through fractions of :28.1, :57.2 and 1:26.4, Belina was stalking in sixth from third-over heading into the stretch. She launched four-wide off the cover of Awesome Hill (Doug McNair) and out-sprinted the favourite home with a :27.4 final frame. Addictivebehaviour (Austin Sorrie) edged out Pull Me Through (Paul MacDonell) in a photo for show.
Belina is a four-year-old daughter of Sunshine Beach out of the Bettors Delight mare Jimbelina, who Filion partnered with for a runner-up finish in the 2017 final of the Blizzard Series and the mare finished third racing in Friday's nightcap. Belina notched her first victory of the year from five starts and boosted her bankroll to $66,140 after winning three of 14 races in her debut season in 2021 for trainer Jean Tourigny. 
Belina paid $7.20 to win as the 5-2 second choice.
To view Friday's harness racing results, click on the following link: Friday Results - Woodbine Mohawk Park.