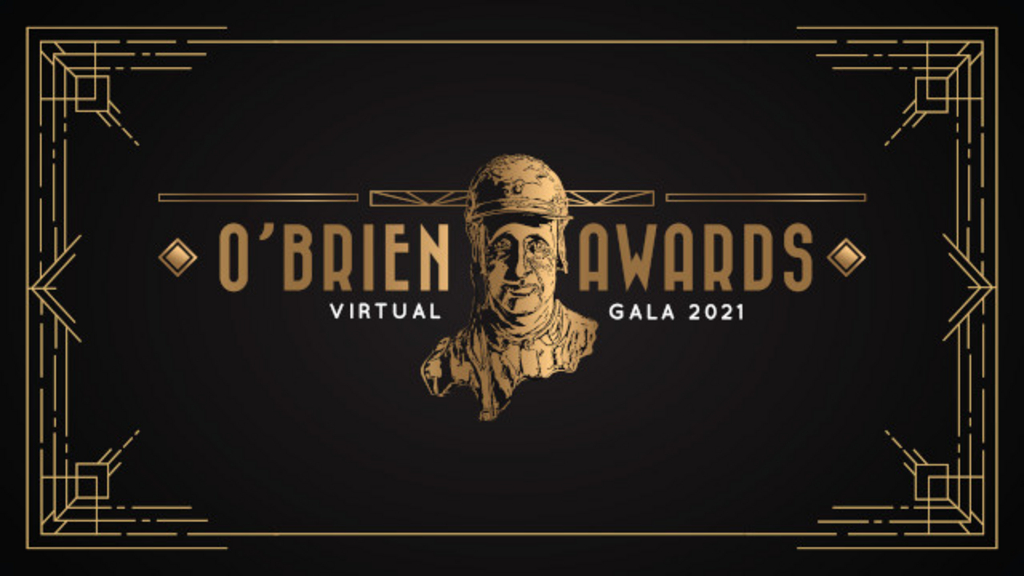 Published:
February 6, 2022 12:20 pm EST
Standardbred Canada is proud to present the 2021 Virtual O'Brien Awards Gala this evening (Sunday, Feb. 6), on standardbredcanada.ca.
Here's everything you need to know to enjoy your evening!
SUNDAY, FEBRUARY 6
Watch on standardbredcanada.ca
(Links to video streams will be posted in a Live Coverage note, starting at 5 p.m.)
5:30 p.m. – 6:30 p.m. (EST) — Red Carpet Live
Sponsored by Grand River Raceway
(Also available for viewing on SC's Facebook page)
6:30 p.m. – 7 p.m. (EST) — Video Greetings Sponsored by the Hambletonian Society
7 p.m. – 8:30 p.m. (EST) — 2021 Virtual O'Brien Awards Show
The online stream, made possible by Standardbred Canada, is brought to you by co-sponsors Omega Alpha Pharmaceuticals ~ Effective Supplements Through Science, and Woodbine Mohawk Park.
The Virtual O'Brien Awards Gala will feature live cut-ins with some of the finalists and winners.
Order of Presentation
Media Excellence Awards
Outstanding Groom Award
Future Star Award
O'Brien Award of Horsemanship
Horse Divisions (two-year-olds, three-year-olds, older horses)
Armstrong Breeder of the Year
Keith Waples Driver of the Year
Trainer of the Year
Somebeachsomewhere Horse of the Year
There are lots of opportunities for viewers to get involved in this year's Virtual Gala! Here's all the information:
Digital Program
(Click here to open in a new window; allow time to load.)
OBProgram 2021 Final Draft Jan. 31
Online Silent Auction Ending Monday at 9 p.m.
Proceeds will benefit SC's educational partnerships. The auction is open now and closes at 9 p.m. (EST) sharp on Monday, February 7! Click here to check out the items and bid!
O'Brien Awards Online Handicapping Contest
The O'Brien Awards Handicapping Contest, sponsored by Tara Hills Stud, is now closed. Watch for the results next week! The winner will receive a $100 HPI gift card and $110 worth of TrackIT credits.
Standardbred Canada would like to thank all of the Industry Partners and Sponsors for their support of the 2021 O'Brien Awards:
Ontario Lottery and Gaming Corporation for sponsoring the Outstanding Groom Award.
The Central Ontario Standardbred Association, sponsors of the finalists' VIP Celebration Gifts.
Ontario Racing, sponsor of the Media Excellence Awards.
Horse Racing Alberta for sponsoring the O'Brien post-event video interviews, which you will see on our website for the week following the awards.
Grand River Raceway for sponsoring the Red-Carpet live broadcast.
The Hambletonian Society for sponsoring the Video Greetings.
Omega Alpha Pharmaceuticals & Woodbine Mohawk Park, for sponsoring the video stream.
OnTrack Media and Entertainment, an American Teletimer company, sponsor of the online photo gallery.
Great Canadian Gaming Corporation for their contribution as an Industry Partner.
 Tara Hills Stud for sponsoring the O'Brien Awards.
 
Keep up to date on the event details by following the O'Brien Facebook Event Page. If you are posting about the O'Brien Awards, you can use the hashtag #obriens21