Published:
February 4, 2020 11:44 am EST
There will be a new face on the tarmac and in the grandstand at Kawartha Downs this year, as Orazio Valente, the general manager of track for the last three seasons, has moved on and been replaced at the Peterborough-area raceway.
In an article by the Peterborough Examiner, Kawartha Downs President Richard Weldon described Valente's departure as amicable. Kevin Goetz, who has managed other properties held by Kawartha's owner, Romspen Investment Corp., has assumed Valente's position.
"I think I've done all I can do and there is really nothing else that I could do that was going to be significantly impactful," said Valente, who furthered, "We're just waiting to see what the government and Ontario Racing is going to do with horse racing. The ball is really in their court now."
Valente also stated, "I think I have done the best I could to help Kawartha Downs stay alive and survive given all the obstacles in front of it." He also said, "I'm proud of the work I did there. I hold a special place in my heart for Kawartha Downs, the horsepeople, the community, all the employees and patrons who come out every single week to watch the races. I wish them nothing but the best. Time will tell, but I do know the ownership is committed to horse racing."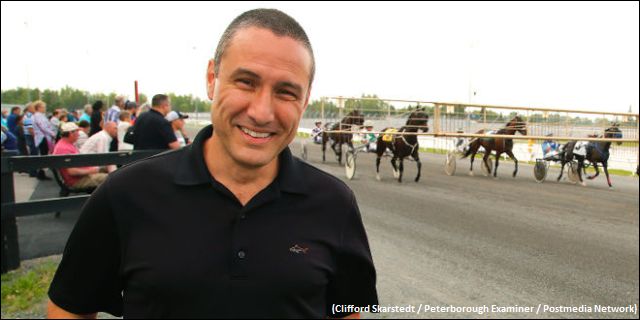 Orazio Valente, pictured trackside at Kawartha Downs on June 10, 2017.
While speaking with the Peterborough Examiner, Weldon confirmed Valente's sentiments in terms of Romspen's commitment to live harness racing. He believes that the live racing and gaming offerings at Kawartha Downs have been successful to the point where agreements will be reached to see both operations continue for years to come.
"I think things are working out well," Weldon said. "The loyal following at Kawartha is phenomenal. It's unlike anywhere else. When we have an event it's full. We're optimistic. It serves an important part of the community. It would be a real shame if it went down because it supports so many people in horse racing."
Weldon explained that Romspen's long-term goal is to transform the location into a destination resort, but cautioned that the long-term outlook is not something that is going to come to fruition overnight.
"We have the casino, which is doing very well right now, which is encouraging," Weldon was quoted as saying. "If we can get a few more forms of entertainment, in other words expand the winter venues and get enough people there, we can justify having a Texas-roadhouse-type of facility with bands, snowmobiles and stuff like that. We just need to get critical mass on the property."
Kawartha Downs' 2020 season of live harness racing will feature 21 dates – all Saturdays – the first of which is scheduled to be conducted on May 9. The track is slated to host its last live date of the season on September 26
(With files from the Peterborough Examiner)