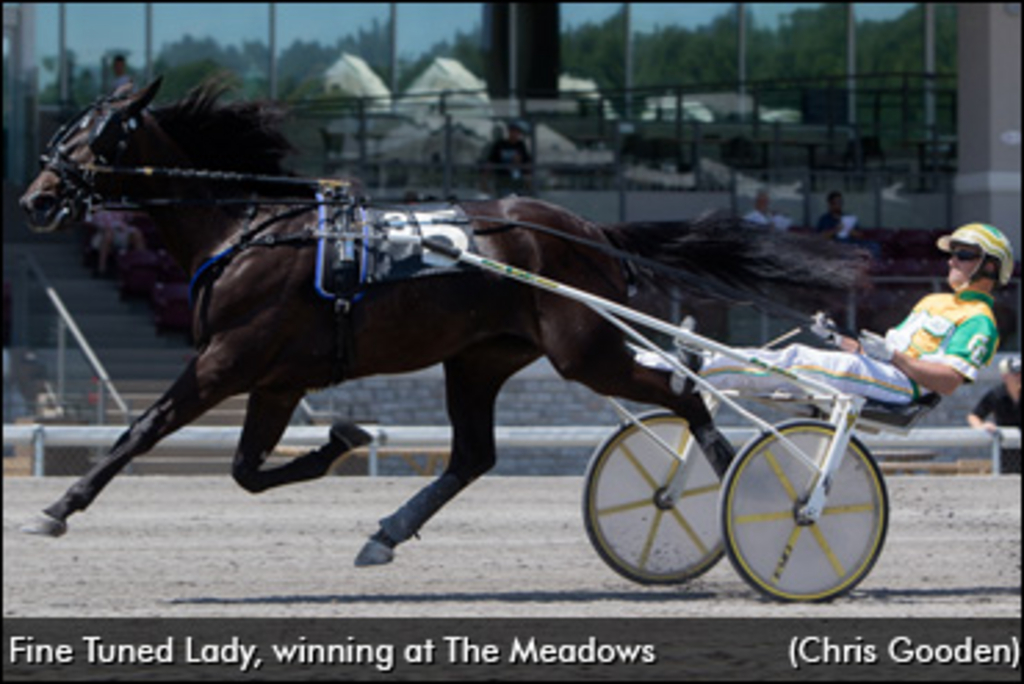 Published:
February 3, 2017 09:01 am EST
Coming off a season in which his pupils earned just over $2.3 million, the largest annual sum of his 26-year career, John Butenschoen acknowledges 2017 could be a banner one as well, especially when a filly such as Fine Tuned Lady graces his shedrow.
"She came in and grew and put on more weight," Butenschoen said. "I am very, very happy with her and look forward to what she can accomplish this year. I'm looking forward to the season, but it's like I've been telling my help, they better enjoy the good mood I'm in right now, because another month or so when things start to get serious, I start worrying about everything and won't be easy to be around."
While defending Pennsylvania Sire Stakes two-year-old male trot champion Giveitgasandgo and the royally bred Bluegrass Stakes winner Dover Dan may have received more attention, the three-year-old star of Butenshoen's stable may very well be Pennsylvania Sire Stakes two-year-old filly trot champion Fine Tuned Lady.
The daughter of Cantab Hall-Poster Princess was selected and purchased for $27,000 by William Wiswell and M And L of Delaware at the 2015 Standardbred Horse Sale at Harrisburg. In her sole year of racing, she has compiled a resume of 12-6-5-0 and collected $438,340.
Due to the fact her dam won $153,407 on the track and has produced Prince Rocco (SJs Photo, $159,910), Poster Pin Up (Andover Hall, $439,454), Call To Post (Tom Ridge, $322,385) and Everyones Talkin (Donato Hanover, $131,993), Fine Tuned Lady's connections felt quite fortunate they could bring her home for that price.
"We were definitely shocked and were looking at each other when the gavel went down and it was only $27,000 for her," Butenschoen said. "We were prepared to go much higher, but we were not going to complain or even give it too much thought as to why. We were just very, very happy to have her for that amount of money with her family being as good as it is."
Fine Tuned Lady commenced her career with a second place finish in a $30,000 division of the Pennsylvania All Stars held at The Downs at Mohegan Sun Pocono on June 27. She followed her debut effort with a maiden-breaking score at the same facility in a $14,000 non-winners event on July 4 and another victory in Sire Stakes company at The Meadows the subsequent week in a stakes record 1:55.1.
After another second under the same conditions in a return to The Downs at Mohegan Sun Pocono on July 19, Fined Tuned Lady received two weeks off, won a qualifying contest on Aug. 3 and then was second in two Sire Stakes races at Harrah's Philadelphia on Aug. 11 and The Meadows on Aug. 23.
Qualifying at Pocono yet again on Aug. 31, the filly then led from gate to wire to capture the $252,000 Pennsylvania Sire Stakes final for her age, sex and gait on Sept. 11 at Harrah's Philadelphia.
"Everyone that got behind her at first thought she was a good horse," Butenschoen said. "But just good. It was when Corey Callahan drove her for the first time in her first baby race he told us she might be better than just that. As soon as he got out of the bike he came right over and said, 'I really like this filly and I will follow her wherever she goes.' Now that is saying something when a driver like Corey makes that kind of commitment and he turned out to be right. She has not done one thing wrong and had a great year."
Fine Tuned Lady left the friendly confines of her home state and Sire Stakes company to contest some of the sport's elite fillies in the $250,000 Kentuckiana Stallion Management Stake at Hoosier Park on Sept. 23, which she won, prior to journeying to Red Mile to finish second and fourth, respectively, in divisions of the Bluegrass Stake and the International Stallion Stake.
A return to Philadelphia on Oct. 28 yielded a victory in the John Simpson Stake and Fine Tuned Lady capped off her season with a triumph in the $148,700 Matron Stake at Dover Downs on Nov. 3.
Although her regular reinsman, Callahan, extolled the filly's virtues early in her career, Butenschoen already had a specific plan in mind to manage her season and he did not deviate from it.
"We got lucky with her when she won the Kentuckiana because that other filly (1-9 favourite and divisional champion, Ariana G) broke right at the start," Butenschoen said.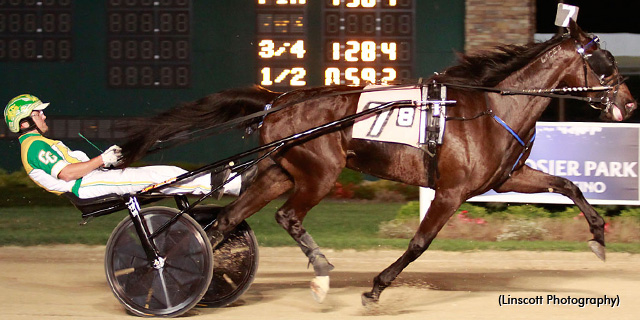 Fine Tuned Lady, winning at Hoosier Park
Prior to that miscue, Ariana G was undefeated and appeared invincible.
"We mapped out a schedule where we could still dodge some top fillies like Ariana G, take advantage of Pennsylvania's Sire Stakes program and make some money in other races later in the year with her," Butenschoen said. "We could have put her in the Breeders Crown, or taken her to Canada [for the Goldsmith Maid], but the way the schedule was set we could keep her here and put her in two races where we knew we could get a nice cheque with her rather than having her knock heads with the top ones in those races, then not being able to hit the board.
"Also, she is very handy and comes off the gate very well. We were not sure how that advantage she has would have played over the bigger, mile tracks with the best fillies who are proven over that type of track."
The plan of attack for Fine Tuned Lady's 2017 schedule mirrors that set out for her in 2016.
"We will follow a similar schedule with her this year," he continued. "It will be up to her to see if we do put her in races like the Breeders Crown. She will have the opportunity to show us.
"As I said, I'm very pleased with how she looks, but it is a long season and in this business you can never predict what is going to happen."
---
This story courtesy of Harness Racing Communications, a division of the U.S. Trotting Association. For more information, visit www.ustrotting.com.