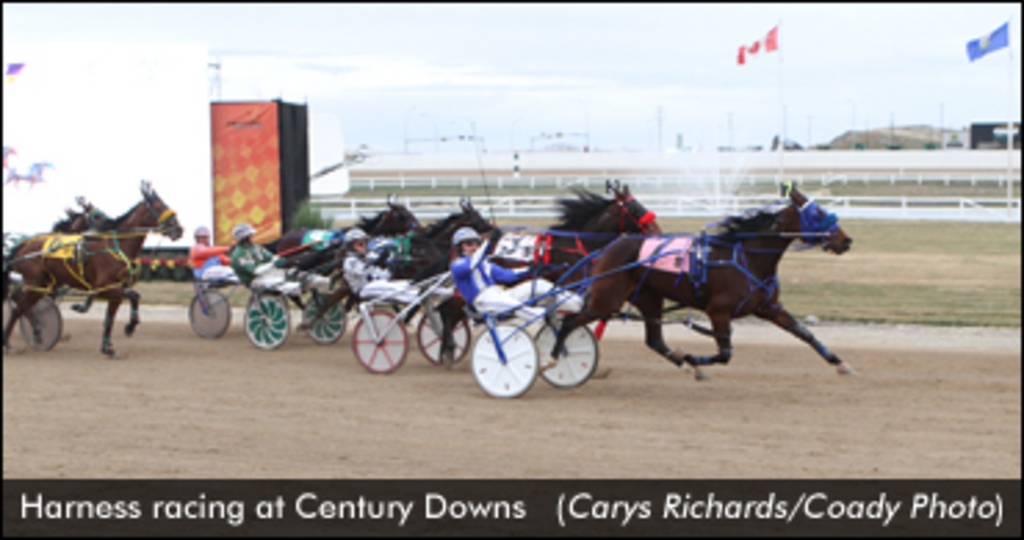 Published:
February 26, 2016 08:57 am EST
Century Downs Racetrack and Casino is on a quest to attract 100 new owners to the sport with the launch of a new fractional ownership program for its 2016 harness racing season.
The new program, called the Century Downs Racing Club, allows harness racing fans the chance to experience what it is like to own a racehorse. For a one-time $250 membership fee, fans can buy a share in the Century Downs Racing Club that owns two racehorses for the duration of the track's 2016 harness season.
Century Downs' General Manager Paul Ryneveld told Trot Insider that the club has already purchased its first two horses, which will be trained by veteran horseman Gerry Hudon. Century Downs will manage the club and make all decisions related to the horses.
Ryneveld explained that Century Downs has budgeted the purchase of the horses as a marketing expense. At the end of the 2016 Standardbred season at Century Downs, the horses will be put up for sale and proceeds from the sale will offset the purchase of the sale. The membership fees will pay for the training and expenses of the horses. If the horses make any money net of the training and expenses, a dividend will be paid per share at the end of the 2016 Standardbred season at Century Downs.
The Century Downs Racing Club is inspired by similar, successful Thoroughbred programs and is believed to be the first of its kind at a Standardbred racetrack in Canada. The program is designed to provide fans an easy and accessible way for them to experience the excitement of horse ownership and develop a deeper connection to the sport. It will also help educate and prepare them for future ownership endeavors they may wish to pursue.
"This idea has been in place at some other racetracks, including Hastings Racecourse last year," said Ryneveld. "It was actually a panel at the Tucson Symposium, which I attended and decided to use the idea.
"The goal is to have club members branch off into actual horse ownership. Other tracks have seen a 10 to 15 per cent success rate with this."
Hudon was eager to help out when he learned of the idea last December and agrees a program like the Century Downs Racing Club is important for the harness racing industry.
"I think it will get new people to the racetrack," he said. "It's not like it's going to cost them a fortune to get in on the Century Downs Racing Club. It's $250 and that's a one-time fee. They get to come to the racetrack and maybe it will entice new people to actually invest in the business."
Shareholders will have access to visit the horses at the barns and meet their trainer and drivers. They will also enjoy added perks throughout the racing season, including the horsemen's 25 per cent discount in the Mid City Grill outside of racing hours as well as a 50 per cent discount on winner's circle photos if the horse(s) win.
While the Century Downs Racing Club is based out of the Calgary track, membership is not restricted to locals. Members can watch live video streaming and replays of Century Downs' races on the track's website, and wagering is available through HorsePlayer Interactive and many U.S.-based betting sites.
The Century Downs Racing Club will offer 100 shares in its first year of the program, which will officially begin on April 1 or as soon as all of the shares are sold.
Hudon is looking forward to introducing such a large group of people to horse ownership with the assistance of the club's membership manager Shelley Hastey.
"It's different for me," said Hudon of catering to 100 owners on a horse, "because I'm the kind of guy that owns part of everything in the barn. I think it will be good for me and good for the business to have a bunch of new people in the backstretch to see how things are done. A lot of people don't understand how it's done."
The club's horses are four-year-old pacing mare Southwind Luna and three-year-old filly Warrawee Rap.
Southwind Luna is an Ontario-sired Sportswriter mare, who just won a $5,000 claimer at Century Downs in her last start on Feb. 14. Hudon anticipates that she could be a $5,000 to $7,500 claimer for the group.
Warrawee Rap is a maiden Mach Three filly, purchased from Hudon's uncle, Joe Hudon Jr. She arrived in his stable from Ontario on Saturday.
"She's a good, clean-legged filly and she's got a good attitude, so hopefully we can have some luck with a maiden filly up here. That's usually where you can make the money, through the conditions," said Hudon. "She might have a chance to race in some stakes, but we'll see how everything goes."
For more information on the Century Downs Racing Club, contact [email protected].