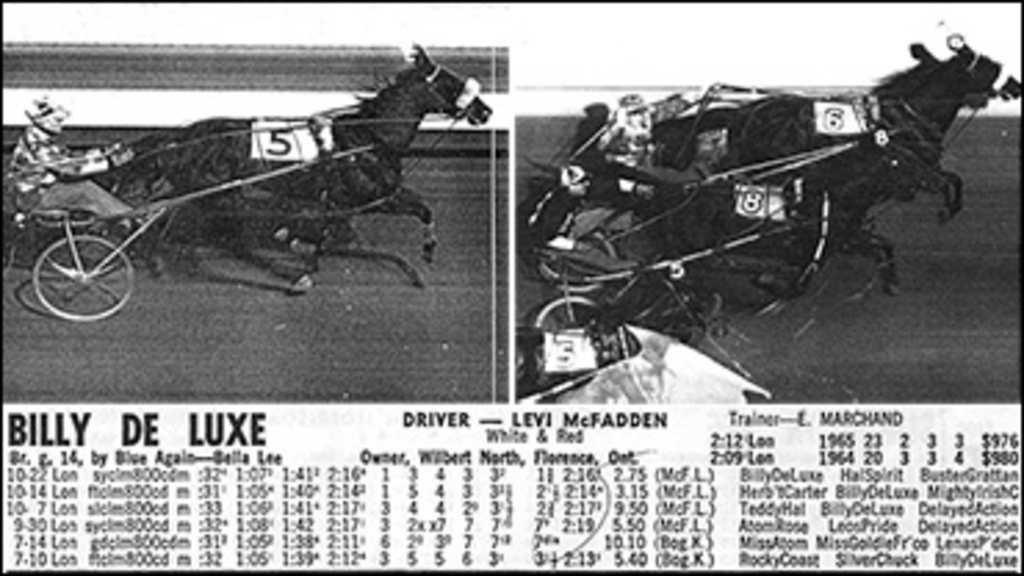 Published:
February 24, 2018 09:59 am EST
In this week's edition of Rewind Robert Smith recalls the long career of a horse named Billy Deluxe. This hard working 'blue collar' type of horse spent his entire 13-year racing career in the ownership of the same family and also enjoyed his repurposed retirement years with a family member as well. A world champion he was not; a symbol of the times and a talented campaigner was a role he admirably fulfilled.
Seventy-plus years ago, a Canadian horse named Blue Again was the talk of harness racing as the sport forged ahead into the post WWII era. His win in the $50,000 Golden West Pace in 1946 was a monumental happening. While his heroics and huge money earnings on the track excited his owner, many Canadians looked forward to the influence he might provide in the years to come as a sire. While the speedy son of Scotland's stud career was less than stellar, he did leave a few useful racehorses; among them was today's subject.
Back in 1953 the racing career of a horse named Billy Deluxe sired by Blue Again out of the Corporal Lee mare Bella Lee began. He was owned, trained and often driven by a young budding horseman named Harold "Bucky" North who was just in his mid 20's at the time. The North family, headed up by Stanley, the father of Harold, and his brother Wilbert, hailed from the metropolis of Florence, Ont., a small hamlet located in Lambton County about 15 miles west of Dresden and just six miles from Bothwell, the nearest track. While the senior Mr. North had a deep-rooted love for horses in general and an interest in harness racing, this marked the start of their first serious involvement in the sulky sport.
Billy's first lifetime start occurred on August 3, 1953 at Stratford. It was not a great start as he finished 7-7 in the two-heat affair featuring two-year-olds only. Better days were ahead. The next few starts included stops at Leamington, Dresden and the Forest Fair where he gained his first lifetime win with Bud Gibson driving. On October 3rd the great little racing Town of Petrolia provided the new owner with his first double heat winning day as Jiggs McFadden guided Billy home first twice to take the lion's share of the $200 purse.
The next and biggest task came as that year's Futurities were raced during London's Western Fair. Unfortunately that year the virtually unbeatable Mr. Galvin was also a two-year-old which meant that everyone was racing for second money. They didn't get second but did finish third and sixth which was a promising outing. Based on his first few starts Harold North got on the phone and contacted the folks at Batavia Downs. It was late October by now and also he was advised that all or most two-year-olds were finished for the season. The decision was made to head across the border and see what might happen.
On October 22nd under the bright lights of night racing and far from his home in Florence, Billy Deluxe made believers of many in the audience. On a cool and windy evening he paced home a winner in 2:11.4 with one of Batavia's top drivers Canadian Harold Wellwood in the bike. Five nights later he was in to go again. This time the weather was horrendous as heavy rains slowed the Batavia half-mile oval. Undaunted by the elements Billy Deluxe turned in a mile in 2:15, again driven by Harold. It was the fastest of the nine race card by nearly two seconds, which included a couple of races with some pretty classy performers. After racing for small purses back home, he had earned half of two $700 purses in the span of just five days!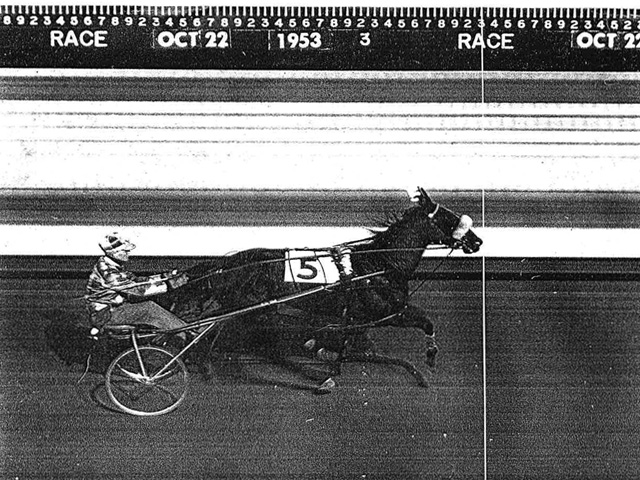 Billy Deluxe scores a victory at Batavia for driver Harold Wellwood in this 1953 photo finish.
That finished out the 1953 season which saw Billy start 14 times garnering five wins, two seconds and a like number of thirds all good enough for just over $1,050. Probably the equivalent of about $9,500 in today's world. The long and winding career of Billy Deluxe was underway.
The year 1956 was undoubtedly his best campaign and one that saw him take his lifetime mark of 2:06. With owner Harold North driving the lifetime best was taken at the Old Woodbine track in Toronto. That season Billy won a total of seven races and was handled by several drivers including one of the sport's top reinsmen Wm. "Bud" Gilmour who guided him to several wins at Batavia Downs. In 1957 he scored 9 wins and banked a nice $4,400.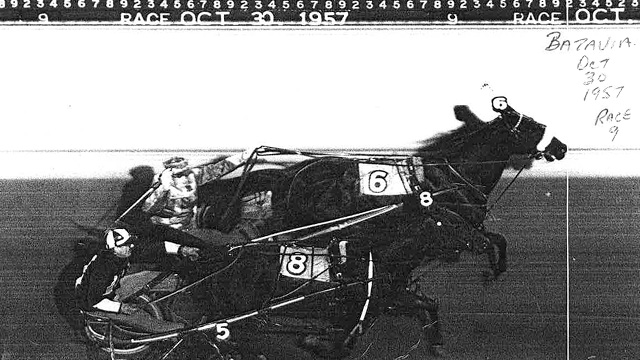 Noted driver Bud Gilmour urges Billy Deluxe to a win at Batavia Downs in this 1957 photo.
In 1960 racing fans saw a new Billy Deluxe; new and improved, perhaps not. As the then nine-year-old paraded for his opening race of the season he somehow looked different; quite different. Had he become free legged and begun to wear slightly different equipment? No, the current edition of Billy Deluxe was a trotter! While the experiment was not a great money maker it did prove just how versatile Billy could be. In 10 starts Billy Deluxe returned to the winner's circle three times for owner and driver Harold North. His record on the trot went into the books as 2:14 taken at the friendly confines of Connaught Park, the scene of all of his trotting appearances.
He continued to work away at his career year after year, never in spectacular fashion but usually earning his keep. In addition to his owner Billy was driven by many other horsemen of that era, some mentioned elsewhere. Duncan Campbell, Jiggs McFadden, Cecil Coke, Bud Gilmour, Bud Gibson, Ken Bogart and undoubtedly others that have evaded my search.
On the evening of December 13, 1965 the racing career of Billy Deluxe came to an end and a happy ending it was. Just as the new and ultra-modern Windsor Raceway -- which had barely been open for two months -- was getting its start, today's subject horse was bidding the racing wars adieu. After that night's opening race was taken by the heavy favourite Marion Dale with Maritimer John Sutherland driving, a much longer priced Billy at nearly 10-1 won the second. As "Smiling" Fred Goudreau returned to the winner's circle for one last picture, the fans lucky enough to be holding a 5-6 Daily Double ticket suddenly became $77.80 richer as the toteboard announced.
It is doubtful that too many in the crowd of just under 3,000 people knew that they had witnessed the joyful ending to this old fellow's long and winding career. In his final season at the racing wars now under the guidance of a young trainer Gene Marchand, Billy won three more races and closed out his lifetime bank account at $16,009.00. Not exactly a number for the record books but converted from 1965 dollars to today it would amount to about $120,000. One of the really great things about people owning, training and racing harness horses is that money is but one yardstick of what a special horse means to its 'family'.

A line from a 1965 London program which showed one of the last races for Billy Deluxe in his final year of racing.
​
The veteran campaigner's official racing career was over but more was in store for him. Billy was taken back home to his roots in the village of Florence where an enthusiastic young member of the North family eagerly awaited his return. Rick North, the son of Harold and grandson of Stanley, just 11 at the time, was ready to train the old fellow to be a riding horse. A garage on the family property was converted to a cozy stable and there Billy lived out his retirement years. He lived until his mid 20's and forever retained a special place in his owner's hearts. Harold North, the man who broke and raced him for many years once said "A lot of people don't even know my name, but they did remember me as the owner of Billy Deluxe."
Despite the passage of a half-century Rick North recalls with boyish pride how he and his father Harold 'trained' Billy Deluxe for his new career. "We got a saddle, put a racing bridle on him and used two lead shanks for reins and off I rode into the neighborhood...The horse had been harnessed and driven a "million' times but never ridden! I raced my friend and did all the other things kids did back then, especially those lucky enough to own their own horse."
Through the years a number of good horses were bred, raised and trained by members of the North family; many were registered with family rooted 'tags' attached to their name. A short list would include Karen Direct, Nellie Sun, Bucky North, Northco Scotty, Mable North, Robbie North, Sherry North and many more. Several went on to long and productive racing careers for other owners, in particular Bucky North who starred in the the once powerful Miron Stable from Montreal.
Rewind is proud to chronicle the careers of the great and sometimes not so great; but always the memorable.
Who Is It ?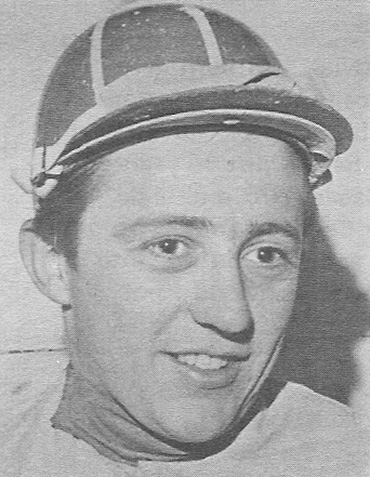 ​
Can you put a name on the young lad in this picture? The correct answer will be given during the coming week.