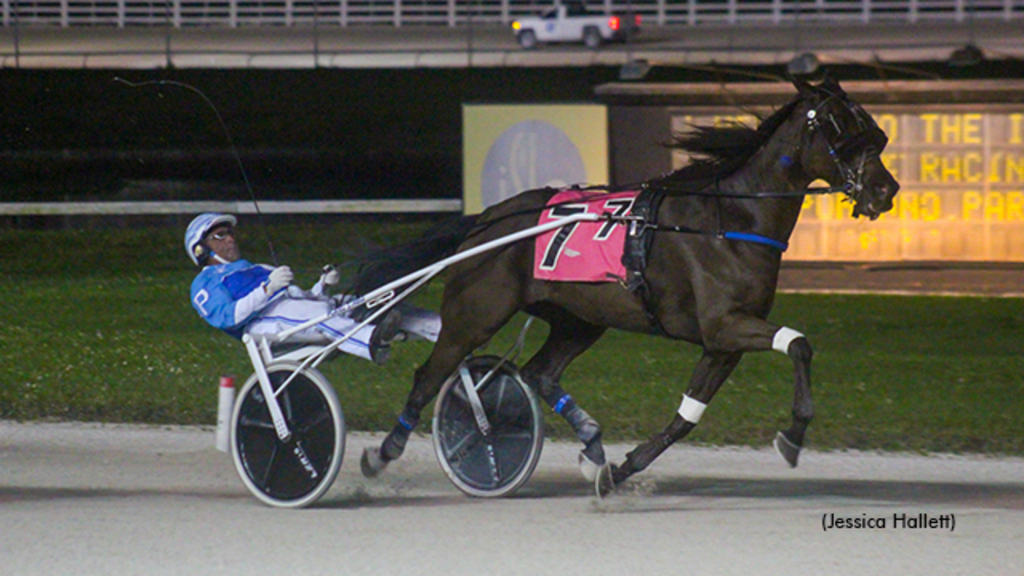 Published:
February 22, 2022 10:21 am EST
Toys For You, confidently handled by owner/trainer Rick Plano, extended his winning streak to five in Pompano Park's $14,200 Open Handicap Trot on Monday night (Feb. 21), stopping the timer in 1:54.
The six-year-old gelded son of Airzoom Lindy didn't let a forced week off or the assignment of the outside post bother him one iota as he zipped off the wings right to the front and sawed through panels of :28, :56.3 and 1:24.4 before coasting home in an unthreatened :29.1 to score 1-1/4 lengths. Keystone Apache (Wally Hennessey) finished second, rallying from far back for those place honours, while Star Track Hanover (Braxten Boyd), in the garden seat much of the way, was third. Sooo Handsome and Timon AS earned minor awards in the talented  sextet.
"He (Toys For You) never ceases to amaze me. Nothing seems to bother him, whether it be a week or two off or the outside post," said Plano in a post-race interview. "He is just so versatile. I ask and he answers. He might not win every single week -- horses aren't machines, you know -- but he sure gives his all every time he steps foot on the track and goes behind a starting gate. He certainly is a blessing to me, that's for sure."
The win was number 20 lifetime for Toys For You, who Plano got a little over a year ago when he was racing in non-winners of two races lifetime.
In building his 2022 earnings to $39,050 and lifetime bankroll to $176,154, Toys For You rewarded his faithful with a $3.40 mutuel.
The $12,600 Open II Handicap went to Cantab Lindy with John MacDonald in the bike for owner/trainer Brent Davis in 1:54.2.
The ageless 14-year-old warrior led every long stride of his mile in scoring a determined victory over Flagman (Plano) with Celebrity Maserati (Peter Wrenn) third in a three horse photo. Loyal Fox Hanover finished fourth while In Secret picked up the nickel in the full field of nine.
Cantab Lindy clocked fractions of :27.4, :57 and 1:25.2 with a :29 finale good enough to hold off the late-charging Flagman by a neck -- this after Flagman trotted his final three-quarters in 1:23.4 to just miss the marbles.
The win was the 62nd lifetime for Cantab Lindy vaulting his lifetime earnings to $717,629 -- $18,688 of that in six starts this young semester.
Off as the 7-5 favourite, Cantab Lindy paid $4.80 to win.
With the Florida Amateur Driving Club (FADC) basking in the success of the recently concluded Pro-Am events benefiting the Make-A-Wish Foundation and the horse rescue entity New Vocations, their crusade for charity continued with a trio of events on Sunday and Monday at Pompano Park.
In Sunday's first event, Ron Cusimano guided Swan Before All to a photo finish win in 1:58.1, catching Broadway Bruiser (Dein Spriggs) in the last stride by a lip. The pocket-sitting Storms Coming (Kelly "Sky" Walker) was third, four lengths away, while Phoenician (Tony Dinges) and Shoshie Deo (Kevin Banting) completed the field.
Cusimano, who now has 283 career driving wins, co-owns Swan Before All with Carlo Angelillo and has Mike Simons training this six-year-old gelded son of Swan For All.
In garnering his initial win of the year and 15th lifetime, Swan For All built his lifetime bankroll to $173,766.
As the second choice at 5-2, the winner paid $7.20.
Steve Oldford got lifetime win number 191 on Sunday with Sumbodygetdisfool, a recent addition to the Oldford Stable now trained by Maurice Goldschmidt Jr.
The four-year-old altered son of Armbro Approach also earned his first win of the year in three starts and celebrated his milestone 50th start with his 12th career win -- this one in 1:57.3.
Wiring the field and winning by a comfortable two lengths, Sumbodygetdisfool left the fast-closing Manwilling (John Campagnuolo) in his wake with The Big Muscle (Spriggs) next. Everyones Talkin (Cusimano) was fourth with TT Conway (Ray Vizzi) picking up the nickel.
Off as third choice at 5-1, Sumbodygetdisfool paid $12.60 to win.
On Monday, amateur driver Brian Calvert came into this FADC event with a "batting average" of  a lofty .337 and improved on that with a win back of Johanna Calvert's Little Big Rigs, trained by Chet Poole Jr.
The eight-year-old Big Rigs gelding got picture perfect handling in the garden spot all the way before rallying in deep stretch to collar the pacesetting Keystone Blade (Joe Pennacchio) by a half-length. Lucky Sevens (Spriggs) was third while A Royal Line (Oldford) was next. Muay Hanover (Don Cromer) earned the minor award in the sextet.
Little Big Rigs garnered his second win of 2022 and 23rd lifetime to push his career bounty to $142,235.
The winner paid $9.80 enabling Calvert to earn his 20th lifetime success.
The FADC has contributed over $230,000 to worthwhile charitable organizations since their inception primarily on the generosity of their membership donating 100 per cent of their driving earnings to the cause.
The FADC's next big event is March 6 with the Pompano Legends Pro-Am with Wally Hennessey, Mickey McNichol,  Dave Ingraham and Bruce Ranger scheduled to compete in a multi-race team event benefiting charity to the tune of $10,000.
Racing continues on Tuesday with carryovers in the Pick-6 and Super Hi-5 events -- the latter now spiking to $11,581. There will also be a $15,000 guaranteed pool on the Pick-4 with that industry low 12 per cent takeout. Post time is set for 7:20 p.m.
(With files from Pompano Park & FADC)