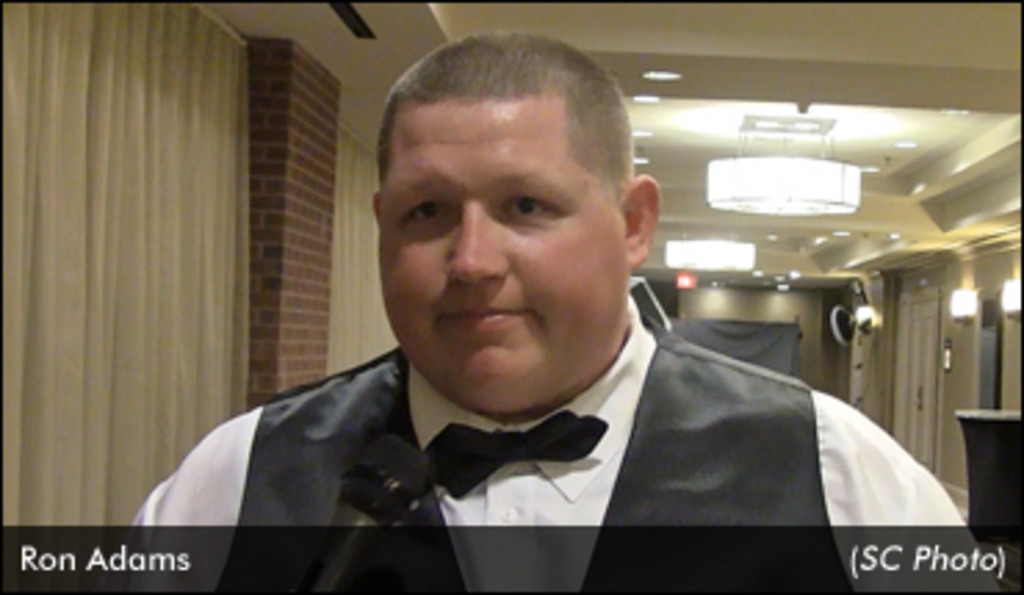 Published:
February 18, 2016 08:50 pm EST

"I came here in 2010 with Windsong Soprano and it was an honour just to be a part of that horse and get to win the award with Bob McIntosh. I didn't know if I would ever make it myself here and it's an honour to win one, let alone two, on one night."
Ron Adams, 28, was named Canada's Future Star and took home a second O'Brien Awards trophy as the trainer of Older Pacing Mare of the Year, Lady Shadow, this past Saturday night (Feb. 13) at the Black Tie Gala honouring the nation's best in harness racing. In total, his stable won of 43 races and $950,000 in purses while racing mostly on the Woodbine Entertainment Group circuit.
"I was actually very surprised," Adams told Trot Insider, remembering the phone call in which he was informed that he was a finalist in the Future Star category along with up-and-coming driver Clarke Steacy. "I knew that there was a long list of nominees who are a very talented young group. I was very surprised I was one of the finalists; I was very happy. Me and Clarke Steacy, I know he comes from a very good horse background and it was just an honour to be nominated."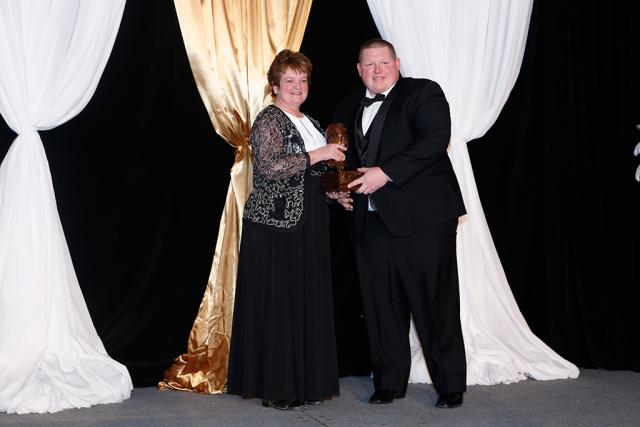 Standardbred Canada Director Ruleen Lilley makes the O'Brien presentation to Ron Adams.
The 28-year-old horseman, who is based in LaSalle, Ont., decided to pursue a career in harness racing early on.
"I've kind of done harness racing my whole life on and off," said Adams, who helped his parents at his family farm and worked for McIntosh in the late 2000s. "In high school, it was a part-time job and then it turned into a full-time job. I've kind of always wanted to do it."
Adams says that one horse that taught him the most was the Sportswriter mare Lovely Erin, now four years old.
"She was kind of a tough filly to break and she had an attitude," explained Adams. "She had a great pedigree, just she had problems with her gait. She made breaks in the turns and was really tough to get going, but she always had determination. When she finally made it to the races, she showed how tough she was. She made $100,000 and she won a good [amount] of her starts."
The star of the Adams stable in 2015 was Lady Shadow, who joined his barn in the spring and had a $360,000 four-year-old campaign that included back-to-back 1:48.3 career-best victories in the elimination and final of the Roses Are Red Stakes for her new connections of David Kryway, Carl Atley, Edwin Gold, and the BFJ Stable. This marked the second consecutive year she was voted the top of her division, having also won the 2014 Three-Year-Old Pacing Filly title while racing from the Gregg McNair stable.
Adams said that the daughter of Shadow Play was turned out in Delaware after the Breeders Crown and is currently back in training in preparation for the Blue Chip Matchmaker Series at Yonkers Raceway.
Already a winner of two O'Brien trophies so early in his career, Adams is just getting started and has plenty left on his harness racing bucket list that he would like to achieve.
"There's a lot of big races I would like to race in and have a chance to win," said Adams. "There's a lot of big Grand Circuit races, OSS, a lot of races like that I would like to compete in and have a shot to win."