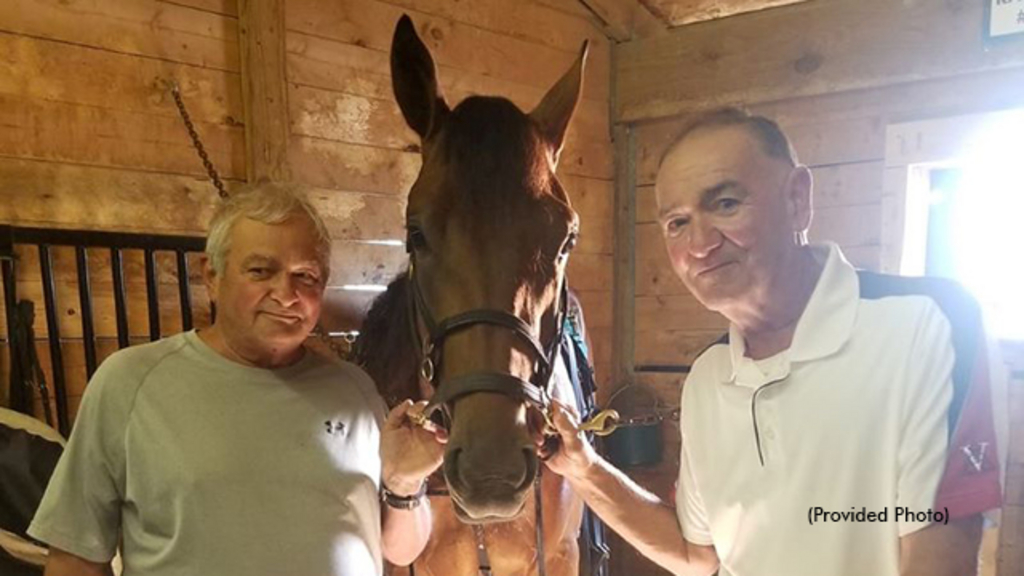 Published:
February 16, 2022 04:03 pm EST
Fifteen years ago, brothers John and Robert Esposito bought their first horse, a female pacer named Townes Party Girl, and the mare is still making an enjoyable impact on their lives all this time later.
Townes Party Girl is the mother of General Dolan, the Espositos' homebred stakes winner of $337,407 lifetime. Named after Robert's childhood friend Richie Dolan, who acquired the nickname "General" while serving in Vietnam, the gelding is still going strong at age seven.
On Thursday, General Dolan competes in the $26,000 Open Pace I at Miami Valley Raceway, where he will start from post one with Trace Tetrick driving for trainer Tyler George. For his career, General Dolan has won 24 of 130 races.
"This is the best horse we've had," said John, who also was among the owners of GJ Photo Victory, a 2011 American-National Stakes winner. "He's consistent. He's been racing against hard-knocking horses, and he gives you an honest effort every time no matter what. He just tries his heart out. He paces along like he's going in slow motion and before you know it, he's 1-2-3.
"He's a homebred, and you don't get many horses like that. He sure is a nice horse. He's got the rail this week, so he should be able to do some damage. He's tough. He's feeling good. If he gets the right trip, he'll be there."
John and Robert, who both retired 10 years ago after working more than three decades as teachers in Chicago, have only one broodmare, Townes Party Girl. The Espositos shared ownership of her during her racing days, which saw her win 21 of 86 starts, including the $200,000 Grandma Ann Stakes for three-year-old filly pacers at Balmoral Park in 2008.
Townes Party Girl, trained by Nelson Willis, started the Grandma Ann from post nine and went off at 19-1. Prior to the race, John told driver Dave Magee that he had a dream the filly won the race.
"Sure enough, she wins, and Dave was tickled pink," John said. "He said, 'You were right, your dream came true.' And now General Dolan is a dream come true."
General Dolan, a son of Rockin Image who was trained earlier in his career by Brett Selby and Bob Phillips, was a winner on the Indiana Sire Stakes circuit at ages two and three. Also at two, he finished third in the Elevation Stakes.
He posted his best win time to date in February 2020, winning in 1:49.3 at Miami Valley.
"That was a real thrill," said John, who noted that General Dolan has won at every track he has visited: Miami Valley, Harrah's Hoosier Park, Hollywood Gaming Dayton Raceway, Scioto Downs and Hawthorne Race Course.
Each of the past two seasons, General Dolan has won seven of 32 races and $75,000. This year, he has a win in four starts and $13,200.
"I think we'll have some good success this year," John said. "We've done well at Miami Valley, and we'll be back at Hoosier Park when it opens in late March.
"My brother and I get our enjoyment from this horse. He is a blessing. Really a blessing."
Racing begins at 4:10 p.m. EST at Miami Valley. For complete Thursday entries, click here.
(USTA)