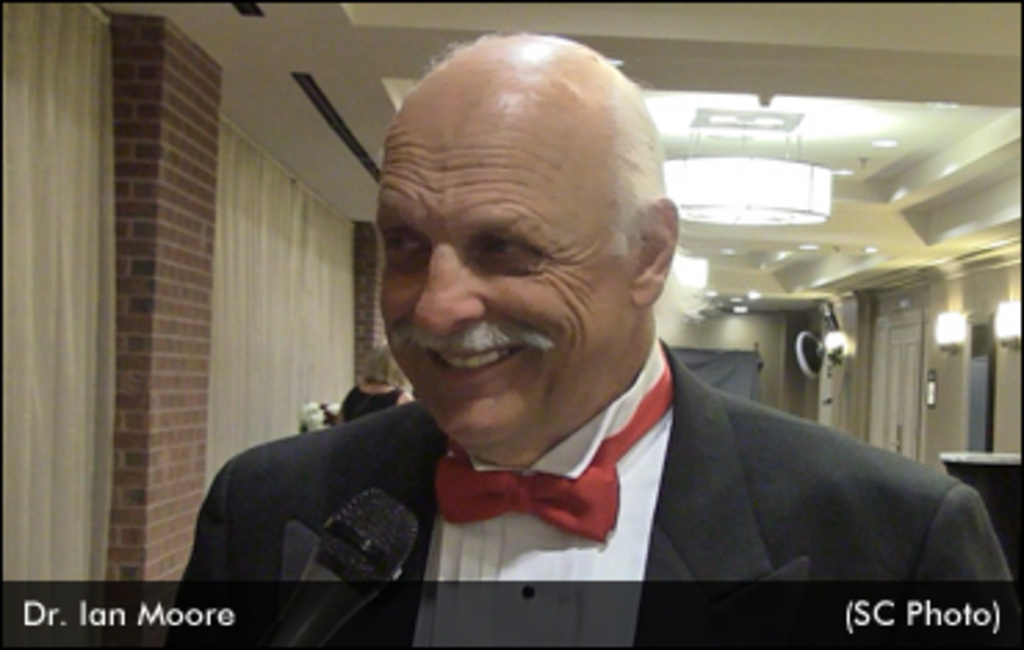 Published:
February 16, 2016 10:05 am EST

"He's been racing year in and year out with the best horses in each year that he's been going and he's just gotten better and better. He's given us a lot of thrills, that's for sure, so hopefully he's given fans of Canadian racing an equal amount of thrills."
Dr. Ian Moore, 62, capped off a career-year as a trainer, in which he accumulated 62 wins and over $2.1 million in purse earnings, by receiving multiple O'Brien Awards on Saturday night (Feb. 13) at the Black Tie Gala in Mississauga, Ont. In addition to winning the O'Brien Award of Horsemanship, his trainee State Treasurer, a standout in the older male pacing division, was named Canada's 2015 Horse of the Year.
"I'm very proud of State Treasurer," Moore told Trot Insider on Saturday night. "He's been a terrific animal for us since the start of his racing career. That was six years ago now. The owners Sally and Allan and Paul and Sophie [MacDonald] are really happy with him.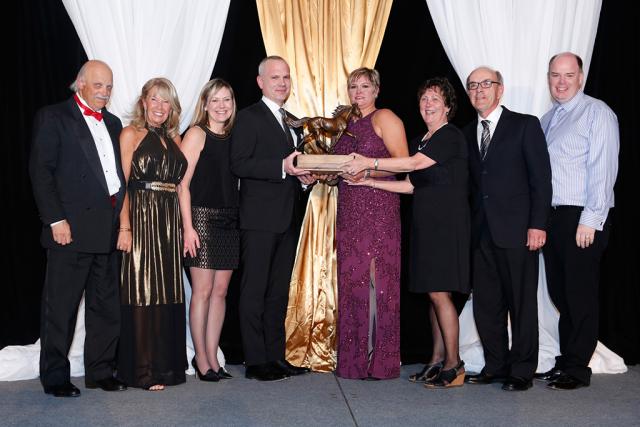 Joanne Colville, newly elected Chair of Standardbred Canada presents the Horse of the Year trophy to the connections of State Treasurer. Left to right: Dr. Moore, Nancy Moore, Sophie Perrault, Paul MacDonald, Joanne Colville (presenting), Sally MacDonald, Alan MacDonald and Mario Glynn. (Iron Horse Photo)
"I was hopeful that he would get Aged Horse of the Year because he had already been given the one in the U.S.," said Moore, referring to the Dan Patch Award for his division. "I was quite hopeful of that. I thought there was a couple of other good ones there for the Horse of the Year category as well, like L A Delight and there's a couple of trotters there as well...That was a little bonus at the end that we're real excited about."
After being named a finalist in the Older Pacing Horse category in 2014, State Treasurer out-shined his rivals during his following six-year-old season. He excelled on a lighter training regime and was the leading money-earner in his division, amassing almost $1 million in purses. His Canadian highlight reel includes a third consecutive Molson Pace win as well as victories in the Mohawk Gold Cup Invitational and Canadian Pacing Derby. The son of Real Desire also represented his Canadian contingent with success stateside with victories in the Roll With Joe and Dayton Pacing Derby, and he put forth a season's fastest 1:47 performance in the U.S. Pacing Championship.
"I used to train him a lot when he was younger and he seemed to excel with that and, as he aged, I just tried something different one week and it seemed to work, so we stick with our successes and [learn from] our failures," said Moore, a P.E.I native now residing in Guelph, Ont. and wintering in Florida. "It seemed to work so we kept with that.
"He's back in training now, hopefully for a good campaign again this year. It sounds like there's going to be a lot of four-year-olds entering the fray this year with aged horses. They're some nice horses, some were top three-year-olds as well, so it should be interesting."
Moore will be pointing State Treasurer to the Molson Pace, in hopes of earning an unprecedented fourth straight title in Western Fair Raceway's signature event, to kick off his 2016 stakes campaign.
"Hopefully, I'll be able to qualify him the last week we're at Southern Oaks in Florida, which will be around April 20th and then we'll start in early May at Mohawk in the Open and we always try to bring him to the Molson Pace the last few years so we're going to do it again for the fourth [time]."
Last year, the veteran horseman also campaigned Ontario Sires Stakes winners Physicallyinclined and Good Will Hanover, and brought back Arthur Blue Chip to the races for the first time since that pacer's O'Brien Award-winning two-year-old campaign in 2013.
"He's has a lot of injuries over the last two years, all self inflicted. He's been a very difficult horse to manage, probably the most difficult that I've ever handled as a trainer," said Moore of Arthur Blue Chip, a five-year-old son of Shadow Play. "But I have a lady, Tina Semple, looking after him now and she seems to have bonded with him and he's matured with her. He doesn't do a lot of that silly stuff in the stall and in the paddock and training down."
Arthur Blue Chip won his second start back in 1:50.2 on Sept. 5 in a conditioned pace at Mohawk Racetrack and won a Preferred event one month later before competing in the year-end Breeders Crown and TVG Free-For-All stakes championships. As of late, he's been a top performer in the Open ranks at Pompano Park, lowering his mark to 1:50.1 in the process.
"He has one leg that's kind of a chronic low-grade issue, but he races on through it," said Moore. "He's not lame, knock on wood, and we're hopeful there that he'll keep going. We're planning on racing him three more times at Pompano. I didn't really want to stop with him right away until we got a few races in him, but we'll give him a short break and hopefully have him ready for May also."
In addition to his returning stars, Moore also has a handful of new prospects that he's looking forward to seeing progress over the next couple of months.
"I have 16 this year in Florida, including eight babies, and we have several very optimistic looking prospects," said Moore of his current stable. "I have four Shadow Play babies, including one filly, that are probably the nicest four babies that I've ever had at this point in time. Most everybody would like their babies right now and I'm no exception. The ones I'm speaking of, they show a lot of heart and desire already and a lot of good traits that I like, so it may come down to just how fast they can go when the time comes."