Published:
February 13, 2021 09:47 pm EST
It was quite an adventurous mile for Under Paid, but after recovering from a wild but brief break, an inquiry and what turned to be a win photo, he found himself in the winner's circle in Buffalo Raceway's $8,000 Class A-AA Handicapped Pace on Saturday night (Feb. 13).
Allstar Energy was the winner of the feature, but was disqualified and placed seventh after interfering with Under Paid ($3.90) coming off the opening turn. Driver Ray Fisher Jr. was able to collect Under Paid after the gallop to stay in the race. They edged out Dojea Solo by a neck for the eventual victory while Ohio Prince was placed third.
Ohio Prince was able to set the splits of :28.2, :58 and 1:28 while Allstar Energy tracked along in second. Turning for home, Ohio Prince got leg weary as the charge was coming from all angles. Allstar Energy hit the line first but the win was denied and Under Paid was moved up to victory lane with a 1:58 clocking over the good track.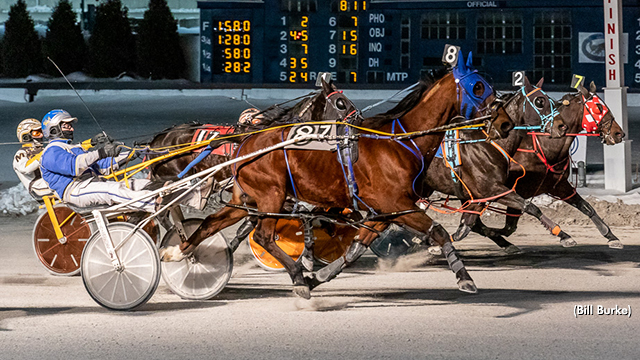 Trained by Ryan Swift, Under Paid (Rocknroll Dance-Upfront Cruzin) is a five-year-old horse owned by Jennifer Rogowski. It was the seasonal debut for Under Paid, a lifetime winner of $111,532.
Kevin Cummings, Kyle Cummings, Monti and Shawn McDonough all doubled on the night while Tammy Cummings and McDonough each had two training wins.
Racing will resume on Wednesday with a 10-race program scheduled with the new post time of 6 p.m. (EST). There will be a guaranteed pool of $4,000 in the Pick 5 starting in the second race.
For more information including the latest news, race replays, results and entries, go to www.buffaloraceway.com or follow along on Twitter or Facebook.
(Buffalo Raceway)