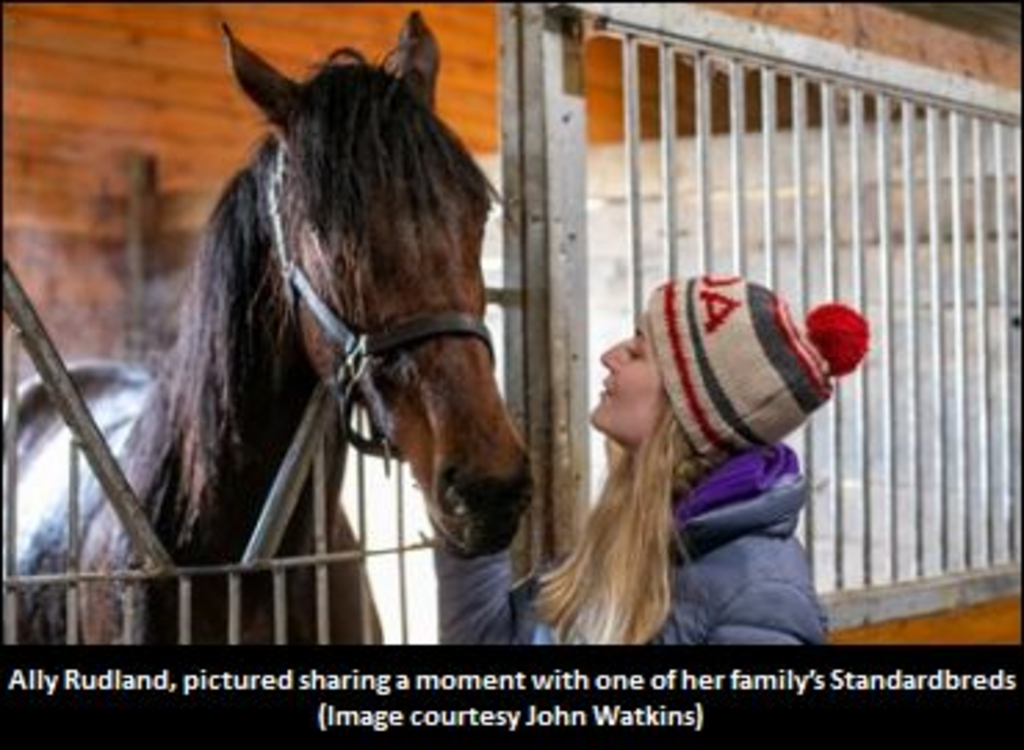 Published:
February 13, 2019 09:59 am EST
A love of the sport, a love of horses, and food for thought combined to bring the Rudland family into the world of racehorse ownership.
When Tom and Jean Rudland sat down for dinner at Woodbine Mohawk Park last summer, they didn't anticipate the evening would end with talk of them considering a stake in Standardbred horse ownership.
But that's precisely what happened for the husband and wife, along with their daughter, Ally, all of who have a longstanding association with horses.
"We were at Mohawk for an evening of dinner and racing, and we got to talking with another couple at a table beside us," recalled Tom. "They invited us out to the track to be closer to the action because their horse was racing. So, we were intrigued after hearing about their experience with fractional ownership through TheStable.ca."
The initial chat between the couples soon became a much longer discussion. And with every word, the Rudlands' curiosity was piqued.
During the drive home, and in the days after, horse ownership was a main talking point. After investigating fractional ownership with an owner of TheStable.ca, Anthony MacDonald, the decision was an easy one.
"There were several things that appealed to us about becoming owners," noted Tom. "It was an affordable way to part-own a horse and you can participate in many aspects of the experience – Anthony and team provide regular updates about the horses, yearling sales information, post-race analysis and commentary. And with Ally's passion for horses, we thought it was a neat way for our family to connect through that."
"For Jean, ponies were part of her life growing up," he continued. "I had a special experience as a teenager, being included with the Boyce family, with one of their horses, Springer, who made it to the North America Cup. So that was pretty cool. I also had the chance to be in the winner's circle with him at Flamboro Downs where he set a track record. But beyond that, I really didn't have much involvement with horses until Ally came along."
While post-secondary education became her focus for a time, Ally never lost her enjoyment of horses, a bond she formed during her childhood.
"I've ridden horses for years, since I was 11 or so," she said. "I've participated at youth camps that took place at Grand River and Mohawk. I was fortunate to make some connections through those experiences. I wasn't really involved throughout my time in university – school kept me pretty busy – but now that it's all wrapped up, we heard about TheStable.ca and it took off from there."
Currently, the family has shares in five horses, four unraced two-year-olds and three-year-old Sunshines Finest (the groom is Chris Munroe and the trainer is Harry Poulton).
A bay son of Sunshine Beach, the pacer has one win, a pair of seconds and a third in 10 lifetime starts.
The gelding finished second and third in two Ontario Sires Stakes Gold events last July, and contested an OSS Gold Super Final at Woodbine Mohawk Park in October.
"He's a really cool horse," said Ally. "He has such an amazing personality. He gave us such an awesome ride this summer. He paced in 1:51.4 (a lifetime best) and made the Gold Super Final. It was really great. I always joke that I feel like Sunshines Finest is my child. When I'm watching him, even in his training miles, or on the racetrack, I'm just so proud. I'll say, 'Have a safe trip, buddy! Have fun!'
"It's really all about the horses for me," she continued. "I have such a huge passion and love for horses. To be able to be involved with them is just so great. I really enjoy getting to see them a lot, and watching them learn and grow with their training."
Her parents have enjoyed a similar experience through their association with TheStable.ca.
And like their daughter, they're grateful for the chance to have met new people and built new friendships through their ownership venture.
"Both Jean and I had some passion for horses early on in our lives and we were excited to learn that we could visit the training facility," said Tom. "This was a real selling feature for the fractional ownership, as we thought Ally in particular would enjoy taking advantage of this, and she certainly has. It's great to get to know the horses and their teams that care for them. It's also something fun that our whole family can enjoy together. Our son Matt and Ally's husband Will have also developed an interest in the sport. We've enjoyed sharing this with friends and family, having them out for dinner at Mohawk to watch our horses race. It's been a fun experience as a family."
And unique in what it can offer.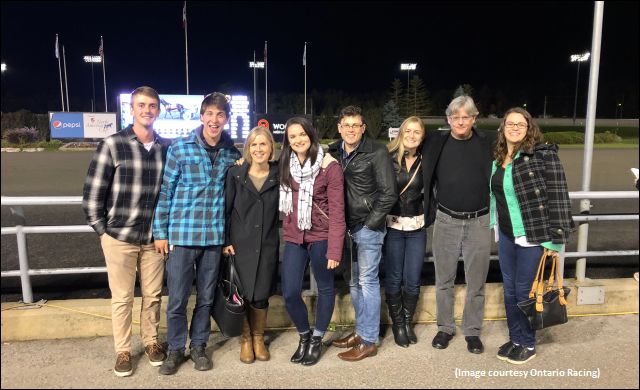 "When you allocate your entertainment dollars, once the event is over, it's done with," offered Tom. "Through fractional ownership, the experience isn't over when the event ends. The value goes beyond the race. Learning about all of the training that is required, we've come to learn that they are real athletes. It's a real sport, for sure."
It's a sport the Rudlands would highly recommend to anyone looking for an out-of-the-ordinary experience.
"Start small," suggested Tom. "We started with one share and soon found out what a fantastic experience it is. As you gain those relationships with the team and feel more comfortable, then you can expand from there. You can start with a small percentage and you still feel the same excitement as if you owned 100 per cent of the horse."
"I would recommend being actively involved as an owner, to go out and see your horse regularly, and be hands-on," said Ally. "You get to develop a connection with your horse and you get to really enhance your experience. Get to know the team – they are such an invaluable source of knowledge. You get to learn a lot and have a lot of fun."
And, as they found out on the night of August 23, 2018 – the date Sunshines Finest broke his maiden – you might discover a side to your personality you never knew existed.
"I would say we are a quiet and reserved family by nature, but when our horse is racing, we become a very loud and excited group," said Tom. "It's a lot fun."
So, the family that owns together stays together?
"Absolutely!" said Ally with a laugh. "Getting to know the team at TheStable.ca has been a lot of fun as well. A big thank-you to all of the team members at TheStable.ca, who are involved with caring for and training our horses. They've been very inclusive. Sometimes I'll pop over, watch the horses race, and I'll often talk with other fractional owners. Horse ownership… it really is a nice little community."