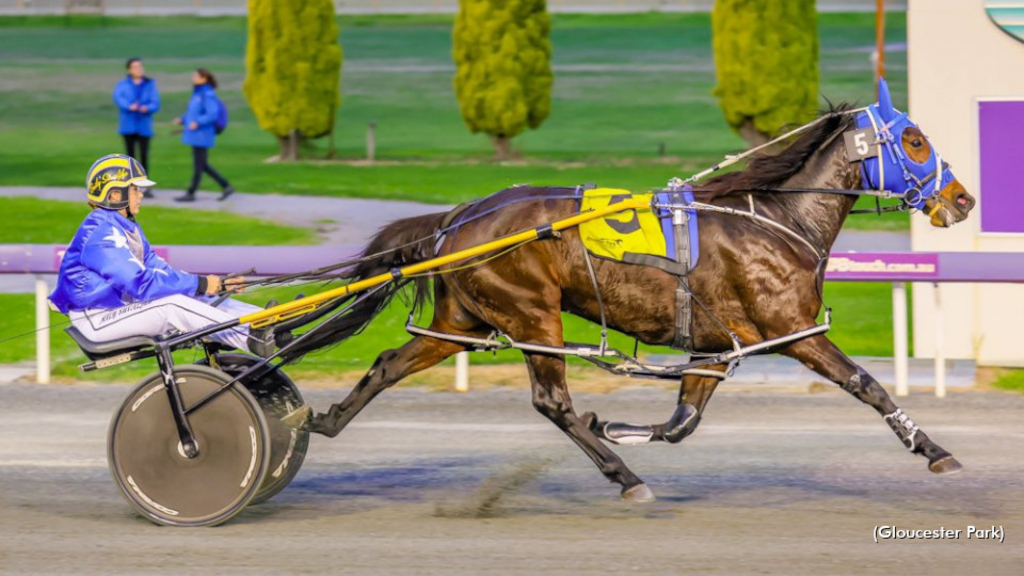 Published:
February 11, 2022 05:55 pm EST
Dr. David Avino was introduced to harness racing by his father, Russell, while growing up in Buffalo. Russell passed away in 2014, but Dr. Avino still feels his dad's presence every time one of his horses competes.
A cardiologist, Dr. Avino owns two horses in action currently, and both will be going behind the gate Saturday at The Meadowlands. Heavens Showgirl A will face eight foes in the $40,000 Sweetheart Pace, a Mares Preferred event, and two races later Patrikthepiranha A meets seven rivals in the $34,500 Preferred Handicap Pace. Both are trained by Nik Drennan and will have George Brennan in the sulky.
"My dad loved Standardbred racing and that's how I got started," Dr. Avino said. "My father used to go to the races, and he owned horses at Buffalo Raceway. I used to go to the track with him and I really loved the excitement of it. I knew a few trainers there and they would take me around. It was really a fun time on a Saturday to watch the horses train and then go at night.
"Every time my horses race, I think of my dad. He was a barber and probably would not be able to afford the type of horses that I have racing at Yonkers and The Meadowlands, but I know that was always one of his dreams, to get his picture taken at Yonkers or The Meadowlands. So now when I race there, I think of my dad. It's even more fun when I'm in the winner's circle."
Dr. Avino, who still resides in the Buffalo area, hopes to attend Saturday's races with his wife Lorianne, who is also a physician, and their sons. They have five children — David, Laura, Steven, Timothy, and Matthew — ranging in ages from 31 to 23, with David and Timothy particularly interested in the sport.
"Racing is exciting, it's entertaining, and The Meadowlands is a great place to go," Dr. Avino said. "It's a great night out."
Dr. Avino, who races as Arrhythmic LLC, bought his first horse in 2013 and raced locally in upstate New York. Soon, he decided he wanted to compete at The Meadowlands and Yonkers and turned his attention to New Zealand and Australia to purchase horses with the assistance of agent Frank Ranaldi.
"We've done very well together," Dr. Avino said. "He's really got a very good eye for horses. I watch Australian racing every weekend, most of it is replays, and do my research. I think I have pretty good knowledge and between the two of us we'll put our heads together and come up with something. I like the four-, five-, and six-year-olds and usually try to buy free-for-all horses that can compete over here. I have a lot of fun doing it. It's a great outlet."
Heavens Showgirl A, a seven-year-old mare by Rock N Roll Heaven out of Miss Deville, has two wins and three third-place finishes in nine starts since arriving in the U.S. last June, earning $44,190 despite a couple bouts with sickness. Unraced at two and lightly raced at three, she has won 13 of 41 lifetime starts and $114,475. She could head to the Blue Chip Matchmaker Series next month.
"She was doing well initially and then she got sick, which is not uncommon for a lot of these Australian horses because of the climate change," Dr. Avino said. "I think her immunity is right where it should be now and we're ready to rock with her. She's been really coming into her own.
"She's in against top-level horses (Saturday). She trained well this week and I'm really hoping for a good effort, a good performance."
Patrikthepiranha A, a seven-year-old gelding, also arrived in the U.S. last year. He has three wins, two seconds, and a third in nine starts here, with earnings of $54,250. For his career, the son of Four Starzzz Shark-Thats The Spirit has 16 victories in 52 starts and $267,382.
"I got Patrik a month before Showgirl, and he's a really cool dude," Dr. Avino said. "He's a very fast horse, he won his debut at The Meadowlands in (1):48.4, but a very calm horse. My wife can walk him around. She walked him to cool him off after that win. When he's on the track, he's all business, but otherwise he's just very relaxed. With the right trip Saturday I think he'll be right there."
First-race post time is 6:20 p.m. EST at The Meadowlands.
(USTA)