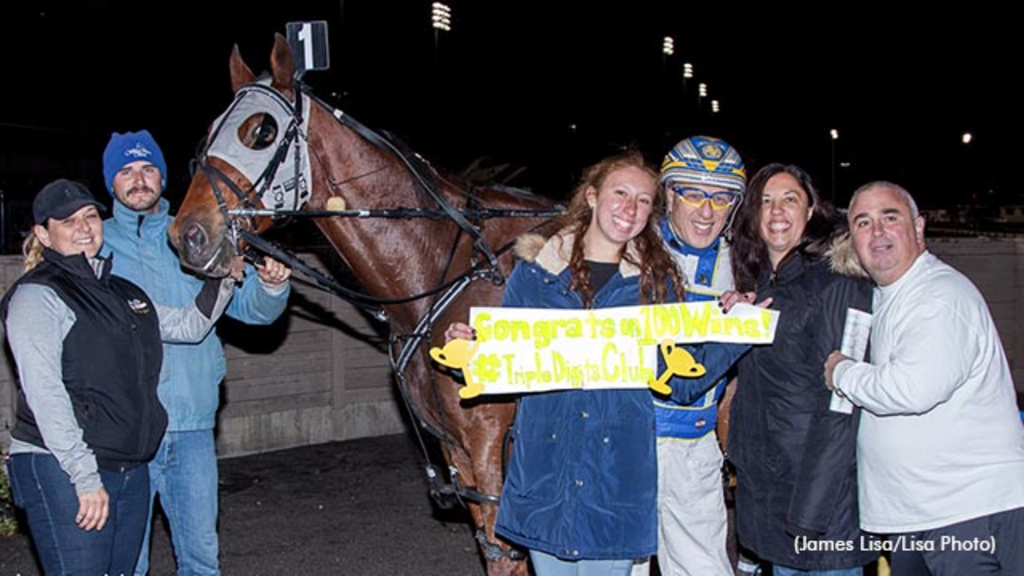 Published:
February 10, 2022 04:34 pm EST
Anthony Verruso looks back on his 2021 season on the amateur driving circuit with a bit of disbelief. A lifelong resident of the New York City borough of Queens, the 58-year-old Verruso notched 23 wins last year — a total that represents more than one-fifth of the 107 career victories he has accumulated since he began competing in 1999.
In addition to getting his 100th lifetime win last year, Verruso earned his first-ever victory at The Meadowlands, which came in a division of the Hambletonian Amateur Trot on August 6, and recorded his first driving double, which came at the Big M three months later.
At the end of December, Verruso was named the Amateur Driver of the Year by the U.S. Harness Writers Association. He will be recognized for his accomplishments at USHWA's Dan Patch Awards banquet on February 20 at Rosen Shingle Creek resort in Orlando, Florida.
"There are so many drivers, the fact that I would get picked is an honour," Verruso said. "It's nice to be recognized for something you really love doing."
Verruso set career highs across the board last year, with 84 starts, his aforementioned 23 wins, $175,545 in purses and .421 universal driver rating.
"I look at it and laugh," Verruso said. "I'm not bragging, but I look, and the UDRS is ridiculous. Everything just worked last year. I got in a new barn with (trainer) Symon Spicer, and he likes the amateur races. Every week as one horse became ineligible, because we have money conditions, another horse fit. It was just perfect.
"It's mostly the horse. Maybe you eke out a couple of good-drive wins, but if you don't have the horse, you're not winning. It's that simple."
Verruso, who for the past 11 years has worked as a flight attendant for JetBlue, grew up going to the races at Roosevelt and Yonkers. It wasn't until he was in his early 30s, though, that he decided to become a hands-on participant. Every Saturday, he travelled to Showplace Farms in central New Jersey and learned from trainer Howard Beal and driver Harold Kelly.
"I'm kind of a city kid who never grew up around horses," Verruso said. "When I first started, I had little to no experience at all except for watching races. I watched my whole life. It was about getting the experience of doing to match what I knew from watching. Then it started to fall into place. But it took awhile."
Verruso wears the same colours as Kelly in tribute to his mentor, who passed away in 2020.
"I was very happy that he was happy about that," Verruso said. "His family loves it. They say it's so great to still see the colours. It's a really nice thing."
Verruso got his first win in 2001 in a Billings Series amateur trot at Goshen Historic Track. The triumph came with From One To Sixty, a horse he owned that was trained by Marion Sumpf. He added 24 wins over the ensuing eight years while averaging 35 starts a season. From there, opportunities for amateurs began to gradually increase, and with it so did Verruso's starts and victories.
"The first eight to 10 years, you were lucky if you raced once a week," Verruso said. "Now, a couple of weeks ago, I raced five times on the weekend. It's a big difference. That helps."
Entering last year, Verruso had won at 26 different tracks in eight different states and Canada. The Meadowlands was not among the group, but he picked up four victories there in 2021, including career win 100.
"It was one of the few tracks I had never won at, for whatever reason," Verruso said. "The 100th win, that was great. My family was there. It was sent out as my Christmas card."
In addition to driving, Verruso owns four horses, which he believes is a benefit of people participating in harness racing as amateurs.
"If I wasn't driving, there is no chance I would own four racehorses," Verruso said. "None. Zero. So, it does help the sport to some degree in that regard."
And while Verruso is happy to win races, he is more interested in continuing to develop his skills as a driver.
"Obviously, everyone wants to be the best at something," Verruso said. "But that wasn't my thing. It's more the respect of horsemen was important to me. And the fact that people seem to now acknowledge that I'm at least capable.
"It's great that I have something I really enjoy doing," he added. "So many of my friends say they have nothing to do, or all they do is play golf. I play golf, but I don't look forward to it. This, I look forward to it every week. Where did I draw, what is going on, who is in. It's a big deal."
Verruso will drive in both of Friday's GSY Series amateur races at The Meadowlands. The events are races four and seven. First-race post time is 6:20 p.m. EST. For a free online program, courtesy of TrackMaster, visit The Meadowlands' website.
(USTA)