Published:
February 1, 2017 02:56 pm EST
Kayne Kauffman is getting to count on Noone To Depend On.
A four-year-old female pacer, Noone To Depend On has won four of six starts and established a track record at Hollywood Dayton Raceway since joining Kauffman's stable in November. On Friday night (February 3), she is the 4-1 morning line favourite from Post 10 (in the second tier) in the Fillies & Mares Open at Miami Valley.
Noone To Depend On enters the race off an eighth-place finish in the Jan. 20 F&M Open at Miami Valley, when she started from the gate's outermost post – No. 9. That loss snapped a four-race win streak, with two of the victories coming in the F&M Open at Miami Valley and another coming in her track-record 1:51.4 mile at Dayton.
Stephen Herrick and Mark Bogen own Noone To Depend On, who was purchased for $25,000 at the Standardbred Horse Sale Mixed Sale in early November. For her career, the Ontario-born mare has won 12 of 44 races and earned $147,940 in purses.
"She's turned out really well so far," said Kauffman, who trains and drives Noone To Depend On. "Hopefully it continues. We thought she would be a useful racehorse down this way, but she's really overachieved and exceeded our expectations, for sure. It's just been headshaking. We didn't expect anything like this."
Noone To Depend On is a daughter of stallion Santanna Blue Chip out of the mare Tipsy Taters. Her family includes a number of six-figure money-earners, including past O'Brien Award winner Cupcakesnwhipcream.
Last year at age three, Noone To Depend On was competitive on the Ontario Sires Stakes Grassroots circuit, as she won three times and had a fourth-place finish in a sires stakes Gold race won by L A Delight.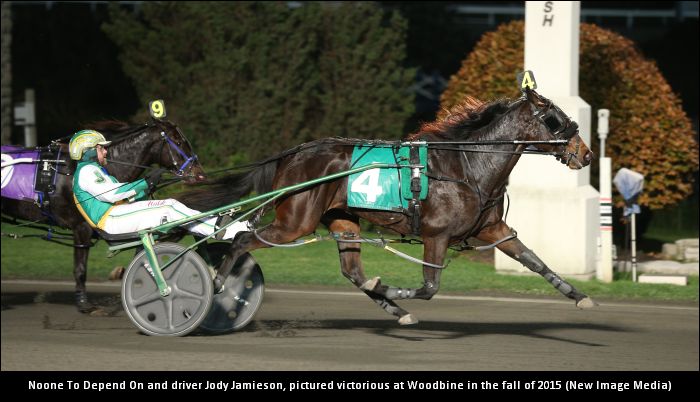 "She wasn't one of the top fillies, but she showed she could go with them," Kauffman said. "She was one of the five mares we had picked out at the sale. A couple of them went for more than we thought they were worth. We were shocked that we got her for $25,000. I thought she would bring over $30,000, for what they were bringing at the sale.
"We thought she would run up and down the conditions and be a nice useful race mare. So far, she's just been super good. She's got a good attitude and she's a pleasure to be around."
Noone To Depend On opened eyes with her 1:51.4 victory at Dayton despite cold (26 degrees) and snowy conditions. The time established the track record for three-year-old filly pacers.
"That was the only time we raced her on the front end, and she seemed to like it," Kauffman said.
Kauffman will have a difficult time getting to the front early on Friday, starting from the second tier.
"I'm not a big fan of the second tier," Kauffman said. "You're at the mercy of the (Post) 1 and 2 horses. If the outside horses leave you're liable to get away seventh or eighth as opposed to being halfway close. But we'll play the hand that's dealt to us. We'll just have to see how the trip works out and go from there."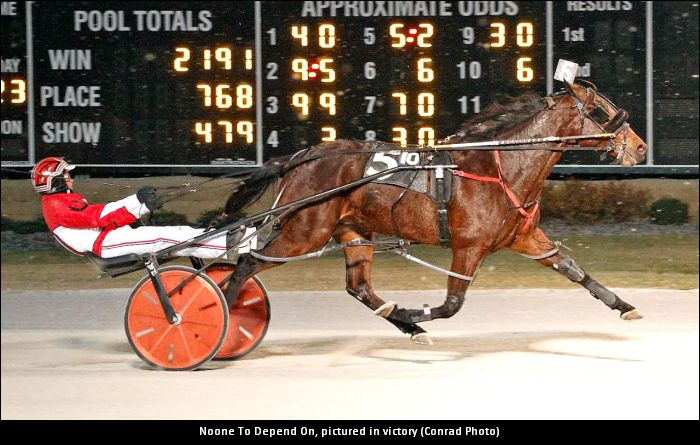 The connections have no plans for Noone To Depend On, other than trying to keep her at the top of her game.
"I gave her a month off between Dayton and Miami Valley to freshen her up a bit," Kauffman said. "As long as she keeps racing as good as she has, I think we'll keep going forward. She'll let us know when she needs a break. It's a long year, too, and we'd definitely like to race her at Scioto this summer, so we'll just have to play it by ear.
Kauffman, who set career highs last year as a driver with 315 wins and $3.37 million in purses, is the leading driver at Miami Valley, with 45 victories.
"So far the first month at Miami Valley has been exceptional," Kauffman said. "Hopefully we can keep it rolling."
---
This story courtesy of Harness Racing Communications, a division of the U.S. Trotting Association. For more information, visit www.ustrotting.com.