Published:
February 1, 2017 09:31 am EST
Evelyn Sabraw of Acme, Alberta, is the Heart of Harness Racing's February photographer. Sabraw captured this striking image of Mannart Talia, her daughter Ruby Tuesday and Misty at Whispering Willow Acres.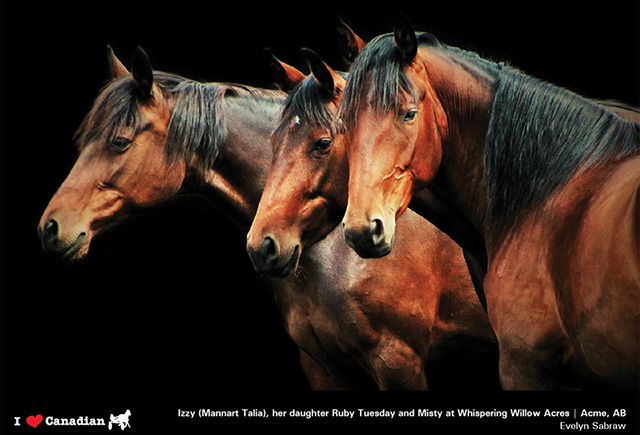 "Like so many good photos, it was just a matter of 'right time right moment.' I couldn't have 'composed' it that way. The mares came home from pasture and all lined up in front of their huge run-in for a snooze," explained Sabraw. "The dark/shady background of the shelter made the horses really stand out in the sunlight. Luckily I had the camera on me and snapped away."
Sabraw works full time at Greatwest Kenworth as a warranty analyst. She has eight horses and two minis as a 'hobby.'
In 2007, she was introduced to Standardbreds when she purchased "Truce" as a trail horse. This season, she will be assisting trainer Connie Kolthammer again this year at Century Downs in Balzac. "There's so much to learn and I'm soaking it up. I'm very excited about the start of the season!"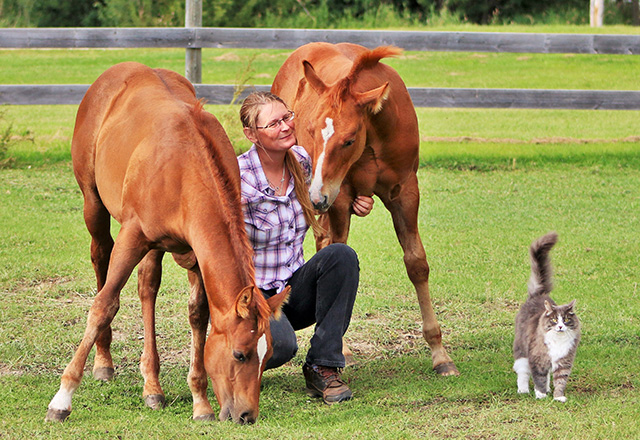 Sabraw is a regular contributor to the Heart of Harness Racing Calendar and also frequently enters the Fan Club's Zoom contests.
Sabraw took some photography workshops in 2016. "I still wish I had more time to practice but luckily I have my own horses and there's always an opportunity to snap some photos!"