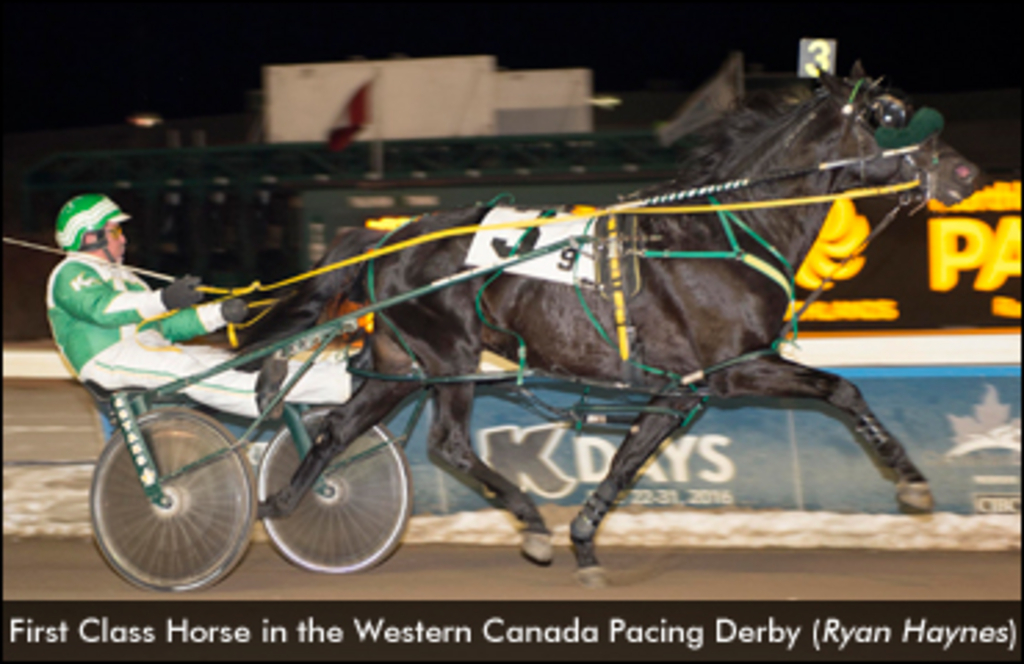 Published:
December 5, 2015 11:30 pm EST
First Class Horse put the exclamation point on his stellar sophomore campaign with a dominant winning performance in the $90,000 Western Canada Pacing Derby on Saturday night (Dec. 5) at Northlands Park.
Sent postward as the overwhelming 1-5 favourite, First Class Horse forged to the front from post three over the inside leavers and led the field through fractions of :28, :58 and 1:26 en route to the 1:53.4 triumph for trainer/driver Keith Clark.
First Class Horse is owned by Doris McDougall and Robert Jones, who also co-owns the race's runner-up, Mysharona Bluechip (Gerry Hudon). That Clark trainee followed two and a quarter lengths behind the winner.
The rest of the field could not keep up and it was a heated race for third prize over 11 lengths behind. Supplemental entry Pablos First (Travis Cullen) finished third for the Darryl Cutting stable over Kelly Hoerdt trainees Have Not Read It (Hoerdt) and Cool Cowboy (Jim Marino). The result stood after three driver objections were launched.
The Derby victory capped off a successful Western Canada campaign for First Class Horse. The son of Western Terror has won 16 of his 23 starts to date facing stakes and Open competitors while banking over $200,000 in purses.
"He might head east or he might get sold," said Clark of his next move. "I'm not sure, but there's interest in him so we'll see what happens.
"He's a good bred horse and he's got heart. There's lots of good bred ones that just don't want to try and he's a trier. That's what makes a good one."
While Clark has had his fair share of success in the Western Canada Pacing Derby, most recently with back-to-back upset winners Bettor In The Bank in 2013 and Sharkalucchi in 2012, he noted that the thrill of winning never gets old.
"I don't know how many I've won, but it always feels like the first one when you win," said the DeWinton, Alberta horseman.
Thats Extra Wins Northlands Filly Pace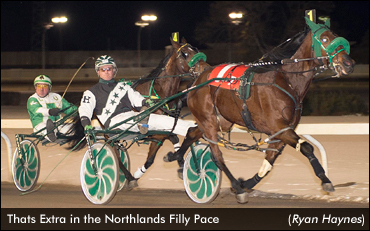 Thats Extra swept to the lead after the opening quarter and fought off fellow elimination winner Cam Finish to give trainer/driver Kelly Hoerdt his first Northlands Filly Pace victory.
The $70,000 stakes event for three-year-old pacing fillies complemented the evening's Western Canada Pacing Derby, Northlands Park's signature race. After winning the filly companion race with favourite Thats Extra, Hoerdt dedicated the victory to his late sister.
"That's my first Filly Pace win and I'd actually like to dedicate that to my sister Sherry," said an emotional Hoerdt in the winner's circle. "She passed away on us here very recently so that one's for you 'Sher Bear.'"
After a moderate :28.3 opening panel, Hoerdt made his move with Thats Extra, who had settled away fourth off the gate, and brushed to the front as the field of fillies crossed the wire for the first time. Early leader Blue Star Texas (Keith Clark) was pocketed with My Villas On Fire (Philip Giesbrecht) following in third. Cam Finish, driven by Travis Cullen for the Clark stable, was shuffled back to fourth, but not for long.
The 9-5 favourite proceeded to the half in :58.1 and was then confronted by Cam Finish down the backstretch. Those two fillies battled head-to-head past the three-quarters mark in 1:26.2, but Thats Extra drew clear of her rival coming off the final turn and paced strong to the wire for the 1:56.3 victory. My Villas On Fire edged out Blue Star Texas in a photo for second-place over two lengths behind the winner while Cam Finish finished fourth.
After winning two of her nine starts as a two-year-old, Thats Extra has put together a sophomore record of 9-5-2 in 23 starts while earning the bulk of her bankroll, which went over the $100,000 mark with tonight's stakes win.
"She's been a handful ever since we got her as a yearling," said Hoerdt, who co-owns the Allamerican Native filly with longtime partners Blair and Erna Corbeil. "She's starting to learn to race a little bit better and the timing couldn't be better.
"I had to use her the whole way. It wasn't easy," continued the Beaumont, Alberta horseman. "There's something I always say and I'm going to say it again: the people that look after these horses deserve a lot of the credit. Megan Kelly has done a great job with that horse and that's why she is where she is."
On the undercard between the stakes races, the Hoerdt-trained Get Thereovernight was a repeat winner in the $11,500 Open Pace. Bill Tainsh Jr. drove the popular four-year-old Clintons Cigar gelding, who took the lead at the half from stablemate Ghost Pine (Hoerdt) and was victorious in 1:55.1 by two lengths over Premium Attaction (Gerry Hudon) and Daddy Warbucks (Travis Cullen). Get Thereovernight paid $2.70 to win. Hoerdt and Corbeil share ownership with Peter Giannakopoulos.
To view Saturday's harness racing results, click on the following link: Saturday Results - Northlands Park.