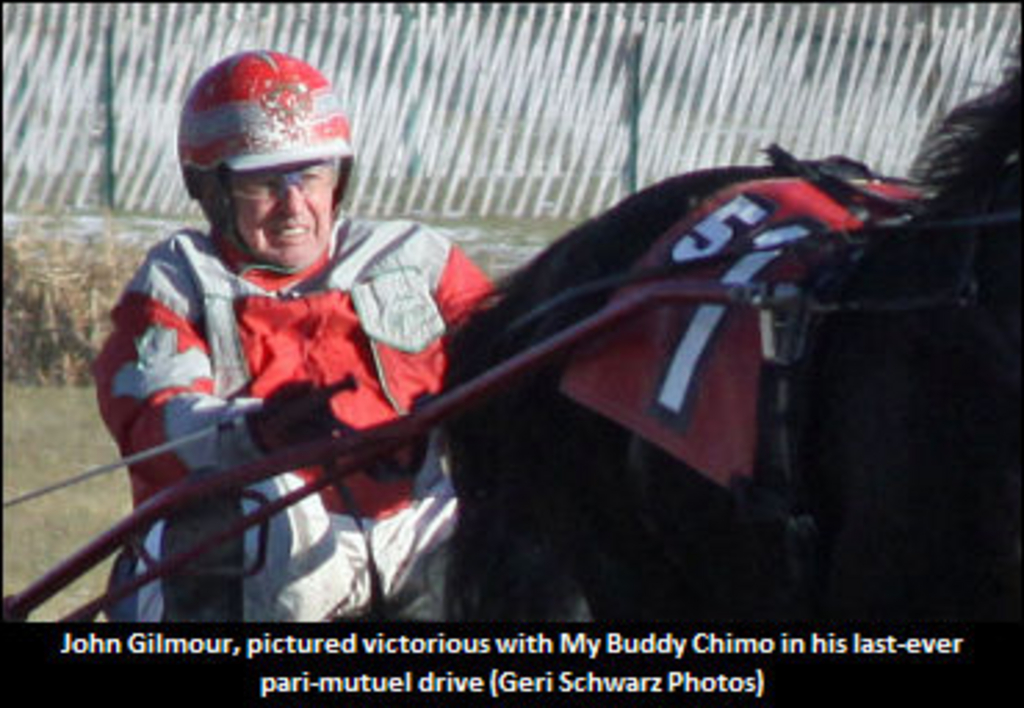 Published:
December 5, 2012 03:30 pm EST
After his victory on November 28 at Monticello Raceway with his beloved trotter My Buddy Chimo, John Gilmour announced in the winner's circle that he was retiring from driving.
Unbeknownst to nearly everyone, Gilmour sprung that on the world, although he admitted he'll continue training his current five- horse stable. "Now I'll leave the driving to them young fellers."
Asked why he decided to retire all of a sudden, the 74-year-old horseman simply said, "I wanted to go out a winner."
"It wasn't all of a sudden, but I didn't want to say anything about it because I didn't know when it would happen. I don't drive that much anymore, so it was hard for me to know exactly when I'd win my last race."
Gilmour, who's always spews a 'Howdy Sep' when greeting others, is a consummate horsemen and was an excellent race driver. His record speaks for itself. In his illustrious career which spanned six decades, he finished with 4,492 driving wins. Many years in his career saw short racing seasons where driving at two tracks in one day was not an option.
Ask Gilmour how many races he has won and you're apt to get an answer like, "I don't know" or "I'm not sure," or maybe even "I don't keep track of those things." Statistics were really not important to him.
Not one for pomp and fanfare, Gilmour just went about his work with a smile and a ragged cowboy hat taking care of his business. And he did it so long that it became second nature.
Up every morning at the crack of dawn, he headed to the raceway to jog, train and care for his stock. Then it was off to the paddock to don his driving colours and become one of the fiercest competitors anyone would ever have to race against.
Over the years many a horsemen learned that you never try to wrestle the lead from Gilmour when he's on the front end. As a fellow driver once stated, facetiously, "He'll let you go when his whip wears out!"
Affectionately known as 'Sep,' John is one of the famous Gilmour Brothers (Buddy, George, now gone, and Lloyd) who together accounted for more than 14,500 driving victories.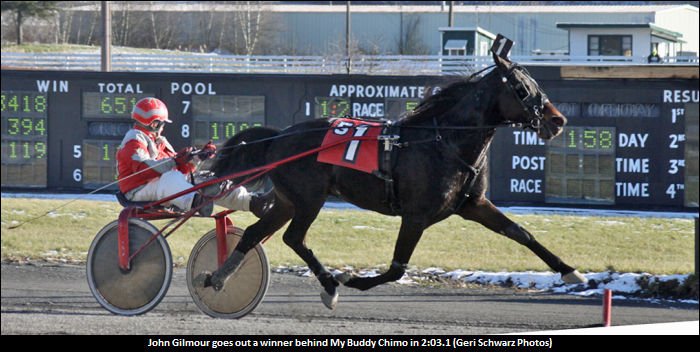 For Sep, Monticello Raceway has been home since the early 1960s, although he began his career at Buffalo Raceway and Batavia Downs, two tracks near his hometown of Lucan, Ont.
In the mid 1960s, his brother Buddy sent a contingent of horses to race at Monticello Raceway with brother George in charge. John was second in command.
Although John started slowly, once the local trainers got a glimpse of his abilities he became one of the most sought-after catch-drivers.
However, it wasn't until 1973 that John copped his first driving title. But from then on through the 1970s and into the early 1980s, Gilmour's name was on or near the top of the driver's standings every season.
During that period Gilmour won nine driving titles --- during a few seasons there were summer and winter meets --- and three times he established new track records for most driving victories in a single season. Although his reign ended when Billy 'Zeke' Parker called Monticello Raceway home in 1984, Gilmour was still among the leaders in races won every season right into the mid-1990s.
As time went by, Gilmour became more like a Damon Runyon character. Oh yes, his competitive spirit was still there, but he mellowed with age. So much so that there's hardly a sole on the backstretch --- save a few guys he's 'hung out to dry' recently --- that has a bad word about him.
Never one to complain, or even one to celebrate, John Gilmour's easy going ways and congeniality have endeared him to all who have the pleasure of knowing him.
But in recent years Gilmour has been plagued with serious health problems, though if you ask him about them he'll shrug off his problems (prostate cancer and colon cancer) like a wet dog shrugs off water.
Longtime friend Betsy Phillips, for whom Gilmour drove her good trotting mare, Gettheflakout, sums up the feelings of all around the backstretch at Monticello when she said, "Everybody loves Sep."
Make no mistake about it, John Gilmour is a treasure. He's a talented, hard-working, consummate horseman with a devil-may-care attitude. And he was a top race driver."
(Monticello Raceway)