Published:
December 30, 2017 11:24 pm EST
Manhattan Beach won the $18,500 Open Pace, Kayne Kauffman and Jeff Brewer were crowned leading driver and leading trainer, respectively, and starter Mike Woebkenberg was presented with an appreciation blanket for his yeoman efforts promoting harness racing - all as the curtain dropped on Hollywood Dayton Raceway's fourth meet, its most successful to date.
Trace Tetrick put Manhattan Beach on the front, posting a :27.1 first quarter and a :56 half before being pressured by the first-over attack of Starlite Kid. Accelerating to three-quarters in 1:23.4, Manhattan Beach scooted home a clear winner in 1:52.3. Heavy-favourite Enoch sat a pocket trip to take second, while Starlite Kid held third.
Manhattan Beach is a four-year-old son of Somebeachsomewhere owned by John McGill and Brian Carsey and trained by Walter Haynes Jr. It was his sixth win this season from 24 starts, earning nearly $100,000 in the process.
Kayne Kauffman won his first Hollywood Dayton dash title, although he has previously won meets at Miami Valley Raceway and Lebanon Raceway. The 39-year-old reinsman won 120 races during the 76 day meet, earning over $850,000 in purses. Kauffman is nearing 3000 wins in his career and eclipsed the $17-million earnings plateau on closing night.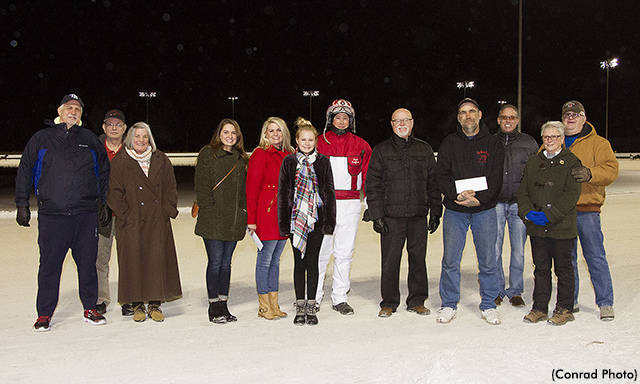 Jeff Brewer notched his second Hollywood Dayton training title by sending out 41 winners in 210 starts this season. Brewer is nearing $10 million in career earnings and has accumulated 1,921 training wins lifetime. 2017 was his first million dollar season, with $1,119,366 deposited into his stable owners' coffers.
Starter Mike Woebkenberg was surprised with a handmade commemorative blanket to thank him for his tireless efforts to promote harness racing. Fans Ann and Ray Lufkin presented the blanket with the aid of special guest Roger Huston, Deb Noble and members of the local drivers colony.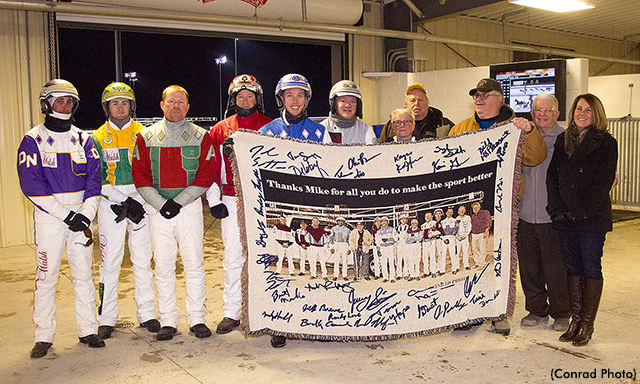 Hollywood Dayton enjoyed competitive racing with full fields, excellent track conditions, several new track records and an increase in average daily handle during 2017. The management at Hollywood Dayton wants to thank all the owners, trainers, drivers and caretakers who participated in the racing program this season.
Hollywood Dayton's fifth season of racing begins September 2018.
(With files from Hollywood Dayton Raceway)