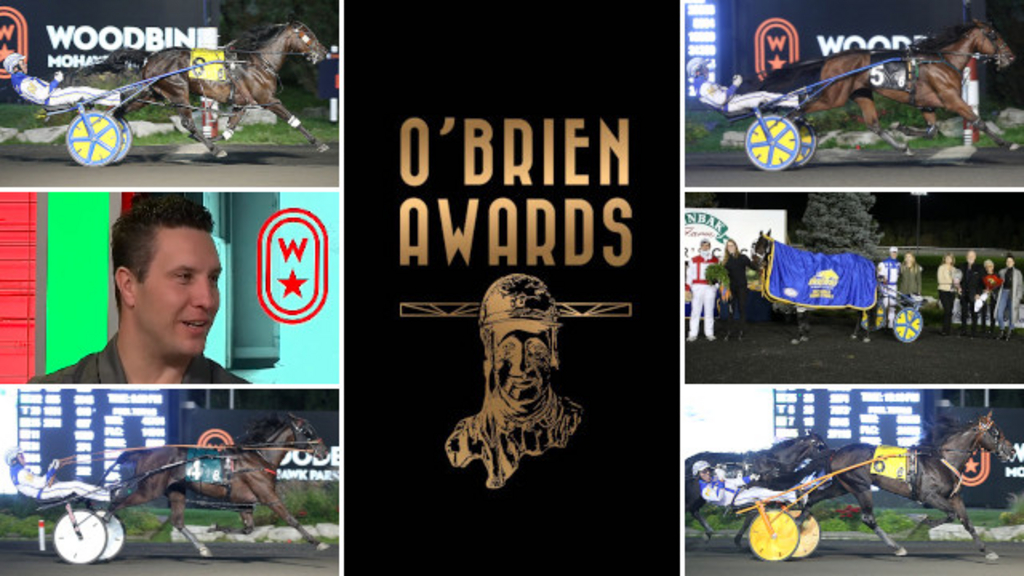 Published:
December 28, 2021 11:36 am EST
O'Brien Award finalist James MacDonald emerged from 2021 with fervor. In the second season through the pandemic, MacDonald – like his peers – persevered through a brief early season shutdown but blossomed from a stint in the States when returning to Canada to post career numbers and establish himself as one of the country's top drivers.
With 2021 close to complete, MacDonald easily trounced his purse record, accruing $7.4 million to nearly double his previous single-season earnings record of $4.6 million from 2014. That same year, MacDonald posted 335 wins with more than 2,300 drivers. His 319 wins this season have come from just 1,651 starts, and the 298 wins on Canadian soil top all drivers in the nation, while also picking up his first driving title at Woodbine Mohawk Park. All that success has materialized into MacDonald notching his first O'Brien nomination for Driver of the Year.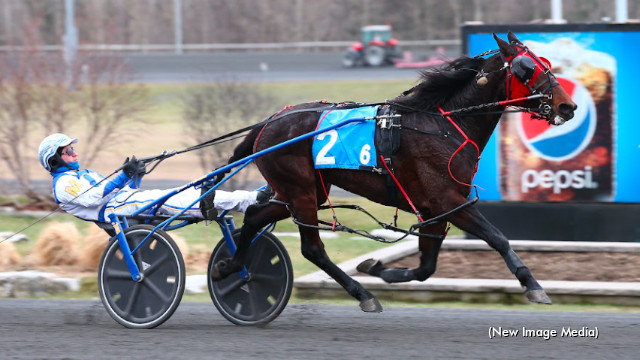 James MacDonald with one of his six 2021 Boxing Day wins at Woodbine Mohawk Park
"It's been – like everyone's saying – a dream come true," MacDonald said in an interview with Chad Rozema on Woodbine Racing Live. "I've always been a streaky driver, winning bunches but then I was cold in bunches. Fortunately this year, I haven't had the bad streaks like that. Even a couple nights here in the fall, I got shut out and then the next night won four. It's been a dream year and I've been just riding it out as long as I can.
"[An O'Brien Award is] something you strive for every year," MacDonald continued. "But for me, it hasn't really been close to reality yet. In the back of my head that was kind of always the goal, but I felt even silly talking about it because I just didn't feel I was there quite yet. It goes out to all the trainers and owners that put me down. It's just a business where you always have to keep improving and trying to get better and better yourself. I've worked hard at it every year and tried to learn from the many, many mistakes I make. I still got work to do, but it's been a terrific year and I couldn't be any more proud to be nominated for Driver of the Year. It's really special to me and I don't even think people that know me would understand how much that means to me."
The season for MacDonald, like everyone in Ontario, overcame a monkey wrench in April with harness racing's shutdown. MacDonald trekked to New Jersey and Pennsylvania with other drivers including Bob McClure and Doug McNair, but returned to Canada in June full of steam ahead of the Ontario Sires Stakes (OSS) and Grand Circuit season. Teamed with a powerhouse barn from O'Brien Award finalists Nick Gallucci and Millar Farms, MacDonald dominated the 2021 edition of the OSS Super Finals — winning with O'Brien Award finalists Prohibition Legal, Twin B Archie and Adare Castle — while another finalist, sophomore pacing colt Betterhavemymoney survived a speed-burdened renewal of the Battle of Waterloo on Industry Day.
"I remember the baby races [and] coming home to my girlfriend saying 'Nick Gallucci has a powerhouse barn this year,'" MacDonald said. "And she's kind of 'Ah, yeah, that's good.' No one really knows for sure....Nick's done a terrific job with his barn. He should have another great year next year and George [Millar] is just a terrific owner. He invests so much in the game and he's been around a long time, banging out and racing a lot of horses. I don't think there's a person in harness racing who wasn't happy to see George Millar have the year he had this year. I'm just thankful they towed me along for the ride."
Those wins mark just some of MacDonald's highlights, which also includes another six-digit season from O'Brien Award finalist So Much More and a win in the Matron with Threepointbluechip. But the year, to MacDonald, culminated with a victory from a drive he caught for Lindy The Great to win one of Canada's classic races: the Maple Leaf Trot.
"I'll probably never win another Maple Leaf Trot," MacDonald said. "To get that one home was pretty special. The horse was special. He was second in the year prior and he's been second a lot this year. I just talked to Julie Miller the other day about it and we were both pretty pumped up about it. He's just a great horse. I would say that's a highlight; those races are very hard to win, and to win it was special."
MacDonald springs into 2022 with a strong benchmark – one that still leaves him the goal to just keep trying to be better.
"For me, it's just have another good year," MacDonald said. "Just try and be good every night or as good as you can be every night and let the rest fall where it may. It's such a deep group of drivers here, so if another trainer happens to pop up with three good young ones that any one of the top guys is driving, they're probably going to be driver of the year. That's how deep a field this is, and just to be recognized as one of the top ones is a real honour and hopefully I can top them again next year."
MacDonald's full sit-down on Woodbine Racing Live is available below:
The 2021 O'Brien Award winners will be announced at the 2021 Virtual O'Brien Awards Gala on Sunday, February 6, 2022, which will be video streamed on standardbredcanada.ca.