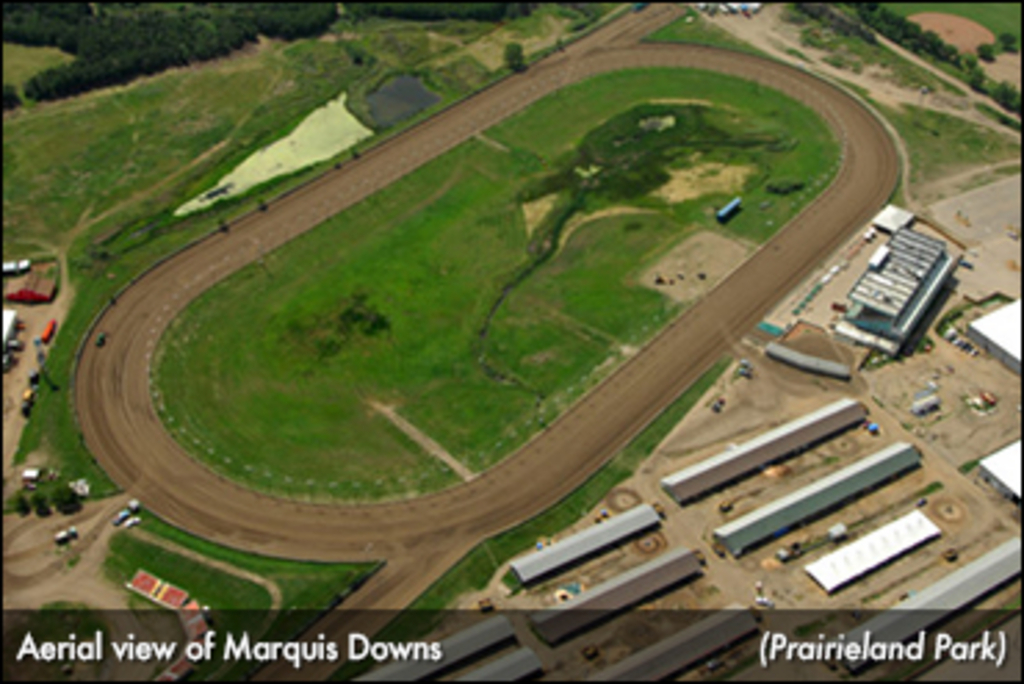 Published:
December 24, 2021 12:15 pm EST
After harness racing returned to Marquis Downs in 2021 for what was slated to be the final horse racing meet conducted at the Saskatoon area oval, Trot Insider has learned that Marquis Downs will host another Standardbred meet in 2022.
"We kind of briefly discussed it at the last meet that it might be a possibility," Trevor Williams, president of the Manitoba Standardbred Racing Industry Inc. (MSRI), told Trot Insider on Wednesday (Dec. 22). "Their board had met, and with the scheduling of whatever they have to do with the racetrack....to build whatever they're building there isn't gonna happen until later anyway. So, to fit us in earlier in the year was a possibility. They just made it happen and announced the dates."
According to Williams, Marquis Downs will conduct 10 days of harness racing in Spring 2022. The first date will be Saturday, April 30, with card slated for Saturday and Sunday afternoons with a 1:00 p.m. first race post time.
The additional race dates are welcome news for the horsepeople in Canada's central provinces, with the good news not ending there. Once racing concludes in Saskatchewan, the racetrack at the Red River Exhibition in Winnipeg, Man. should be ready for its inaugural meet once summer rolls around.
"We are basically as far along as you'd expect, said Williams of the new racetrack's construction progress. "The track is up, the surface is on. There's a little bit more surface work to do in the spring when the snow melts, but — talking to Garth, we just had a meeting [Tuesday] and he doesn't see any issues with the track.
"The barns are ready, the paddock's up...everything's good to go. They plan to hold qualifiers around June 4, and then start two weeks later, June 18, which would be the first day of the Red River Ex Fair in Winnipeg. And then, between Winnipeg and Miami still getting a couple of days as well, we're going to be going 16 days, or 16 weeks, one day a week."
That influx and expansion of opportunity for the participants provides a palpable sense of optimism.
"Everybody's pumped. We went from having just 10 days in Manitoba two years ago to doubling it, essentially, with 10 days added in Saskatoon. And now, with more days in Winnipeg, we're basically tripling our meets. Everyone's just excited to just race more. We're not picky people, but we're thrilled with any extra days we can get."
The ability to race at a stable and singular location like the to-be-completed track in Winnipeg will unfortunately limit the opportunities for some of the province's rural fair tracks to host race dates in the traditional format of the Manitoba Great Western Harness Racing Circuit.
"There's just too much invested and too much at stake right now that we kind of all decided it's better to be in a big market right now. We're gonna go back to Miami for a couple days. That might grow to four days or four weeks or something like that. We don't know exactly how those days look right now, but definitely the majority of racing is going to be in the big-market area.
"It's a bit bittersweet. I mean, we love our fairs and we know that that's been the backbone of us for all these years, but, we haven't seen that growth, and we need to do something."