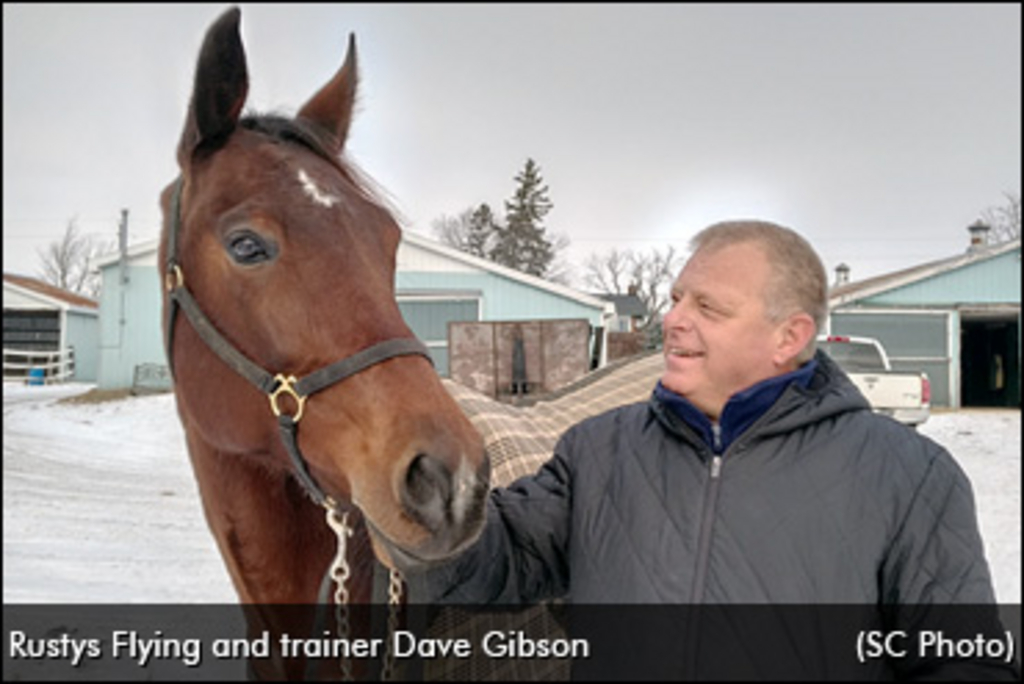 Published:
December 21, 2019 05:00 pm EST

Over the past two seasons of harness racing, the pacing mare that's generated the most headlines has surely been Shartin N. But one thing she can't boast is being the pacing mare that's generated the most winner's circle photos.
That honour falls to Rustys Flying. The 11-year-old daughter of Artiscape - Flying Free won 17 races in 2018 and currently leads North American harness racing with 20 wins this season. Even more impressive is that she's been able to maintain that consistency over multiple tracks (nine) with a litany of different trainers (11) while being claimed 15 times since the start of last year.
Since the start of 2018, only 40-race winner Southwind Amazon has more victories.
Owned by Ken Andrews of Peterborough, Ont. and trained by Dave Gibson, Rustys Flying will aim for her 21st win of the season on Monday (Dec. 23) at Woodbine Mohawk Park.
After being claimed in four consecutive outings through April and May, Rustys Flying caught the eye of Andrews this spring at Kawartha Downs.
"He came to me this summer and said 'look, I think we might want to claim a horse.' He was the one who chose her...he said 'that's the one I want' and we watched her warm up and claimed her. We claimed her three times," said Gibson. "Every time we did, she raced well for [John MacMillan] and raced well for us. It's not like one was doing better than the other. She raced really, really well for John most of the season, too.
"She's the type of mare that when she's in a race and she's going head-to-head with a horse, she won't give up. If you see her stopping, it's because that's all she's got. Reggie drove her quite a bit this summer and he always said she tried no matter what. That's the best part about her, she never stops trying."
That competitive attitude has certainly helped Rustys Flying stay competitive at her age. A win Monday would put her closer to the elusive 100-win plateau as she currently sports an impressive 98-56-47 from 331 lifetime starts.
"For an 11-year-old mare that's raced the number of starts she has it's really amazing," Gibson told Trot Insider. "Getting to 98 wins is really impressive, but the fact that she's made $300,000...she's never been a stakes horse or anything like that. She's done this week after week after week for so many years now, it's really amazing."
The highest purse Rustys Flying has raced for came in her second lifetime appearance: a $15,757 New York Sire Stakes event in July 2010. That race also served as the launching point for top pacing mares Drop The Ball and Swinging Beauty.
"She's just one of those grinding-type horses. And I'll give her one thing: she's really competitive in a race," added Gibson. "She'll just keep digging right to the wire and give you everything she's got. You don't find too many horses that do that. I wish I had a barn full of horses like her."
That sentiment regarding Rustys Flying is clearly shared by others in addition to Gibson despite the mare not being the easiest to manage.
"She has a reputation of being a little 'off', like quirky. Because she does have her quirks...I don't mind because I really like her. I have a lot of respect for her, and a horse that's done what she's done she deserves to be treated with respect and I just do everything I can to keep her happy. And she seems to be responding."
Gibson noted some of the idiosyncrasies exhibited by Rustys Flying in the barn and, much like an individual not suited for a 9-to-5 office job, they seem to point to a horse that prefers to be outdoors and active, and in a paddock to herself.
"She's a stall walker, for one thing. And she likes to be outside a lot. The good thing about me being on a farm here is that we can get her out a lot. And if she's in a mood, she'll let you know she's in a mood. Putting the harness on, she'll try to kick you and things like that. She's interesting, but, you know, if she's in a bad mood I'll just give her time to figure it out and do something else.
"One thing about her, is when she goes to the racetrack she's all business. She knows what she's there for and that's always good."
The workman-like attitude of Rustys Flying on the racetrack can only be part of an equation for success, as a horse that's averaged more than 36 starts per season for the past nine years but posted double-digit win seasons of five occasions can only rely on will so much.
"She manages herself well. She doesn't like to do a lot of work and I don't really work her hard. In the sense that I just think she's done this for so long and she's so used to it, I've been able to give her a couple of weeks here and a couple of weeks there so it just kind of freshens her up a little bit and I think that's all she's really needing right now."
Campaigned mostly at Flamboro Downs, Kawartha Downs and Rideau Carleton Raceway this season, Gibson and Andrews have recently shifted Rustys Flying to Woodbine Mohawk Park to help the mare's racing style and abilities.
"The reason I took her there was...she can leave, but she can't leave real fast. And she was getting herself away in positions that were always the worst place to be. So you're getting away third or fourth and you're first up. It seems like that was always the way, so I thought she'd be better with that long [Mohawk] stretch because she seemed she'd lose some momentum in the turn and then pick it up in the stretch. With Flamboro it's a shorter stretch and you can't make it up.
"But at Mohawk -- and she's proved me right, thank God -- when she came off that turn and he got her out clear and got her racing, she closed really well. And I was really happy to see that. She's just a good ol' mare."
On Monday, Rustys Flying has post four in the third race, a $9,000 event for $8,000 - $10,000 claiming mares. Jody Jamieson has been listed, marking the 42nd different driver for the veteran pacing mare and the duo has been listed at 12-1 on the morning line.
"After her race last week I'm actually quite surprised at that," said Gibson regarding the longshot odds. "But I guess she's still kind of an unknown quantity there and I guess it comes down to if she races well again this week they'll start giving her a little more respect. But we'll see how it goes, you also have to have the racing luck when you go down there.
"She's got the four hole this week. If she gets away in the middle of the pack, which I expect she will, and gets dragged into a race, I suspect she'll finish strong again."
Fully cognizant that the next start with a claiming horse like Rustys Flying could be the last, Gibson admitted that he's taken a shine to the consistent campaigner.
"When she's gone, I'm going to miss her because I really have a lot of respect for her...and I've had a lot of horses over the years. But there are few I can really say I had the admiration for like her. She's a good horse to have around.
"Who knows, if she gets claimed I might just have to claim her back again!"