Published:
December 18, 2021 05:23 pm EST
Jenn Bongiorno couldn't have asked for much better in the Preferred Handicap pace at Freehold Raceway on Saturday (Dec. 18). Her two entrants, Brackley Beach and Missile Seelster, finished 1-2, with Brackley Beach getting the nod in a 22/1 upset.
Missile Seelster, leaving from the inside post position, took control early on and established very slow fractions with driver Joe Bongiorno. The opening quarter was in a cushy 29 seconds, the first half in a dawdling :58.3. With those fractions, Missile Seelster looked like he had a big edge over his rivals.
Sensing the slow pace in front of him, Luke Hanners decided to move with Brackley Beach, and moved him first-over out of third as they moved up the backstretch. Rounding the far turn, the stablemates were on equal terms, with Missile Seelster battling back on the inside and Brackley Beach continuing to come on the outside.
In the stretch, the two continued their tussle, but Brackley Beach slowly began to pull ahead. In the final few yards, Brackley Beach cemented his advantage, and he won by three-quarters of a length in 1:54.4. Missile Seelster finished second, 1-3/4 lengths clear of third-place finisher Warrawee Total.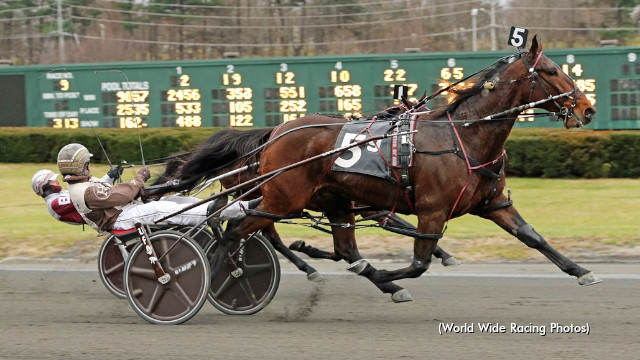 Brackley Beach is owned by Robert Weinstein. He's won six times on the year from 38 starts, and has won twice since being claimed by Bongiorno in late October at Yonkers Raceway.
PAUL MINORE, TONY BELTRAMI; AHDC WINNERS ON SATURDAY
Two $9,000 divisions of trotters in the AHDC Series went to post today at Freehold Raceway and after the judges declared them official Paul Minore and Tony Beltrami emerged victorious, Minore with Awol Hanover in 2:00.1 and Beltrami with Chief Justice in 1:59.
In the first split Minore bided his time with Awol Hanover traveling along in fourth place while Inukchuk Chuck (Mark Schullstrum) was challenging for the lead and was being rebuffed by Latoka (Tony Beltrami) as the two leaders were side by side past the half in 1:00.2 and were still neck and neck by the three quarters. But when they trotted into the final turn Latoka began to fade, and as he did Minore had Awol Hanover off the pylons and out to challenge. When they rounded the final turn and headed for home, Awol Hanover was the strong horse and went on to a length triumph in 2:00.1. Inukchuk Chuck was second best while Jake Stillwell rallied Dark Pool up for the show dough.
The winner is owned by Cliff Grundy and trained by McKenzie Sowers. He paid $5.40 for win.
Two races later Tony Beltrami made amends and hustled Chief Justice home a solid winner in a 1:59 clocking over Shoemaker Hanover, driven by John Calabrese.
In that contest Beltrami allowed Matt Zuccarello and Shared Interest A to take command, but not for long as Beltrami retook the lead and then braced for Shoemaker Hanover as Calabrese had him out and going as they trotted around the second turn and headed for the three quarters. At that point Chief Justice was in command and began to draw clear and had a three-length lead which he held all the way to the wire. Shoemaker Hanover held on for second money, a head better than Winneress (Tony Verruso).
Chief Justice is owned by the PT Stable and trained by Paul Fusco. Sent off as the odds-on favourite he paid $3.60 for win.
Freehold will be dark next week, with live harness racing resuming on New Year's Eve, December 31. The card will feature a pick 5 carryover worth $563.48.
(Freehold / AHDC)