Published:
December 17, 2021 11:53 pm EST
The 2021 meet at Yonkers Raceway concluded on Friday night (Dec. 17) with Jordan Stratton crowned leading driver at the track for the first time and Jennifer Bongiorno accomplishing the same feat on the training side of the ledger.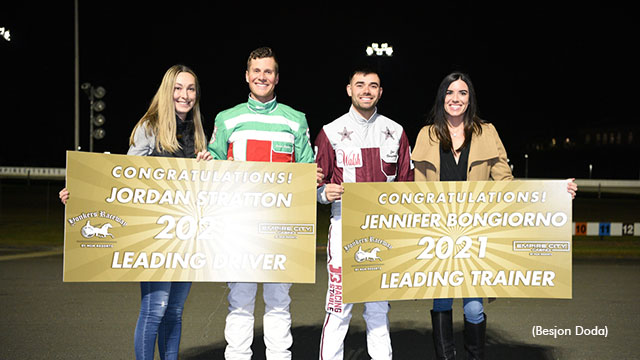 Stratton, who had a hat trick on the final program of the year, finished with 346 victories, bettering perennial leader Jason Bartlett, who had 312. Rounding out the top five were George Brennan (302), Joe Bongiorno (201) and Daniel Dube (180).
"It's really nice," said Stratton earlier this week. "It's a testament to the marathon of year-round racing and reflection of your hard work throughout the year. A couple guys travelled, and I stayed primarily at Yonkers, so that made a little of a difference. My brother has a big barn, he's one of my bigger barns right now, and a couple other trainers I drive for are doing good.
"But it's still one day at a time. You have to go in the next day and being the leading driver doesn't really matter for the next race. It's a bit of a grind, but I'm very fortunate to race for the purses we race for."
Stratton had previously finished as the runner-up in the Yonkers standings in 2009, 2017 and 2018.
Jennifer Bongiorno sent out 133 winners at Yonkers to top Scott Di Domenico, who ended up with 126. Ron Burke was third in the standings with 115 victories, Nick Devita (92) checked in fourth and Gil Garcia-Herrera (89) wound up fifth.
"Truthfully, there are no words to quite explain what this honour means to me personally. April of 2017, I remember Joe and I making a plan together, that I would leave my position at the Meadowlands and we would start this journey and create a barn," said Bongiorno. "Our main focus would be Yonkers. Fast forward four and a half years and here we are.
"I'm so incredibly proud of my team. My trainers, led by Daniel Hernandez, and caretakers work tirelessly all day and night preparing and racing our horses. My owners, who absolutely love the game and entrust us with their animals. My horses, who have made me so proud all year long. They are my babies and watching them succeed means the most to me. Most importantly, my brother. He is an absolute gem. Shows up every morning to help at the barn and drives incredibly every night. This award doesn't go to Jennifer Bongiorno, this award goes to JB Racing."
Bongiorno was fourth in the trainer standings at Yonkers a year ago and also placed sixth in 2019 and fifth in 2018.
"I am beyond thankful to Yonkers Raceway for allowing us to race five nights a week for the best purses in the country and feel very proud that we could achieve this honour racing at such a competitive place," she added.
The final $43,000 Open Handicap of the meet went to millionaire trotter Amigo Volo, fresh off his world record performance last week in a conditioned event. The Richard 'Nifty' Norman trainee followed up with a 1:55.1 triumph in rein to Jason Bartlett. A four-year-old gelded son of Father Patrick, he is owned by the Pinske Stables and David J. Miller.
Pending New York Gaming Commission approval, live racing will return to Yonkers Raceway in 2022 on Monday, Jan. 10 with a new first race post-time of 6:55 p.m. Racing will be conducted on a Monday to Friday schedule to start the year.
Yonkers Raceway would like to thank all of the horses, horsepeople, staff, management and bettors for making this year a success.
(With files from Yonkers Raceway)