Published:
December 14, 2021 11:22 am EST
There just might be a misnomer regarding the Florida Amateur Driving Club (FADC).
Yes, the word "amateur" can denote incompetence or being inept in a particular activity. But watching Dein Spriggs win with the Gus Scarpiasowned and trained SVF Cash Deposit on Monday night (Dec. 13) highlighted another definition of the word amateur -- "one who engages in a sport without payment."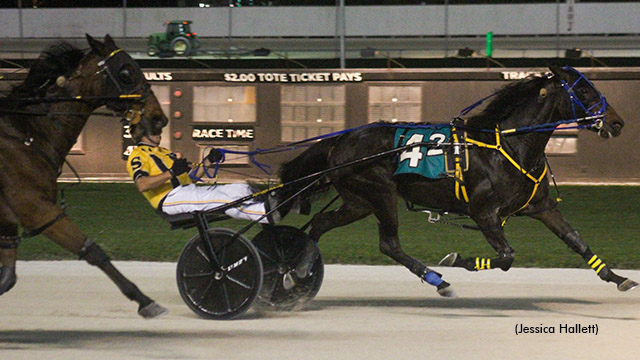 Indeed, Spriggs uses his generosity to donate his earnings from driving horses to noteworthy charitable organizations, ranging from The Make-A-Wish Foundation and Tomorrow's Rainbow to Peaceful Ridge Rescue and Hopes, Dreams and Horses, just to name a few.
Multiple the generosity of one Spriggs by a few dozen other members of the FADC and you have an club that has donated well over $200,000 to charity since their inception to provide community awareness and support for those in need through harness racing.
In proving the point of definitive comparison, Spriggs, who is closing in on 500 career wins himself, notes the accomplishments of his fellow horsemen and women instead, saying, "Our members are professional in every way. It's just that they have charitable hearts and donate their earnings from driving to these wonderful causes. And it's infections to the point that professional drivers like David Miller, Tim Tetrick, Wally Hennessey and Dave Ingraham stop by and compete with our members on occasion in spirited competition that also benefits these worthy causes."
Spriggs, himself, has plied his driving talent in several countries outside the U.S., such as Germany, Italy, Spain and Canada.
Among other drivers competing in the club are Steve Oldford, with 188 career wins, Kelly "Sky" Walker (162 wins), Leon Cable (449 wins), Ron Cusimano (282 wins) and Joe Pennacchio (203 wins).
"Amateur" Oldford has been involved in harness racing for almost a half century as a trainer, breeder and owner, as well as an accomplished "amateur" driver.
"Sky" Walker has taken his driving talents throughout North America and has also strayed "Down Under" to New Zealand as U.S. representative in World Cup competition.
Cusimano is sporting a "batting" average close to .400 this year and has won almost 25 per cent of his starts in 2021.
Pennacchio, described as an "entrepreneur par excellence," won his first race in front of a crowd of 40,000 at the Delaware County Fair -- home of the Little Brown Jug -- in 1995.
With his Monday night win, Spriggs joined fellow FADC members Walker and Tony Dinges, who won their respective events on Sunday.
Among other FADC winners this fall are the Jamie Marra, Tommy Santeramo and the aforementioned Leon Cable, to name a few.
As a member of the FADC since 1998, Treasurer Tom Eichas has witnessed, first hand, the important contributions given by the club.
"It's really a heartwarming feeling knowing that our horsemen and women have contributed to the well-being of so many," he said. "For example, when we give to Peaceful Ridge Rescue, we are enabling them to provide rehabilitation to horses in need before trying to find them loving homes. They have a project ongoing for retired racehorses.
"In the case of Vinceremos Riding Center, their mission is to help at-risk youth, veterans and victims of abuse. They also offer 'hippotherapy,' which has been used in patients as young as two years old to help those with autism, spinal cord injury and traumatic brain injury.
"Of course, there are many others that are self explanatory like Make-A-Wish. For me, it's just an honour to be a part of such an important organization with such an important mission!
"One other thing...we are thankful to Pompano Park and the many horse owners and trainers who enter their horses in our amateur events to make our mission even possible in the first place!
"It's what makes the world go around!"
(With files from Pompano Park and FADC)