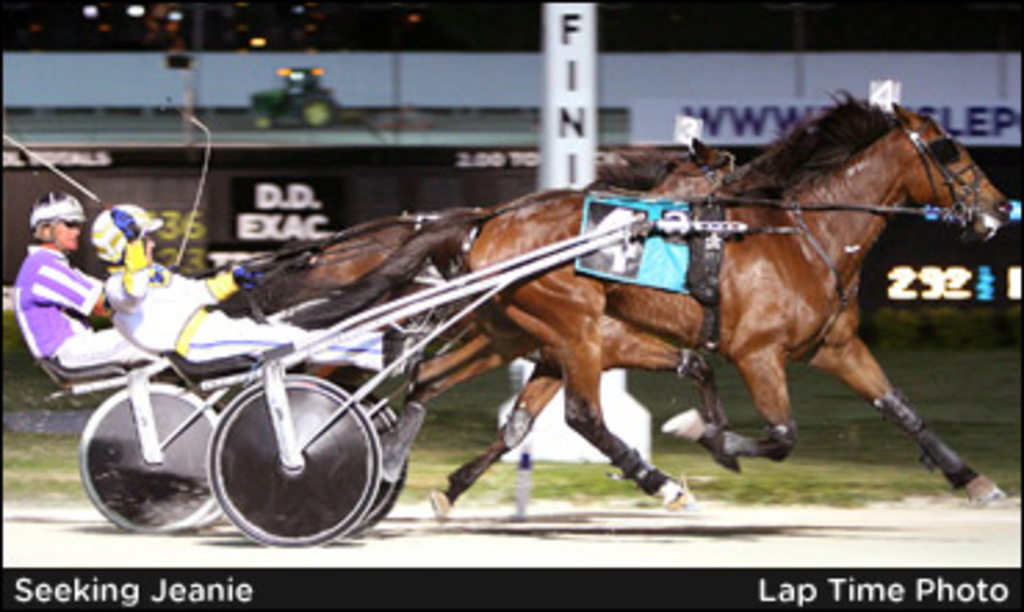 Published:
December 12, 2010 12:49 am EST
They came through with the grittiest, most determined efforts of their young careers. It paid off in a big way for two-year-old trotting filly Seeking Jeanie and two-year-old pacing gelding Palm Beach Boy on Florida Super Night 2010 at The Isle Casino Racing Pompano Park. Over $450,000 in purses went on the line
for the eight championship finals as the Florida Standardbred Breeders And Owners Association (FSBOA) Fall Series concluded with the Breeders Stake Finals.
"Absolutely, this is the biggest win of my life in more than 35 years in harness racing dating to when we first owned some claiming horses at Buffalo and Batavia in 1975," owner and breeder Arthur Mergenhagen of Williston, Florida said after Seeking Jeanie captured the $58,463 two-year-old filly trot championship. "She had us clutching our chests throughout the race. We wondered right until the end on whether she'd actually get there."
Win the Breeders Stake win secured, Seeking Jeanie concluded a perfect slate of eight straight wins in 2010 and earned the $100,000 bonus offered by the FSBOA to the connections of any two State-bred two-year-old that goes undefeated in the four event Fall Series.
"It was really touch and go as to whether we'd race her at all tonight," trainer Jim McDonald disclosed after the daughter of Wesgate Storm-Sightseek tested Little Peanut throughout the mile and finally got up to win in 2:02.2. "She overcame a lot of sickness and I have to compliment Linda Kakaley's filly, Little Peanut. I didn't think 'Jeanie' would get there and when they turned for home she surprised me one more time. This was a team effort with the owner, Rod Allen that developed this filly and my assistant trainer Patrick Hannon," McDonald added.
With top catch-driver Brian Sears back at Pompano, Palm Beach Boy came through with the greatest effort of his life in capturing the $58,825 Florida Breeders Stake title for two-year-old pacing colts and geldings.
"This horse is a tribute to [the late] Larry Nichols," an emotional owner and breeder Carol Karter of Boynton Beach, Florida said in the winner's circle in a post-race TV interview. "He managed the dam of Palm Beach Boy, Kadijah, so well throughout her career. It's not a surprise to me that he's turning out so well," she added.
Palm Beach Boy, by Six Of Diamonds, made three separate moves in the brave and handy victory to earn a life's mark of 1:55.2. He improved position off the gate to take a tuck behind TL Six Shooter (Joe Pavia Jr.) and then make a quarter pole rush to the front. Just past the half, Palm Beach Boy surrendered the lead to even money favourite Full Of Sand (Mike Micallef). In the stretch, Palm Beach Boy summoned one more move in the closing strides to overtake Full Of Sand for the win.
"He's got a nice little motor and it's been really special to come back home to Florida to drive for my dad [Jay Sears]," driver Brian Sears offered in the post-race live TV interview. "I trained Palm Beach Boy myself on Wednesday and I really liked him. He proved us all right tonight," Sears added.
While enjoying a perfect warm weather setting in the 70's, the largest bustling crowd thus far for the 2010-2011 campaign produced a season-high on-track handle, according to Director Of Racing Operations John Yinger. A trackside deejay, t-shirt giveaway, and numerous interactive games and contests all added to the festive mood for the FSBOA 2010 Super Night Breeders Stake finals.
In the $61,913 three-year-old colt and gelding pace championship, Diamond Howard toyed with the field in 1:53. Michile Loreno trains the Mannart Howard-Amethyst gelding for Souren Hovsepian and Rod Lorenzo, and Bruce Ranger was in the bike. Red Hot Howard (Walter Ross Jr.) and Cracker Pullet (Mike Micallef) followed under the wire.
In the $59,875 two-year-old colt and gelding trot championship, Famous Hall dominated from the front to score in 2:00. The Famously-Hall Of Stars colt is owned and bred by Amante Standardbreds of Delray Beach, Florida, trained by Marc Aubin, and Wally Hennessey was in the bike. Famous Dude (Mel Turcotte) and Prairie Big John (Tom Sells) were no threat to Famous Hall, who established a category track record of 1:57.4 earlier this meet.
In the $60,463 three-year-old filly trot final, Famous Monster produced a hard closing win in 1:59 after the favourite, Pocohontas Fame (Wally Hennessey), faded to fourth in the stretch. Famous Monster, a daughter of Famously-Seventy Seven, has thus won all three starts in the care of trainer Jodi Bendick after a recent private purchase by DCLD Stables of New York. Pretty Girl (Brian Sears) held for second after taking the lead into the stretch, and Wildfire (David Ingraham) was third.
In the $61,250 three-year-old colt and gelding trot title race, Be Famous made a move to the front after the quarter and drove off to a handy win in 1:59.4. Dan Hennessey trains and Wally Hennessey drove the Famously-Celebrity Descent gelding for owner-breeder Amante Standardbreds of Delray Beach, Florida. Im Possible, at 53-1, went a courageous first over try, in rein to Mel Turcotte, for the runner-up share while Pacific Cyclone, partnered by Kevin Sizer, was third.
In the $62,563 three-year-old filly pace championship, 1-9 favourite Black Diamond Girl was in command just after the quarter to romp away to a 1:56.1 score. Kim Sears trains the daughter of Six Of Diamonds-Money For Munchkin for owners Penny Kelley of Fellsmere and Jay Sears of Osteen, Florida. Pocket-sitting Tangerine (Tom Sells) followed in for second while Catgirl (Dan Clements) brushed up for third.
In the $60,281 two-year-old filly pace final, the long-striding Gold Star Glitter produced a rock-solid 1:56.1 front end win. Dan Clements was in the bike behind the Squaws Fella-Squisita miss for owner, trainer and breeder Tom Audley of Bell, Florida. Keep On Cookin (Rick Schaut) took a pocket trip for the runner-up share, and Her Request, in rein to Anthony Napolitano, was third.
The December 11 card also produced the meet's fastest mile to date, as Omaha Survivor won an $8,500 purse winners-over test in 1:50.4. It was part of a training double for Tom Harmer, as he also sent out Four Starz Bling to victory in the top class $12,000 purse feature event on the undercard. Both were driven by Bruce Ranger, who tallied up five winners on the night.
Through May of 2011, post time is 7:05 p.m. EST each Monday, Tuesday, Wednesday and Saturday evening at The Winter Capital Of Harness Racing. This month's scheduling exceptions are the addition of a program on Thursday, December 23, and no live racing on Saturday, December 25.
(Pompano Park)