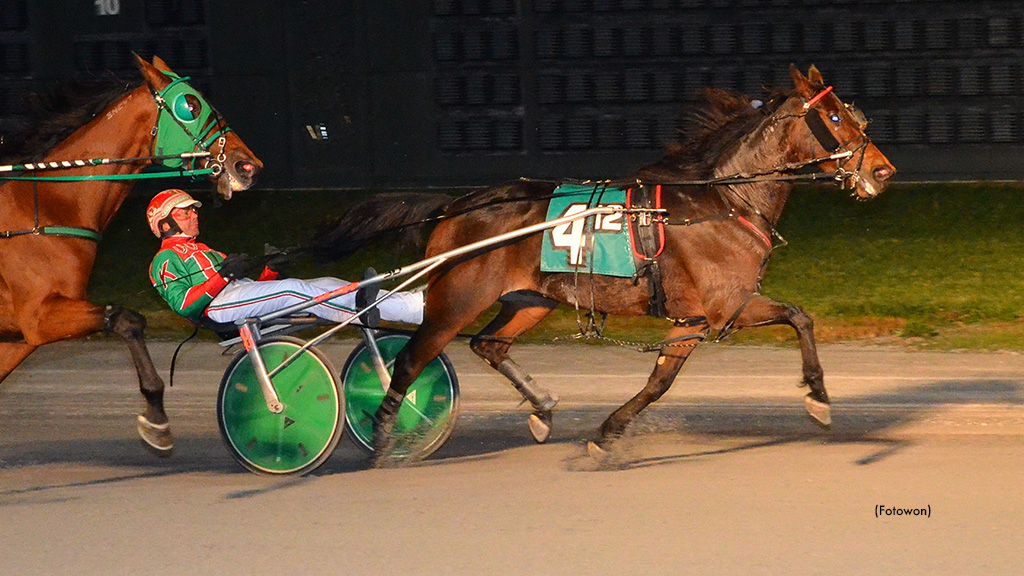 Published:
November 8, 2022 11:06 pm EST
On Tuesday (Nov. 8), Bally's Dover hosted a hefty 14-race card with two non-betting races featuring the $25,000 Open Trot and four $20,000 divisions of the Delaware Standardbred Breeders Fund (DSBF) eliminations for two-year olds.
In the $25,000 Open Trot, Mississippi Storm won in a back-to-back victory. Mississippi Storm (Victor Kirby) and Crystal Fashion (Tim Tetrick) were the first out of the gate. Crystal Fashion took charge of the front and Mississippi Storm accepted the pocket. Crystal Fashion set the tempo with fractions of :27.2 and :56.4. Up the backside, Hl Revadon (Corey Callahan) pulled first up and B Nicking (Pat Berry) followed his cover, but neither were able to pass the two battling leaders. After a 1:24.4 third quarter, Crystal Fashion was still in charge with Mississippi Storm gapped by 1-1/2 lengths. In the stretch, Mississippi Storm dove inside of Crystal Fashion and won by three-quarters of a length in 1:53.2. Hl Revadon finished third.
Owned by Joseph Smith, the seven-year-old Cantab Hall gelding moves his career earnings to $780,126 with a record of 36-21-21 in 119 starts for trainer Tom Fanning.
In the month-long Delaware Standardbred Breeders' Fund series for two-year-old trotting colts and geldings at Bally's Dover, Kodack Black and Perfect Twenty stamped themselves as the likely favourites with matching 1:56.4 wins — both by double-digit margins — in their respective $20,000 first-round preliminary divisions on Tuesday. Lilmisswontbewrong and Miss Daburg captured their opening-round divisions for two-year-old trotting fillies.
Kodack Black, who was disqualified from victory in the Oct. 12 Harrington series final due to a late break in stride, had no such issues in his first Dover preliminary. After driver Montrell Teague rated him in fourth behind a contested :28.3 first quarter, the Kodak Lindy-Love On Broadway gelding brushed aggressively with a lap to go and cleared early leader Carls Legacy (driven by Jason Thompson) before reaching the half in :58.2. As Kodack Black drew clear at will up the backstretch, Reddy Fox (Jared Moyer) angled from fourth and pushed into second over the badly fading Carls Legacy with three-eighths to go. Despite Reddy Fox's uncovered gains, he proved no match for Kodack Black, who coasted to three-quarters in 1:27.4 and drew 14 lengths clear at the end of his lifetime best score. Reddy Fox was an isolated second, 30 lengths better than third-place finisher Carls Legacy.
Clyde Francis trains two-time winner Kodack Black for breeder George Teague Jr., who shares ownership with David Collins and Lakiyah Teachey.
Perfect Twenty and driver Tim Tetrick were similarly dominant in the second split, clearing Clifton Green stablemate Hespookshescores (Russell Foster) easily through a :29 first quarter and traveling uncontested through splits of :58.4 and 1:28.1. The Yankee Royalty-Jetta Spring gelding accelerated for home while in hand, using a :28.3 last quarter to put 13-1/4 lengths of clearance on Hespookshescores. I Got It Made (Michael Cole) finished third, another 1-3/4 lengths in arrears.
Robert Allison Jr. owns the Jason Leid-bred Perfect Twenty, who paid $2.60 in his fourth career win.
In first-round DSBF action for rookie trotting fillies, Lilmisswontbewrong took top honours with a 2:01 score in the first division. Corey Callahan floated the Anders Bluestone-Lil Miss Tagliabue filly for a pocket trip behind Royal Flirt (Kim Vincent) through a 1:01.3 first half. With seven-sixteenths to go, Lilmisswontbewrong moved forward, dueled to the lead through a :29.2 third split, and drew clear steadily to win by 5-1/2 lengths. Last Nights Hit (Art Stafford Jr.) improved mildly into second over a toiling Royal Flirt.
Bobby Glassmeyer owns and trains the Susan Durham and Linda MacDonald-bred Lilmisswontbewrong, who broke her maiden in what was her fourth career start.
In the second filly division, the previously undefeated She Is Strong (Stafford) controlled the terms as the 1-5 favourite, but stopped on the far turn after setting soft fractions of :29, 1:00.2 and 1:31.2 and being engaged by Lady Brass (Russell Foster), who pushed first-over from fifth up the backstretch and took the lead with just over an eighth of a mile to go. As Lady Brass engulfed She Is Strong, Pat Berry angled Miss Daburg out of the pocket to give chase in the stretch. The Anders Bluestone-Comical Dream filly lifted to collar Lady Brass in the final strides, springing a 16-1 upset and breaking her maiden in 2:01.3. Fairlee (Justin Vincent) improved belatedly for third; She Is Strong faded steadily to finish last in the five-filly field.
Traci Berry trains Miss Daburg for J. Craparotta and P. Berry Racing LLC, who also bred the filly with Taylor Gower. She paid $35.40 to win.
Racing continues on Wednesday (Nov. 9) at Bally's Dover with three $20,000 divisions of the Delaware Standardbred Breeders' Fund eliminations. On Thursday (Nov. 10), four divisions of the Matron Stakes for three-year-olds will be contested. Two-year-old trotters will contest the second preliminary round of their DSBF series next Tuesday (Nov. 15), with the eight highest point earners of each sex slated to square off in a pair of $100,000 finals on Nov. 22. Post time is at 4:30 p.m.
(With files from Bally's Dover and The Delaware Standardbred Breeders' Fund)