Published:
November 8, 2021 12:10 pm EST
The City of Oshawa has announced that construction is complete on the new Sandy Hawley Park, named for the Canadian Hall of Fame jockey, located on the former site of the internationally-renowned Windfields Farm.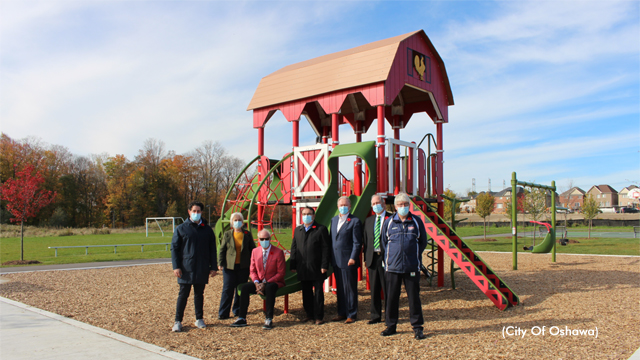 Members of Oshawa City Council marked the completion of Sandy Hawley Park located on Kentucky Derby Way.
Sandy Hawley Park is named in honour of Oshawa native and member of Canada's Horse Racing Hall of Fame and the Oshawa Sports Hall of Fame, Sandy Hawley. Hawley, member of Order of Canada, was named Canada's top athlete twice and was also inducted into the United States National Museum of Racing and Hall of Fame.
The park is located on Kentucky Derby Way, north of Britannia Avenue West in the Tribute Communities Dantonbury subdivision.
"It's quite an honour they named a park in my name," Hawley told Trot Insider. "I can't believe they're doing that but it's special. That's where I had my first job actually, right at Windfields. I went out there and met the trainer I started with, Duke Campbell -- he's in the Hall of Fame as well. He was boarding his horses there at the time when I went there for an interview with him to see about going to [work at] the racetrack. I told him I was thinking about becoming a jockey of course."
Incorporating community engagement feedback, the park pays tribute to the neighbourhood's rich horse racing history and offers a variety of opportunities for active and individual play. The park features a farm-themed playground structure and a garden-inspired splash pad. The surrounding park area contains a seven verses seven soccer field, a half basketball court, and an accessible multi-use path that connects to the E.P. Taylor woodlot. Original to the Windfields Farm site, the large boulder was moved beside the play area and surrounded by wood fibre safety surfacing to integrate it with the play features and provide a unique play experience. Several other features of heritage significance were included, including a stone pillar inspired by the former front gates of Windfields Farm, and an original concrete fence post from the Harriet Cock farm, formerly located at what is now the southwest of the intersection of Windfields Farm Drive West and Simcoe Street North.
The park also features concrete bench pads with wheelchair access. Additionally, tree plantings and naturalized areas connect the natural environment throughout the park.
An official ribbon-cutting is tentatively planned for April 2022 with Hawley and members of his family in attendance.
"I am proud to see this amazing space named in honour of such a legendary Canadian athlete and Oshawa Sports Hall of Fame inductee," said Oshawa Mayor Dan Carter. "Thank you to all community members that provided feedback to create this unique park and play space that honours Oshawa's rich heritage."
"The naming of this new park for 'Canada's Jockey' where so many premier race horses had their start is a great way to continue the legacy of this area," added Councillor Rick Kerr, Chair of the Community Services Committee.
Community members using outdoor amenities and visiting Oshawa parks and trails are reminded to adhere to safety protocols, government orders and health authority guidelines amid the COVID-19 pandemic.