Published:
November 8, 2018 08:53 pm EST
After having raced in Ohio for four years, the now transplanted Maine resident Need A Winner showed how tough he can be in the Downeast by outlasting the competition in deep stretch to win the $12,000 conditioned trotting feature at Plainridge Park on Thursday afternoon (November 8).
All Night Credit (Shawn Gray) took an early lead before allowing the outside-charging Need A Winner (Drew Campbell) to grab the front at the quarter in :28.3. The race proceeded uneventfully to the half but as they rolled up the backside, Quicksilver Kemp (James Tomaso) pulled from fifth and swung three-deep around stalled horses to draw even with Need A Winner at the three-quarter pole.
The top two horses were now partnered for the duration and they drew away from the field as their match race would be a quarter mile in distance. Need A Winner was on the pylons and Quicksilver Kemp was outside of him and both Campbell and Tomaso were feeding line and rocking in the bike around the far turn and into the stretch. Need A Winner still had a head advantage while Quicksilver Kemp tried his best to cut into that lead. But after both had gave all they had in the fight, Need A Winner held position and won by a neck in 1:56.3.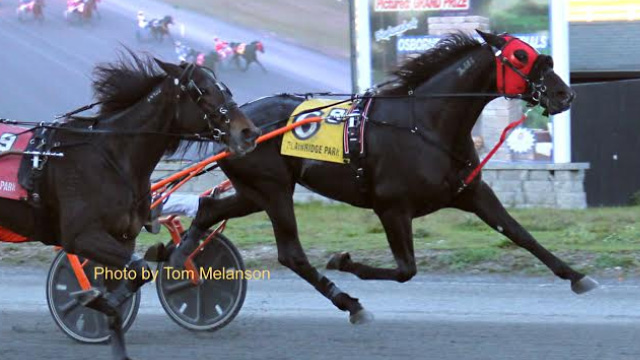 It was the ninth win of the year for Need A Winner ($3.60) and the second for his new owner William Mc Elvain Jr. who purchased him on October 2.
Campbell also won the $11,000 undercard with Southwind Rich who made a first-over move at the half to collar the front-running Texaco Man (Robert Kenney) to then pull away by three and win in 1:57.1. The three-year-old son of Chapter Seven scored his third lifetime win and set a new lifetime mark in the process. Southwind Rich ($6.60) is owned by George Beck and is trained by Donald Guidette Jr.
Campbell completed a driving hat trick with L Dees Yoyo Ma (1:55.3, $8.40) to lead all reinsmen for wins on Thursday,
With only eight racing days left in the 2018 Plainridge Park racing season Drew Campbell has all but locked up the driving title as he now sits atop the list with 145 wins. However it is a very tight race for second place between Mitchell Cushing (120) and Shawn Gray (119).
Harness racing resumes at Plainridge Park on Monday (Nov. 12) with post time at 1:00 p.m.
(With files from the Standardbred Owners of Massachusetts)