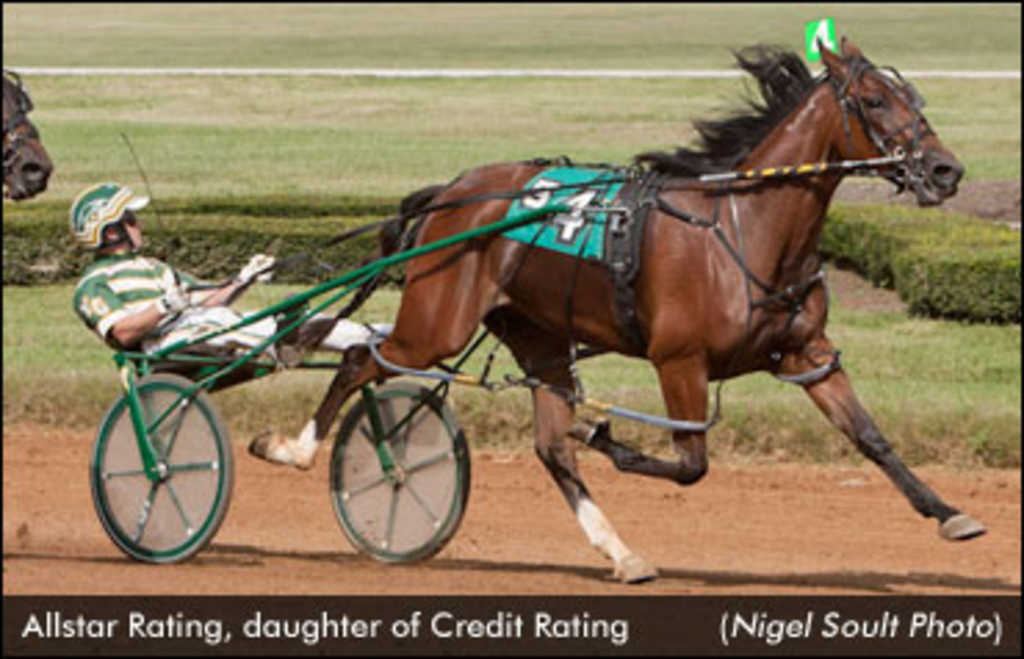 Published:
November 8, 2013 10:01 pm EST
The first of two mixed sessions at the Harrisburg Sale was held on Friday at the PA Farm Show Complex with a pair of sisters selling back-to-back and bringing the highest bids of the day.
Credit Rating, Hip 1234, was purchased in foal to Art Major by Courant Ab of Stockholm, Sweden for $240,000 to top the session. Consigned by agent Preferred Equine Marketing Inc., the Western Hanover mare's first foal is world record holder Allstar Rating ($135,012 - 1:50.1).
Credit Rating's half-sister by Real Desire, Cpa, sold just prior as Hip 1233 at a price of $230,000. Also from the Preferred Equine Marketing consignment, Cpa is the dam of stakes winners Authorize ($374,746 - 1:50.3) and Act Now ($91,522 - 1:52.4). She was purchased in foal to Western Ideal by Willow Oak Ranch of Rogersville, Tennessee.
Both mares are out of millionaire stakes winner Delinquent Account, the dam of stallion Artiscape ($1,469,461 - 1:49.3). They were sold as part of the complete dispersal of the Brittany Farms/Brian P. Monieson equine holdings.
Canada's 2004 Horse of the Year, Rainbow Blue, was sold for $200,000 during Friday's auction. Selling as Hip 1478, the Artiscape-Vesta Blue Chip mare was purchased in foal to two-time Canadian Horse of the Year Somebeachsomewhere. Their first foal together was Dan Patch Award winner Somwherovrarainbow ($861,440 - 1:51). Consigned by the Northwood Bloodstock Agency, the career winner of over $1.6 million was purchased by Steve Jones of Montgomery, New York.
Four other mares in foal to Somebeachsomewhere -- Apple, Hana Hanover, Apogee Hanover and Whos Up Whos Down -- garnered bids greater than $100,000 while his stallion share, selling as Hip 1213, was purchased for $150,000 by White Birch Farm of Allentown, New Jersey.
Carrying her first foal, Apple, Hip 1267, was purchased for $190,000 by Diamond Creek Stable of Amsterdam, New York. Selling as part of the Perretti Farms dispersal, the Art Major mare is out of Monkeys Can Sing, who is a daughter of Canadian Hall of Fame broodmare Cathedra.
Hana Hanover, Hip 1497, was purchased for $160,000 by Hanover Shoe Farms from the Preferred Equine Marketing consignment. The Western Hanover-Hawaiian Jenna mare was an O'Brien Award winner at age three and went on to earn nearly $1.3 million in purses and a mark of 1:48.4.
Carrying her first foal, Ontario Sires Stakes Super Final champion Apogee Hanover, Hip 1466, was acquired by Fair Winds Farm of Cream Ridge, New Jersey for $155,000. Consigned by Northwood Bloodstock Agency, the Jeremes Jet-Aurora Seelster mare earned $632,431 in purses during her racing career and took a mark of 1:51.4. Her half-brother, Alastor Hanover ($870,612 - 1:50.1), was also an OSS Super Final champion.
Whos Up Whos Down, Hip 1517, was also carrying her first foal and was purchased by agent Terry Miller of Lexington, Kentucky for $110,000 from Preferred Equine Marketing. The Western Ideal-Artomatic mare is a half-sister to Western Shore ($1,278,092 - 1:48.3), Livefreeordiehard ($453,707 - 1:50), and Atomic Ideal ($424,195 - 1:50.1). Her second dam is the aforementioned Delinquent Account.
Also topping the $100,000 mark was Baberhood, whose first foal is the undefeated freshman Hes Watching ($291,722 - 1:50). Selling as Hip 1271, the Real Desire-Babe Watching mare was acquired by Pennsylvania's Hanover Shoe Farms for $130,000. She was sold in foal to Rocknroll Hanover as part of the Perretti Farms dispersal.
In foal to Credit Winner, four-time O'Brien Award winner and Hall of Famer Peaceful Way, was purchased for $110,000 by Inguild Seljord Eriken Slattum. Consigned by agent Concord Stud Farm, the daughter of Angus Hall and Royal Bait, Hip 1361, is the richest mare to ever be sold at auction with career earnings of nearly $3.3 million. She was sold due to complete dispersal among the five partners.
A total of 405 horses were sold during Friday's session for $8,252,500, producing an average price of $20,377.
The six-day Standardbred Horse Sales Company Annual Sale will wrap up on Saturday with the final mixed session set to begin at 10 a.m.
Related Stories
Important Links: