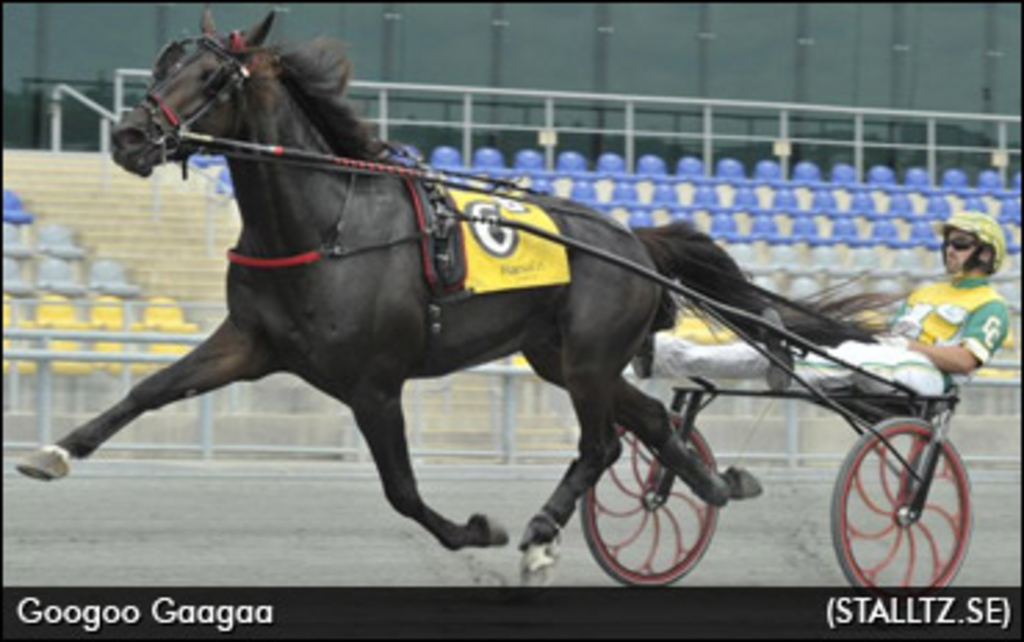 Published:
November 8, 2012 09:56 am EST

"When he's on his game, there aren't too many horses that can trot faster than him."<!break-->
Every time Googoo Gaagaa wins a race, it seems like a record-setting experience. Googoo Gaagaa heads to Sunday's elimination for the Matron Stakes for three-year-old male trotters at Dover Downs coming off a 1:54.1 win on Oct. 27 in the Maryland Sire Stakes championship at Rosecroft Raceway. The time was a stakes record and broke the track record for three-year-old colt trotters, which was set in 1991 by Mr Chin.
"I expect him to be really good (Sunday). He raced super at Rosecroft. It was like a training trip, really. He cruised right around there," said driver Corey Callahan.
On Aug. 19 in the Colonial Trot at Harrah's Philadelphia, Googoo Gaagaa won in a stakes- and track-record 1:52.1. On June 23, the colt won the Beal Memorial at Mohegan Sun at Pocono Downs in 1:50.4, which is the fastest mile ever trotted on a five-eighths-mile oval. A week earlier, he won his Beal elimination in a world-record 1:51.3.
Last season, Googoo Gaagaa trotted the fastest mile ever by a two-year-old on a half-mile track when he won the Maryland Sire Stakes championship by 41 lengths in 1:56 at Ocean Downs.
This year, Googoo Gaagaa has won nine of 12 races this year and earned $620,955 for Richard Hans, who bred, owns and trains the colt. Hans' family owns Cam's Rocket and Hans paired the pacing stallion with his trotting mare Kora's Trotter after she failed to get in foal to a trotting stallion.
In July, Googoo Gaagaa went off stride in the Yonkers Trot and his division of the Stanley Dancer Memorial. After the Dancer setback, Googoo Gaagaa was found to be suffering from a splint injury and was given several weeks to recover prior to tuning up for the Colonial with a victory in a Maryland Standardbred Race Fund event at Ocean Downs.
After the Colonial, Googoo Gaagaa went two months without racing before returning with a win in Maryland Sire Stakes preliminary action on Oct. 20 at Rosecroft. Jim Morand was in the sulky for Googoo Gaagaa's two sire stakes triumphs at Rosecroft.
"I turned him out; that was it," Hans said about Googoo Gaagaa's time off. "He came back really well. [Jim] Morand said he was really good. He couldn't believe how easily he went. He feels really good."
Callahan is back in the bike for the Matron elimination, where Googoo Gaagaa will start from post nine and is the 3-1 second choice on the morning line. Multiple-stakes-winner Little Brown Fox is the 5-2 favourite from post seven for driver Yannick Gingras and trainer Jimmy Takter.
The top eight finishers from the elimination advance to the final. The field also includes Takter's Uncle Peter and Guccio as well as Kentucky Futurity winner My MVP from the stable of trainer Tony Alagna.
"(Googoo Gaagaa) is fresh right now, and he's always best when he's fresh," said Callahan, who is chasing his fourth consecutive driving title at Dover Downs. "I expect to have a good couple weeks. He's a world-record-holder on a five-eighths-mile track (like Dover Downs) so I feel good about our chances."
Also on Sunday's card at Dover is a preview for the Progress Pace for three-year-old male pacers, Matron elims for three-year-old filly pacers and trotters and two-year-old male pacers, and Matron previews for two-year-old male trotters and female trotters and pacers.
---
This story courtesy of Harness Racing Communications, a division of the U.S. Trotting Association. For more information, visit www.ustrotting.com.