Published:
November 7, 2016 01:15 pm EST
The Standardbred Owners Association of New York and Yonkers Raceway have joined together to offer 10 harness racing fans a chance to own part of a horse racing at Yonkers Raceway.
Ten lucky fans were randomly chosen through the USTA's new ownership database and each person will receive a five per cent stake in the three-year-old trotter Emerald Chip. The horse is in to go in Tuesday's third race at Yonkers Raceway and is the 9-5 morning line favorite from Post 1 in a $20,000 conditioned event.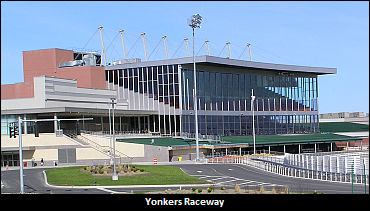 The best part for the new owners is there won't be any bills!
Trainer Andrew Harris has agreed to send the ten winners a summary of the horse's earnings and expenses on a regular basis so they can get a true sense of what the ownership experience would look like. The SOA of NY and Yonkers Raceway will give each winner five per cent of what Emerald Chip earns through the end of the Yonkers meet (December 18), up to a total of $10,000.
"This is a great new initiative to give people the sense and experience of owning a horse," said SOA of NY President Joe Faraldo. "We want to thank Yonkers Raceway for partnering with us on this marketing venture to get more people involved in our sport."
The current Yonkers Raceway schedule has afternoon racing on Sundays and Tuesdays, and the traditional 7:10 p.m. first-race post times on Mondays, Fridays and Saturdays.
(SOANY)