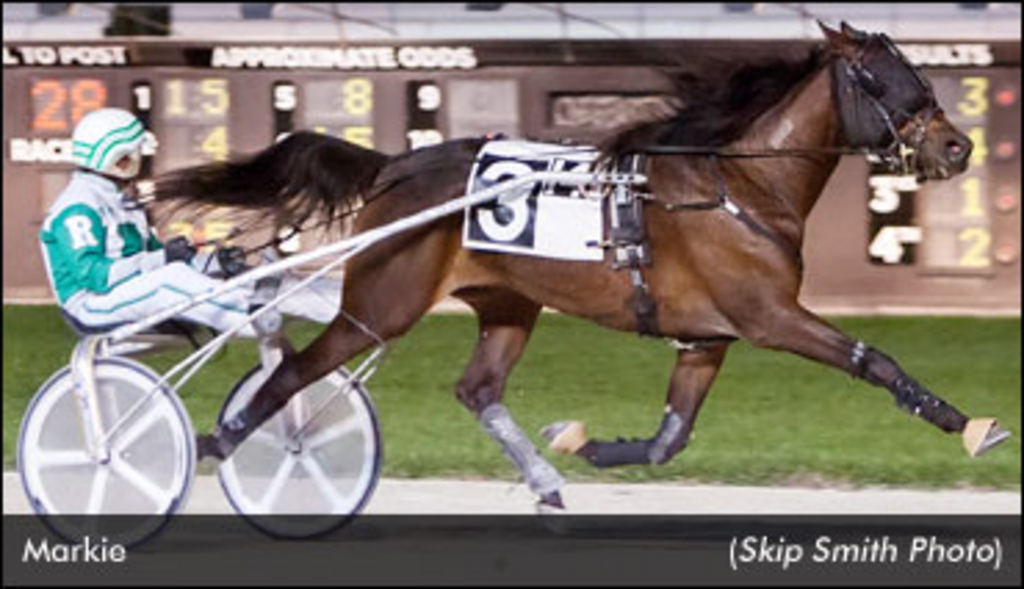 Published:
November 30, 2014 06:44 pm EST
The $479,000 Super Night extravaganza at Pompano Park featured the finest Florida-bred trotters and pacers in training and their performances most certainly lived up to expectations as many established new lifetime marks.
$52,500 Breeders Stakes Two-Year-Old Filly Trot
Brandy, superbly handled by Dan Clements, made a brave quarter move to the front and coasted the rest of the way in scoring a 3-3/4 length win over the early leader, Zendaya (Bob Roberts), with Livy M (Tom Sells) third in the mile -- a superb effort after spotting the field over 25 lengths after a miscue at the start and trotting her last three-quarters in 1:28.4. Brandy's win was in 2:02.4, a new lifetime mark for this daughter of Proud Bushy.
Owned by Jay and Kim Sears, Brandy was the overwhelming 1-5 toteboard favourite and returned $2.40 to her loyal followers, a mere pittance compared to the winner's share of the purse -- $26,250.
After the race, Clements said, "I made that early move just to stay out of trouble. The filly seems to like being in the thick of things from the get-go and Kim [trainer Sears] has her very solid on her feet. I was very confident off of her previous performances that she would do well."
The victory was the fourth in a row for Brandy and sent her seasonal bounty to $56,171 in just seven starts.
Run Around Sue S and Diamond White picked up minor awards in the field of six.
$54,000 Breeders Stakes Two-Year-Old Colt/Gelding Trot
Railee Workable took full advantage of a miscue at the start by the 1-10 favourite Prairie Fortune and went on to score a wire-to-wire win for Mickey McNichol in a lifetime-best 2:01 performance. His winning margin of three lengths was recorded over R Js Iron Man (Aaron Byron) with Victory Park (Bruce Ranger) third.
The son of Basil now has five wins in seven starts -- his only two losses coming at the hands of Prairie Fortune.
In a post race interview, McNichol said, "I kind of thought that we all had to beat [Mike Deters'] horse [Prairie Fortune] because he seems to be clearly the best when he minds his manners. Tonight, he got unlucky and we got very lucky and my horse is very handy. I wasn't afraid to send him because he's won from the nine post before and can trot a hundred miles. It was a nice win to get."
Trained by Louie Ginesi for owners Fred Morosini and Ken Fritz, Railee Workable's earnings climbed to $46,464 in eight starts and prompted owner Morosini to this response, "There is rarely a high in life as having a win of this magnitude in harness racing. Everyone should feel the elation that I feel right this moment. It is indescribable."
Saturn finished fourth in the mile while Gold Star Kevin picked up the "nickel."
As second choice in the wagering, Railee Workable paid $14.80 to win.
$52,500 Breeders Stakes Two-Year-Old Filly Pace
This was the culmination of the highly spirited rivalry between the two best Florida-bred two-year-old pacing fillies -- Gold Star Dynasty and Paxxie -- with "Dynasty" having a 4-2-0 scorecard in her six lifetime starts and Paxxie sporting a 2-4-0 tab in her six outings.
Their respective pilots, Bruce Ranger and Peter Wrenn, had amassed over 18,000 lifetime victories and they clearly had the best two fillies of their 2014 class.
At the end of and epic mile, the draw and the drive determining the outcome with Paxxie, driven by Ranger leaving from post five, pinning the defeat on Gold Star Dynasty, handled by Wrenn, leaving from post six.
In a pre-race interview, Ranger hinted that he probably would be on the bullet train with Paxxie saying, "I know she [Gold Star Dynasty] is going to be winging and I know I'm not going to catch her if she dictates the terms. I think I'm lucky to have drawn one spot in from her."
Ranger proved spot on.
Sending Paxxie directly to the front, Ranger "discouraged" his main rival from making the top in the very first eighth of a mile, stuffing that one in the pocket right behind. After a :28.4 opener, Paxxie was able to lolly-gag through a 1:01.1 middle half before sprinting home in :27 straight to hit the wire in 1:57, 1-1/2 lengths to the good of Gold Star Dynasty. Davita (Bob Roberts) third in all of her five lifetime starts against the top pair, was third again this night followed by Arties Diamond Gal and Creamsicle in the field of six.
After the event, an elated Ranger said, "What did I tell ya? What did I tell ya?!"
That was all that needed to be said.
Owned by Joan Harp along with trainer Warren Harp, Paxxie, a daughter of Six Of Diamonds, sent her lifetime bounty to $43,847.
As 2-1 second choice in the betting to Gold Star Dynasty (1-5), Paxxie returned $6.40 to her faithful.
$52,500 Breeders Stakes Two-Year-Old Colt/Gelding Pace
Owosso Flash justified his 1-20 favouritism with a handy win for co-owner, trainer, driver Mike Deters, stopping the clock in 1:56.1 to complete a five-race sweep in FSBOA's stakes season.
Caesars Forum (Bruce Ranger) was second 2-1/2 lengths away while Gold Star Roger (Walter Ross Jr.) was next. Drake and Stutz also picked up awards in the six horse field.
Owosso Flash, the highly spirited son of Royal Millennium, has given Deters and co-owner Laurie Poulin some anxious moments during his brief career -- having taken a right hand turn during a race two starts ago and taking Deters into the infield prior to the start of last week's encounter -- but he was perfect this night.
Away safely in fourth, Owosso Flash made a quarter (:30.1) move to the top and proceeded to pace his last three-quarters in 1:25.1 in hand to earn the major share -- $26,250 -- of the purse.
"He was very solid tonight," Deters said, "and what makes the night even more special is that John Spindler, for whom Owosso Flash in named, is here to enjoy the night with us."
Spindler, indeed, from Owosso, Michigan, served as Deters surrogate father when Deters' dad passed away at an early age.
The win just about doubled Owosso Flash's earnings, which now stand at $53,550.
$53,000 Breeders Stakes Three-Year-Old Filly Trot
Markie completely sealed her divisional honours on Super Night by scoring a 10-1/4 victory for Bob Roberts in the $53,000 Breeders Stake for three-year-old trotting fillies.
Stretching her unblemished record this year to six and extending her winning streak to nine going back to last season, the remarkable daughter of Proud Bushy scored the win measuring in double digits -- the fifth time she has done so this season.
The time of 1:57.4 completely obliterated her old mark of 2:00.1 and came at the hooves of Trotting JC Poss (Rick Plano) with Last Match T (Rob Hoffman) third. Gold Star Ginger was fourth with Super Luna picking up the "nickel."
Trotting JC Poss took command immediately and put up honest panels of :29.2 and :59.1 with Markie almost 10 lengths away in the early stages. Halfway through the mile, Roberts tipped Markie out and she gobbled up her rivals quickly one by one until reaching the top at the third station and coasting home from there on the strength of a :28.4 finale.
In a post race interview, Roberts said, "She is a highly spirited filly -- Kim calls her a brat sometimes -- and she was nice and relaxed tonight. I just let her do her thing. She sure is special!"
Markie, owned by Jay Sears and trained by his wife, Kim, now is 13-for-17 lifetime with earnings of $108,300 -- $50,600 of that this season.
$51,500 Breeders Stakes Three-Year-Old Colt/Gelding Trot
Showing Off, driven by Bob Roberts, was put to the most severe test of his career and responded gamely with a :28.2 closing quarter to hold off Geronimo Fame (Bruce Ranger) in the $51,500 FSBOA Breeders Stakes for sophomore trotting colts and geldings. Midnight Michael and Gator On Patrol were next in the quartet.
The son of Wewering led gate-to-wire in scoring the victory measuring a neck. He carved out fractions of :29.2, :59.2 and 1:29.2 before hitting the wire in 1:57.2, eclipsing his old mark by three and one-fifth seconds.
After the race, driver Roberts said, "He's always been competitive in his class and he likes to be in the thick of the action. The night Geronimo Fame beat us, we couldn't make the top so, since we drew inside of that one, I had to leave and let him do what he does best."
Owned by Richard and Sandra Dunmire along with Jay Sears, Showing Off won for the fifth time in six starts this semester, sending his earnings to $49,667. The Kim Sears trainee now has $96,049 in lifetime bounty.
$55,500 Breeders Stakes Three-Year-Old Filly Pace
Indeed, the limelight was on Limelight after this splendid daughter of Cracking Light rolled by her "sorority sisters" in the $55,500 Breeders Stakes.
With veteran Tom Sells handling the fillies lines, Limelight took advantage of some "suicidal" fractions early and rolled up on the outside in mid-stretch to collar arch-rival Voluminous (Bruce Ranger) to score by a length in 1:56.
J D Eleven Bells (Aaron Byron) finished third after taking a short lead in the lane. Sandalonia, dead last in the field on nine early on, closed with ferocity to finish fourth while ICU Charlie T, who cut panels of :26.3, :54.3 and 1:25.2, was able to hold on for the final award.
In a post race interview, Sells said, "My filly likes to be up close but there were a few hot ones leaving both inside and outside, so I was kinda forced to grab a hold. On the backside, I knew Bruce [Ranger with Voluminous] was behind me and, when he pulled, I had to make a quick decision -- to go or let Bruce go and follow him. It was my lucky guess to follow him. They were going pretty good up front so I thought that would help...and it did!"
Owned by Beauty in the Bridle Racing Stable and trained by Rosie Huff, Limelight won for the eighth time this year in 12 starts to send her bulging bankroll this year to $68,895.
As the 7-5 favourite among the large crowd, Limelight paid $4.80 to win.
$50,500 Breeders Stakes Three-Year-Old Colt/Gelding Pace
Gold Star Kenny P, superbly handled by Mickey McNichol, scored a wire-to-wire win in the $50,500 Breeders Stakes by holding off Tough Issue (Bruce Ranger) with a :27.2 final panel to score in 1:58.1. Warlock, third in all of his five starts this year, finished third this night, as well.
Owned and trained by Tom Audley, Gold Star Kenny P, a son of Rock On, used his inside post to perfection to discourage any other competitor thoughts to gain the top spot...at least early on.
Rambling down to the quarter in :29.3, McNichol was able to lolly-gag through subsequent panels of 1:00.2 and 1:30.4 before the aforementioned sprint home.
"When you have a short field like this," McNichol said, "you almost have to try and control the pace. I've seen this so many times from fair races with short fields to the Little Brown Jug race-offs...you have to try and control things. That's what I tried to do and it worked. Make no mistake, Tough Issue is a very tough competitor and the draw a few days ago did me a big favour tonight."
Gold Star Kenny P won for the sixth time this year, sending his 2014 earnings to $49,865. He's banked a tad over $70,000 lifetime.
Panacchio Wins Open Pace In 1:49.3
Panocchio, driven by Bruce Ranger, and Prairie Jaguar, handled by Peter Wrenn, were involved in a memorable stretch duel on Saturday night with Panocchio winning the tooth and nail battle to score by a neck in a lifetime-best 1:49.3 performance in the $12,000 Open Pace.
Lyons Johnny (Wally Hennessey) finished third in the event while stablemate E Z Noah finished fourth. Thatll Be The Rei picked up the final award.
With E Z Noah and Prairie Jaguar in an early battle for the top spot, the quarter was in a hot :26.1 before "Jaguar" took over. From there, he posted panels of :54 and 1:21.2 with Panocchio on the attack from the final turn and engaging Prairie Jaguar in an all out war to the wire.
In a post race interview, Ranger said, "Now that was an epic journey! It could have gone either way. Panocchio is unbelievable...but so is Prairie Jaguar. I guess Panocchio had the longer nose this time around -- and that's the truth!"
Panocchio, owned by Emile Johnson Jr. along with trainer Jim Mattison, won for the 16th time this year, sending his earnings to $125,770 to go along with that new mark.
Even money on the tote-board, Panocchio paid $4.20 to win.
Finally, the Florida Amateur Drivers Club pushed their charitable contributions over the $135,000 mark by presenting a $1,000 cheque to Vinceremos Therapeutic Centers, an organization that aids those from 18 months to their 70s, who have been "saddled" with debilitating diseases from stroke to multiple sclerosis, as well as autism, with equine programs including Hippotherapy.
Dein Spriggs won this Super Night event with Royalty On High.
(Pompano Park)