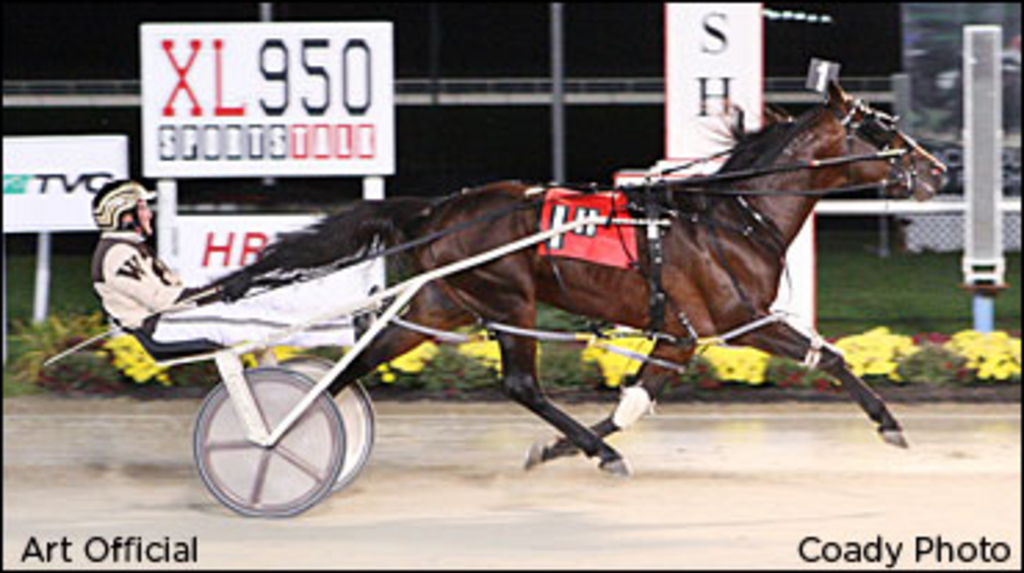 Published:
November 30, 2009 10:52 am EST

Kentuckiana Farms is extremely excited to announce that world champion Art Official (b.c. 2005); 3, 1:47 ($2,082,885), by Art Major out of Naughty Shady Lady (by Falcon Seelster) will stand the 2010 breeding season at Kentuckiana Farms of Pennsylvania
, located at Walnridge Farm of Elizabethtown, Pennsylvania.
Kentuckiana Farms will serve as stallion manager, and, along with Dr. Rich Meirs, will manage his breeding career.
Art Official retires to stud duty after a spectacular racing career as the fastest and richest son of the highly successful sire Art Major.
"We are very excited about this opportunity to work with Joe Muscara and his family to bring Art Official to Pennsylvania. We are confident that Art Official will carry his athletic ability into his new career at stud," said Bob Brady, owner and general manager of Kentuckiana Farms. "Not only did Art Official possess the extreme tactical speed inherent in most successful stallions, he provides a great opportunity for breeders in the lucrative Pennsylvania program. He is the perfect outcross stallion for the many Western Hanover mares and Western Hanover–line mares and is a great value relative to his competition. Art Official is a perfect fit for the market."
Art Official retires to stud having earned his world champion status on a mile track and has career earnings of $2,082,085 (U.S.). Along with greats Somebeachsomewhere and Lis Mara, Art Official is one of only three horses in history to pace two winning miles in better than 1:48 (1:47 at three and 1:47.4 at four). Art Official recorded these records while defeating two of the greatest horses of all time in Somebeachsomewhere ($3,221,299) and Mister Big ($4,008,257). Art Official also defeated the ranks of Won The West ($2,118,936), Shark Gesture ($1,899,146), Santanna Blue Chip ($1,622,636), Badlands Nitro ($1,554,638) and Bettor Sweet ($1,011,436) during his career.
Throughout his career, Art Official paced 15 miles in under 1:50 and had 18 career wins at an average time of 1:50.4 – winning six in sub 1:50. Not only did Art Official demonstrate extreme speed, he was incredibly versatile having established personal records on a mile track of 1:47 (World Record), five-eighths mile track of 1:49.2 and half-mile track of 1:50.4.
At two, Art Official recorded eight sub-1:53 miles, was stakes-placed in seven of his starts and earned $104,363. At three, Art Official had 13 wins, four seconds and one third in 20 starts and earned $1,502,395. Most notably, in what is regarded by many as one of the greatest races of all time, Art Official handed Somebeachsomewhere his only career defeat in the $1,100,000 Meadowlands Pace in a World-Record 1:47. Also at three, Art Official won a division of the Bluegrass in 1:48.3, the Tattersalls in 1:48.3, the Cane Pace elimination and final, Hoosier Cup, Little Brown Jug elimination (third in final), and Monument Circle among others. At four, Art Official finished in the money in 13 of his 19 starts, took his seasonal mark in 1:47.4M and earned $476,157 to bring his career earnings to over the $2 million mark. In pacing the then-fastest mark of 2009, Art Official defeated Shark Gesture, Mister Big, Won The West and Bettor Sweet in the Breeders Crown Open Prep. Art Official also shocked the racing world in winning the Indiana Pacing Derby while pacing his last quarter in :25.3.
Driver Ron Pierce said it best about Art Official: "I don't know if I have ever driven a horse with more wicked speed than Art Official. He has the ability to leave the gate faster (:25.2) than any horse that I have sat behind and still have enough in the tank to pace home in an amazing :25.3. His World Record performance in the Meadowlands Pace to give Somebeachsomewhere his only career defeat may be the greatest race ever and one that will always be remembered. It has been an honour to drive such a great athlete."
Art Official hails from the 100 per cent producing Falcon Seelster mare Naughty Shady Lady. The royal breeding of Art Official is full of champions, including the great Aged Pacing Mare of the Year Shady Daisy ($1,807,755) and Shady Character ($1,225,905).
Art Official is owned by Joseph Muscara, one of harness racing's leading international racing owners. Muscara also owns the extremely successful sire Mach Three (sire of the great Somebeachsomewhere and Australasian star Auckland Reactor) and newly-retired stallion for 2010 Mister Big – Aged Pacer of the Year in the United States in 2007 and 2008 ($4,087,257).
The 2010 service fee for Art Official will be $7,000.
(With files from Kentuckiana)