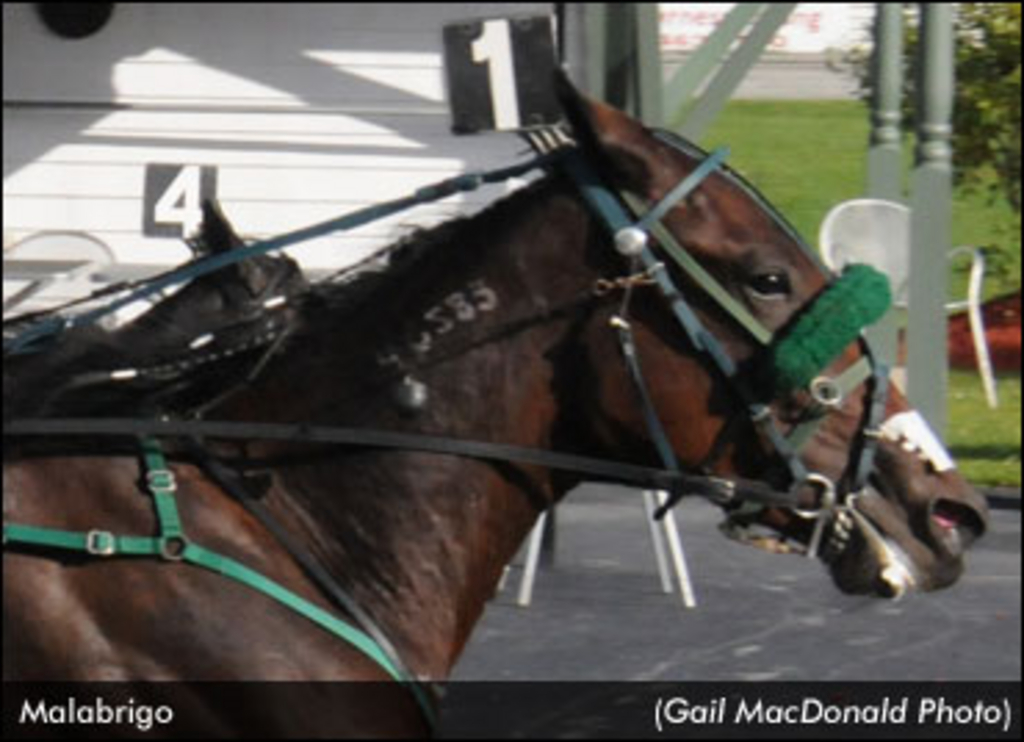 Published:
November 3, 2012 04:02 pm EDT

Three-year-old pacing filly Malabrigo concluded a perfect 16-race season during Island Breeders Championship Day at Charlottetown Driving Park.
The CDP's final stakes card of the season featured six Island Breeders Championships with Malabrigo, Dukes Up, Dont Tell Cindy, Untouchable One and trotters Oceanview Kate and Sweetwater Rukkus taking home their divisional trophies.
Malabrigo, held off the late-charging April Dawns Star to wrap up an incredible year for trainer-driver Marc Campbell and Buntainwood Farm of Brackley Beach, P.E.I. in her $13,000 Island Breeders Championship.
Malabrigo found herself parked out early on from post four, but the heavy 1-4 favourite quickly worked her way to the lead during the :28.2 opening panel and fronted the field through middle splits of :57.3 and 1:27.4 with A As Glory (Danny Romo) stalling first over. Malabrigo turned for home with a one and a half length leading margin, but Aprils Dawns Star (Mike Stevenson) emerged from mid-pack and came charging after her down the lane. Digging in down the stretch, Malabrigo managed to hold her closing rival at bay for the 1:57.4 quarter length victory. Southfield Sophie (Terry Gallant) finished over four lengths behind in third.
Malabrigo paid $2.50 to win.
All 16 of Malabrigo's wins this year were in stakes action, giving her $82,068 in seasonal earnings. Among her biggest accomplishments were victories in the Atlantic Breeders Crown, The Maritimer and Maritime Breeders Stake. Lifetime, the Western Paradise-Lots Abunny filly who was bred by Dennis Baxter, has put together a record reading 23-3-1 in 27 starts while banking $133,876.
Malabrigo's connection are expected to make an announcement next week regarding plans for the filly's 2013 season.
Campbell swept the three-year-old pacing divisions with Dukes Up edging out heavy favourite Touch Of Lightning in the $13,000 Island Breeders Championship for colts and geldings.
Touch Of Lightning (Earl Smith) blasted off the gate from post eight and crossed over to command ahead of First Art Down (Gilles Barrieau) and Dukes Up. He led the field through fractions of :28.1, :57.1 and 1:27.1, but Dukes Up shot up the inside in the stretch to prevail by a neck in 1:56.1. First Art Down finished over two lengths behind in third.
Dukes Up paid $15.80 for the win, his sixth in 20 seasonal starts.
The Meridian Farms-bred Fit For Life-Duchess Of Dexter gelding is trained by Kevin MacLean for Reginald MacPherson of Stratford, P.E.I. This season, Dukes Up has more than doubled his career earnings to $84,636.
There was another close finish in the $13,000 Island Breeders Championship for two-year-old pacing fillies with Dont Tell Cindy holding on by a neck for the victory over Top Brand.
Driver Gilles Barrieau settled the 3-2 second choice into the pocket behind Ramblinglily (Darren Crowe) and played follow-the-leader through fractions of :28.3, :58.4 and 1:29.1 while Western Judy (Marc Campbell) applied heavy first over pressure. Down the stretch, Dont Tell Cindy pulled the pocket and swept by the leaders to score while Top Brand (Danny Romo) rallied three-wide off cover to make it a close call. Ramblinglily finished one and three-quarter lengths behind in third while favourite Carol Alice (Kevin MacLean) came in fourth.
Dont Tell Cindy paid $5.20 to win, following up a victory in the Lady Slipper Gold Stakes on Oct. 27 at CDP.
Dont Tell Cindy was bred by MJG Racing Stables Inc. and Hill View Enterprises. Earl Watts trains the chestnut Tell All-Theresa Hall filly for owners Thomas McGuffog of Hanwell, N.B. and Geoffrey MacNeish of Douglas, N.B. She is now five-for-nine in her career with $19,072 earned.
Untouchable One continued to dominate the two-year-old pacing colt division with a wire-to-wire score in their $13,000 Island Breeders Championship.
With Brodie MacPhee catch-driving, Untouchable One worked his way to the top from post five and carved out fractions of :29.1, :58.4 and 1:28 en route to the 1:57.3 victory. The Rev (Danny Romo) finished two and three-quarter lengths behind in second after advancing forst over from the backfield. Scarlet Chaser (Danny Romo) finished third.
Untouchable One paid $4.70 to win as the favourite.
Untouchable One, also an Atlantic Breeders Crown champion, has recorded 10 wins and two seconds in 12 starts while banking $51,909 for trainer Sean Dooley and his Halifax, N.S.-based Dooley Boys Racing Stable. The Carlspur-Bolero Tam Tam colt was bred by Cheryl Geldart Greer.
Earlier on the card, Oceanview Kate romped to a six length victory in the $8,000 Island Breeders Championship for two-year-old trotters.
Driven by Mike Stevenson, Oceanview Kate got away third while Taliesin (Marc Campbell) established the early lead and put up a :31.3 opening quarter. Stevenson made his move with the favoured filly during the second panel, sending her to the top and clearing just past the 1:03.2 half-mile mark. Oceanview Kate opened up a couple of lengths on her foes as she raced by three-quarters 1:33.4 and extended that margin to open lengths down the lane. She stopped the clock in 2:05. Taliesin stayed for second and Money Show (Kuri White) followed in third.
Oceanview Kate paid $4.20 to win.
Bill Roloson of Belfast, P.E.I. trains and owns the Northern Bailey-King Kong Kate filly, who was bred by Meridian Farms. The victory was Oceanview Kate's fourth from ninth starts and followed up another wide-open win in the Atlantic Breeders Crown on Oct. 7 at CDP. She now has $14,582 earned in purses.
Sweetwater Rukkus posted the biggest winning margin of the day with an impressive showing in the $8,000 Island Breeders Championship for three-year-old trotters.
Jack Panting settled the 5-2 second choice into the pocket from post eight and followed My Daisy Duke (Corey MacPherson) through opening fractions of :29.3 and :59.2 before taking over command en route to the 1:30.2 third quarter mark. Once in control, Sweetwater Rukkus drew off to a 14 length victory in 2:01.1. My Daisy Duke followed in second while Est Non Ila Dulcis (Marc Campbell) rounded out the top three finishers.
Sweetwater Rukkus, who recently swept his Maritime Breeders elimination and final, paid $7.10 to win for the third consecutive time.
Owner Ralph Annear of Montague, P.E.I. conditioned the Bo W-Saulsbrook Image gelding, who was bred by Sweetwater Standardbreds, to six wins and five seconds in 13 starts while banking $28,755 this year. Lifetime, he was compiled a record reading 7-9-8 in 26 starts while banking $51,273.
To view Saturday's harness racing results, click on the following link: Saturday Results - Charlottetown Driving Park.